The new Google Photos app will make it easier to help you find those vacation pictures you took in Paris.
A leaked build from Android Police reveals an app that uses Google's image recognition capabilities to help you quickly search for pictures. It can automatically recognize and group images by person, or recognize "landscapes" or "pets", for instance. There are also more editing capabilities, a revamped interface, and more privacy features.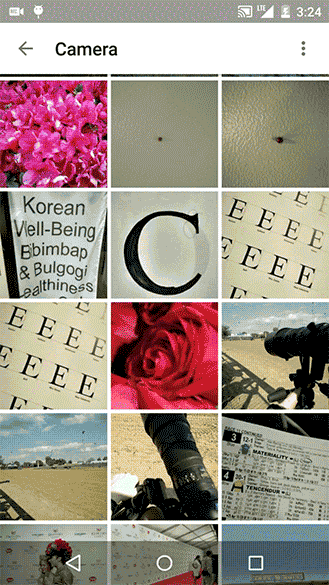 As previous rumors implied, the new Google Photos app makes a clean break from Google+. It will serve as the new default photo gallery and backup solution for Android devices.
The story behind the story: Android Police has a pretty good track record with such leaks and teardowns, so we're pretty confident this is the real thing. From the looks of all the leaked images there could be lots to like about this new app. If all goes well we should get to try it ourselves if Google unveils it this week at its I/O developer conference. 
A new 'Assistant' and better privacy controls
Other screenshots reveal that Google's "Auto-awesome" feature is morphing into the Assistant. 
Whereas Auto-awesome would automatically pull together several images into one for a motion effect, the Assistant appears to give you more control. You can create a movie, album, story, or a collage with a group of images. 
Another major new feature is in how the app recognizes photos. You can search for a city, type of animal, or even a person and Google will use its image-recognition capabilities to try and find the right photo. Android Police found it was rather effective, making it significantly easier to look for specific pictures without the need to dig through different albums.
Choosing one or multiple images for sharing also gets a makeover, using a Lollipop-style menu for sharing photos, videos, or links to them. Google Photos also gives you the option to strip out any location metadata if you'd rather not share that.