really wants to get the Moto 360 smartwatch into your hs.
Seven months after the best looking Android ar device yet hit store shelves, is cutting the price by $85. The watch with the circular face the not-so-circular display began life priced at $250 but is now available for $165 from the Store. The price cut appears to be permanent not part of a limited time sale.
The Moto 360 also got a price cut on Amazon Best Buy, where it's selling for slightly more at $180 up. The champagne version of the Moto 360, for example, costs $220 at Best Buy at this writing—a price drop of $110 compared to the original price.
The Store is only selling the basic black gray models at the $165 price.
The story behind the story: It's awfully coincidental that the Moto 360 gets a price cut just after Apple tch pre-orders began—apparently with much success. But the Apple tch Moto 360 aren't technically competitors at this stage, since you need an ione to make your Apple tch useful an Android device to use the Moto 360. Most people buying a smart watch are already invested in one platform or the other.
ter on, Android ar devices the Apple tch may be differentiators for people shopping for a new smartphone, but it's too early for that. The only way this is not coincidence is if drops its rumored Android ar app for iOS that makes wearables compatible with the ione.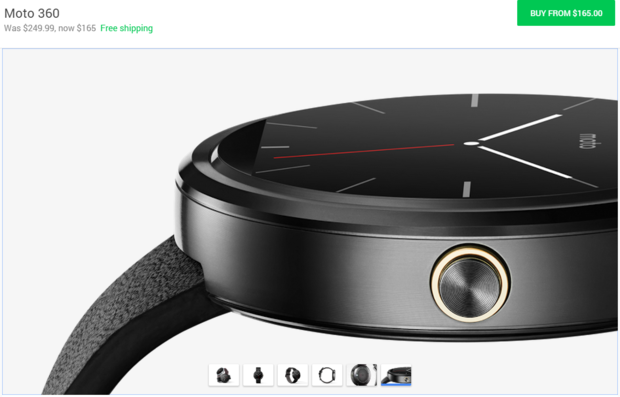 Cheapest yet
At $165, the Moto 360 is now the cheapest wearable you can get at the Store, followed closely by the Asus Zen tch.
It's not clear why we're seeing the price cut now. rhaps the 360 isn't selling well this is a way to clear out stock, or maybe novo-owned Motorola has plans for a Moto 360 follow-up—the original model has been out for more than half a year now.
atever the case, if you've had your eye on the Moto 360 now is the time to buy.