dcasts remain a lively popular forum for online broadcasting, even with a name that calls back to the era of the id.
As an Android user you've probably long broken free of the Apple ecosystem, so there will be no searching through iTunes to sync up podcasts with an ione. No, you want your podcasts your way, quickly conveniently on your Android phone.
Fortunately, there's a top class of podcast apps that st out from the wide variety of options in the ay Store. They vary in price approach to podcast organization discovery, but all of them will connect you to your favorite shows or help you find new ones with ease.
cket Casts wears the crown well
If you want a podcast app that looks great is easy to pick up use, go with cket Casts ($3.99). Its layout is very eye-catching, with a tile-formatted display that scrolls through popular recommended podcasts. The overall interface is a good example of Material Design, complete with the slide-out side menu a finger-friendly layout.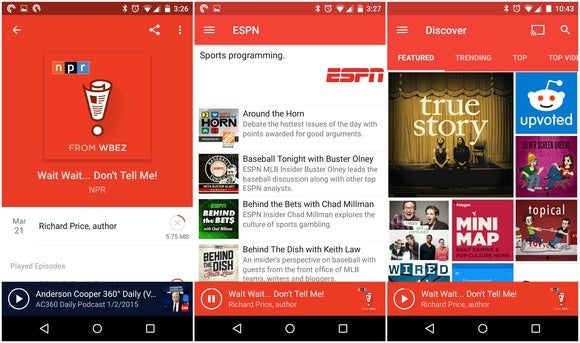 If you're new to podcasts it's worth checking out the featured or trending sections to see what's out there. dcasts in these sections range from the serious newsy (like those from N) to the ridiculous (like the Carolla podcast). nt something else? st search or use the category filter if there's something in particular you're after.
The main menu is one of the app's best design elements. It gives you a quick glance of your downloaded podcasts, video, audio, or any custom categories you create. en you subscribe to a podcast, you can choose whether it will download over any data connection or stick to -Fi only.
The Chromecast button is also front center—just tap it to send your audio or video to a connected TV.
If the one thing you miss from navigating away from iTunes is the ability to sync your podcasts to the desktop, cket Casts has you covered. Your account syncs up to the cket Casts web app for easy online listening, which is especially great if you have a Chromebook. It's free for 14 days, with a one-time fee of $9 for unlimited usage.
The only feature that should be more prominent is the ability to check out a list of episodes. Right now you have to hit the subscribe button before you can dig down to discover specific titles of past episodes.
ayer FM syncs your podcasts to the desktop
ayer FM is another full-featured well-designed podcast app. If you were to squint you may not even be able to tell it apart from cket Casts given its similar color scheme adherence to Material Design.
It also brings you desktop listening through its own ayer FM web app. You'll need an account, of course, though ayer FM fortunately offers sign-in so you don't have to think of another password.
The app is free, which makes it a compelling choice if you're a light podcast user aren't ready to commit to a favorite paid app. However, the ayer FM team says it's rolling out a subscription option, which will give you an unlimited number of subscriptions to store. Currently you're limited to 20 at the free level.
DoggCatcher is a customizable contender
The name may sound a little odd, but DoggCatcher ($2.99) is another good option for tracking down playing new or undiscovered podcasts.
Its interface offers hints of 's Material Design aesthetic, but there's are also several cups of Holo (the preferred design from the days of lly Bean).
Nonethless, the layout works well for helping you find new podcasts, as DoggCatcher breaks up the discovery section by audio, video, or news. You can import any existing episodes you have if they're in the Oformat, or find them by RSS feed.
The best way to find new podcasts is to head to the Subscribe section from the slide out menu, as you can browse through categories or get recommendations based on your history once you use the app more frequently.
One neat trick: you can customize the size of the audio player. Tap it once to make it larger another time to hide it, giving more space to scroll through lists find feeds. DoggCatcher also drops in a useful sleep timer, which lets you determine when the podcast fades away in case you doze off while listening. You're also able to create as many categories as you wish if you want to keep your list of subscriptions nice tidy.
Beyondd is search friendly
The interface takes a little more work to figure out than the other choices here, but there's a lot to like in Beyondd (free trial, $6.99 in-app upgrade). It has a good look, smartly puts a search bar within easy reach from the top-right menu.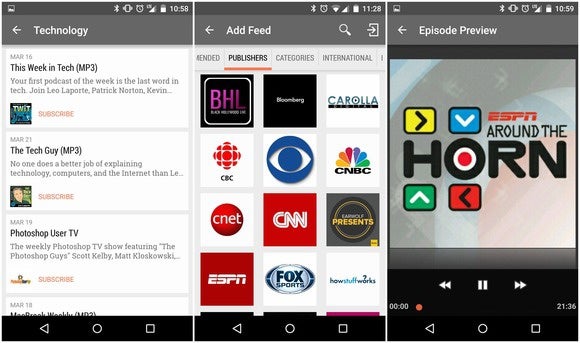 One signature feature is that you can get a snippet of each feed by hitting the preview button. If you like what you hear, you can then touch Subscribe look forward to new episodes to download when they're ready. It has a great breakdown for finding feeds, letting you search by publisher, country of origin, or many other choices that are enjoyable to just browse through.
You can customize how many episodes stay on your device if storage becomes a concern. Chromecast support is also here, which is useful if you want to watch a Ted talk or take in the video that is becoming more common with podcasts.
The free download lets you try out all the features for seven days – otherwise Chromecast support, device synchronization, automatic podcast downloads disappear unless you opt for the in-app upgrade.
If you like Beyondd are feeling adventurous you can join the Beyondd Beta, which will let you test drive new features before they go live.
No matter your choice, you should be happy with one of these selections as they all do the basics have developed their own strengths. If there's a particular podcasting app you're fond of let us know about it in the comments, as you can never have enough choice with Android apps.