already reminds you where you parked your car or whether your significant other popped into the bar on the commute home, but it's not stopping there.
According to a report from Android lice, the company's next big ay Services update will include a new feature called Nearby. Apparently, it will enable you to connect with people, places, things (the definition of a noun!) near you. You'll be able to set actions around any of these criteria through Now, too. Android lice secured this copy from a leaked screen with a brief overview of its features:
Nearby lets you connect, share, do more with people, places, things near you.

en Nearby is turned on for your account, can periodically turn on the mic, -Fi, Bluetooth, similar features on all your current future devices. + other services need this access to help you connect, share, more.

en you turn on Nearby, you're also turning on cation History for your account cation Reporting for this device. needs these services to periodically store your location data for use by Nearby, other services, more.
has acquired quite a few companies that would contribute to this sort of technology, including Bump Slickgin. There was also a subtle reference to it in the Android ar promotional video. Android lice also has screens of the feature, located in Android's location settings.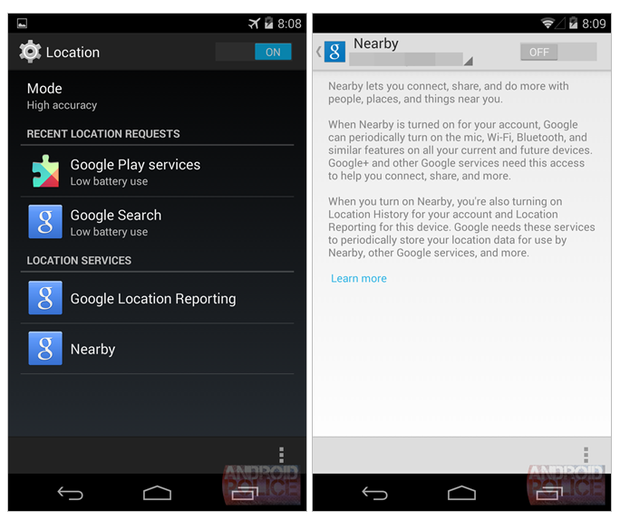 I/O is coming at the end of the month. I wouldn't be too surprised if this particular feature is part of the keynote.