BARCELONA—Sony has been struggling to maintain its relevancy in the US market, but overseas its hopes are high. On Monday at Mobile World Congress, the company announced a bevy of new products, including a new Xperia Z2 Tablet, the mid-range M2, and the follow-up to last year's flagship phone, the Xperia Z2.
First up is Sony's Android-powered Xperia Z2 smartphone (pictured above). The waterproof device features a 5.2-inch Full HD TRILUMINOS display, a 2.3GHz Qualcomm Snapdragon 801 processor, 3GB of RAM, and a 3,200 mAh battery pack, as well as noise-canceling technology embedded directly into the headphone jack. The Xperia Z2 also features a 20.7-megapixel rear-facing camera, in addition to camera-shooting apps like Timeshift video and AR video.
The Xperia Z2 Tablet is essentially a blown-up version of its smaller sibling, the Xperia Z2. It features a thin, waterproof chassis and a 10.1-inch full HD display that utilizes Sony's proprietary Live Color LED, which the company describes as "providing bright natural colors and perfectly sharp images." It's also fueled by a 2.3GHz quad-core Qualcomm Snapdragon 801 processor and 3GB of RAM, as well as a 6,000 mAh battery pack. It comes with an 8.1-megapixel and 2.2-megapixel rear- and front-facing camera.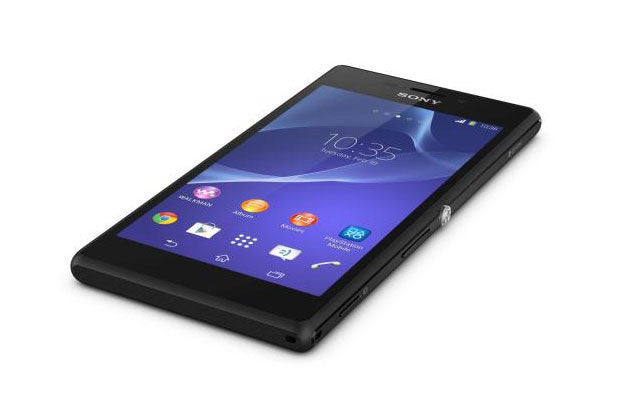 Sony's mid-range handset, the Xperia M2, takes its cues from the rest of the Xperia family with its thin chassis, though it isn't waterproof. It comes equipped with a 4.8-inch qHD display, a 1.2GHz quad-core Qualcomm Snapdragon 400 processor, a 2,300mAh battery pack, and an 8-megapixel rear-facing camera.
Both the Xperia Z2 and Xperia Z2 Tablet will launch globally next month, while the Xperia M2 will launch in April. Sony hasn't mentioned specifically whether any of the devices will make it to the US.