Are you shackled to 's app store in a nightmarish, never-ending ay date? If so, break off your chains explore a new l of apps at Amazon's Appstore, no Kindle Fire tablet required! That's right, you can install Amazon's Appstore on just about any Android phone or tablet, providing your device with a whole new destination for app discovery.
Amazon knows it needs to provide an incentive to get you using its app store, it does just that by continually giving away apps games. Every day of the week, 365 days a year, the Amazon Appstore offers up a new 'pay' app or game, totally free, for 24 hours only.
Another advantage is title availability. In the past, popular games such as ants vs Zombies Angry Birds Rio have launched exclusively on Amazon's Appstore, only ling on the ay store weeks later.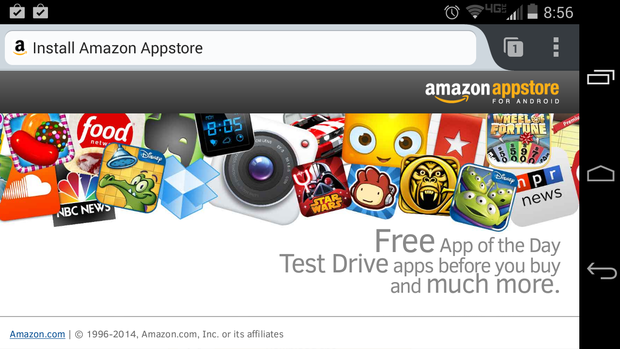 Install the Amazon Appstore Android app
To get access to the daily freebies, you'll need to install the Amazon Appstore for Android.
Before you do the install, you'll need to dive into your Android Settings panel to enable the appropriate permission. Go into Settings, then Security, scroll down to tick the checkbox for Unknown sources.
This setting requirement is certainly a drawback to using Amazon's offering, as you won't be able to install apps from its Appstore without this enabled. Keeping Unknown Sources turned on does make your phone more vulnerable to a potentially malicious app installation, so be extra cautious about tapping on A files, especially those received via email or downloaded by a browser.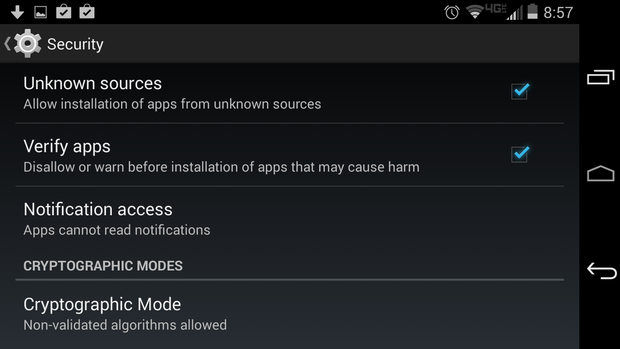 Next you'll need to download the A installer from Amazon, which weighs in at about 5MB.
Once the download completes, tap on the A to begin the installation. From there it's a stard app installation experience. Before you continue on by tapping Install, you'll be warned that Amazon wants to have its way with your device (via various permissions privileges).
Once installed, launch the Amazon Appstore you'll be prompted to sign in with your Amazon account. If you've been living in a cave for the past 20 years you still don't have an Amazon account, there's even a 'Create Account' option right there on the login screen.
After logging in, there's a brief pause for 'Initializing the app' then you're dropped into the main page of the Amazon Appstore.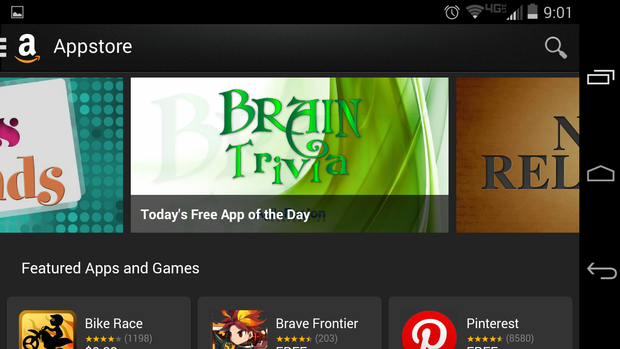 You'll immediately notice that the Free App of the Day is prominently featured at the top center position of the store home screen.
A few notable pay apps that I've nabbed for free in the past on Amazon's Appstore include; CalenGoo ($5.99), Monopoly ($1.99), Shazam Encore ($5.59), SwiftKey ($3.99), ellet ($9.99). If you're interested in pursuing a historical log of all the free apps that have been sacrificed at Amazon's altar, you can do so with the unofficial @AmazonAppADay Twitter account.
Amazon Appstore features settings
Apart from the Free App of the Day, the Amazon Appstore has a few other features settings that are worth checking out.
The Test Drive option allows you to run an Android app via a built in browser, without the need to download or install the app. This provides an excellent way to try before you buy, allowing you to sample apps without a commitment. Be aware that you'll need a solid network connection for this feature to work properly, as I received a notification that my connection was no longer fast enough "to provide a good Test Drive experience", even while I was testing at home on -Fi.
The My Apps library section of the Amazon Appstore keeps track of all of the apps games that you have purchased, including the free ones. My Apps shows you what apps you have in the cloud (those apps that you have purchased but not installed), what apps you have installed on your device, it also displays available app updates.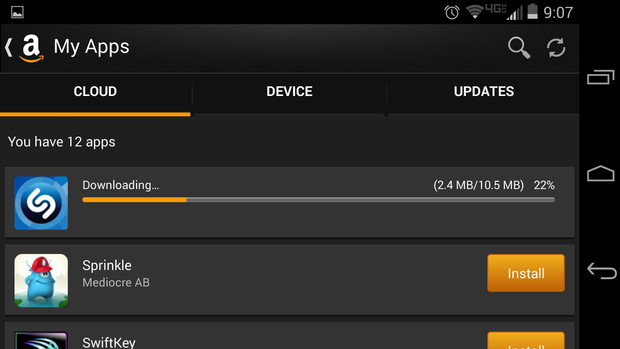 Sadly, the Settings panel for the Amazon Appstore app is pretty sparse. You can configure larger app packages to download over -Fi only, with options for 20 MB 50 MB threshold triggers. If you have a limited amount of data allocated per month on your mobile plan, then you'll want to use this setting to avoid larger app downloads over mobile networks.
Unfortunately, the Notification settings in the Amazon Appstore are pretty useless. Surprisingly, there is no option to receive notifications on the new Free App of the Day. o wants to manually launch the Amazon Appstore every day just to see what the free app is?
Free app of the day notification apps
Thankfully there are a few third party apps in the ay Store that can fill the void help you stay apprised on Amazon's Appstore giveaways.
The 2 that I tested that actually work well (on Android 4.2 4.4) are Free App Notifier Daily Free App @ Amazon. Neither of these apps are without flaws, but they both allow you to specify the time of day that you want to receive a notification they both reliably pop notifications at the time that you specify.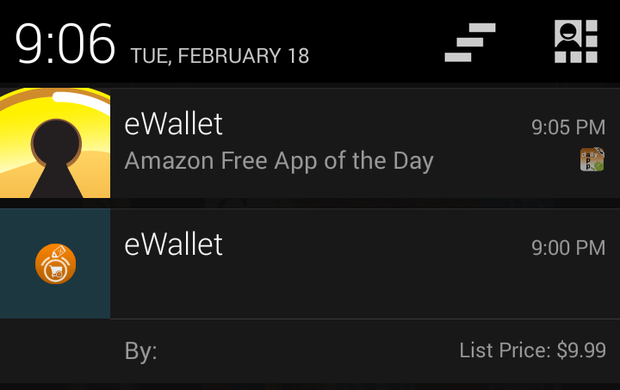 I like that you can disable notifications for games in the Free App Notifier settings, I find it useful that its notifications include the app's original list price. The Daily Free App @ Amazon app includes an image from the Free App of the Day in its notification, providing a nice visual touch.
If Free App Notifier would update its notifications to include an image from the day's free app, include a description, fix its author display bug, it would become hs-down the best Amazon free app notifier.
No refunds Appstore installation checks
If you're accustomed to the 15 minute grace period that is available for refunds on the ay store, be aware that Amazon's Appstore has an unequivocal "all sales are final" clause in their terms of use. If you're struck with buyer's remorse after an impulse Amazon Appstore purchase, then it's a too-bad so-sad scenario for you, as there is no recourse.
The one unadvertised exception to this rule is for 'accidental' app purchases. I stumbled upon this when I inadvertently purchased an app that I was trying to use the 'Test Drive' feature on. After a quick chat with Amazon support, I was immediately refunded the app purchase price. st another example of excellent customer service from Amazon.
One crucial app dependency that isn't advertised very well is that you must keep the Amazon Appstore installed on your device as long as you want to continue utilizing apps sourced from there. Apps obtained through Amazon will periodically run a check to ensure that the Amazon Appstore is also installed on the same device. If not found, the app won't run.