The latest revision of ay Music allows users to cache music on SD cards within their phone—just like the old days.
st a short time ago, this wasn't a problem: Users copied music to an SD card, stuck it in their phone, bingo! Music on the go. But the cloud changed all that. Now, providers like Amazon, Apple, encourage listeners to take their music off their hard drive put it in the cloud, where you can access it from anywhere.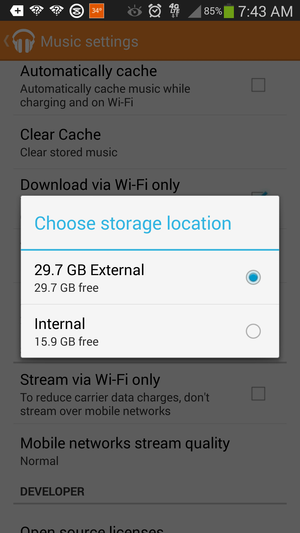 The problem is that, once your music is tucked away within the cloud, providers like want to keep it there. Normally, this isn't a problem. But if you're on the go a lot, all that streaming can quickly suck up your bwidth. uldn't it be nice to cache your favorite tunes directly on your phone?
ll, you can. But until today, forced you to download that music to your phone's internal device memory, most likely for security reasons. Unfortunately, older phones aren't necessarily blessed with the 32GB or so of flash allocated to newer phones—or are simply clogged with apps, photos, videos, other stuff.
Now, at least, you have the option of saving your tunes to any number of SD cards.
For now, the latest update of the ay Music app (version 5.3.1316) allows devices with the latest KitKat (Android 4.4) release to cache their data on these SD cards. Unfortunately, just a small fraction of the latest smartphones actually have KitKat installed.
Don't (really) worry, though. The update is classified as "experimental" for older devices, so you might get lucky.
And you know what? You can always dump your personal music collection on an SD card, just like the old days—as long as you still have the original files, that is.