It's the Fourth of July holiday weekend, which means many of you probably have an extra day off—or simply plan to take it easier. And if you have some quality time to spend on your phone or tablet, why not fill it by checking out the top new and updated Android apps?
A couple of standout games make the leap to Android this week, including online team battler Vainglory and music game favorite Groove Coaster 2. Meanwhile, NBC's Tour de France 2015 app delivers streaming video of the cycling showdown, Yahoo's updated Aviate launcher can shake up your Android home screen, and Fews puts a regional spin on the typical RSS reader. If you plan to unwind with your phone in hand, make sure you have these apps installed.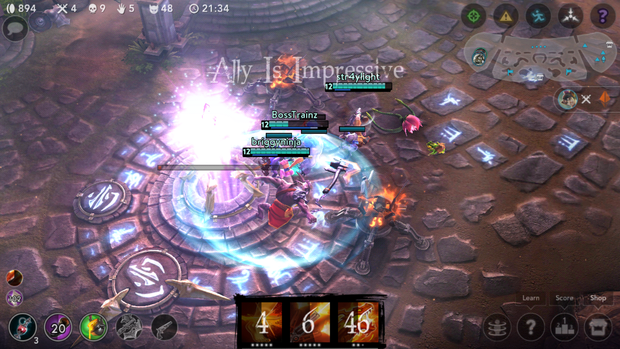 Multiplayer online battle arena (MOBA) games have dominated the PC scene in recent years, with League of Legends, Dota 2, and others commanding huge pools of daily players. And now you can get a similar team combat experience on your phone or tablet thanks to Vainglory.
First released on iOS late last year, Vainglory simplifies the genre design for touch devices without losing the fun and strategy. As part of a three-hero team, you'll work alongside automated minions and try to smash through the enemy squad's turrets en route to destroying their base. You'll need to work together, upgrade your skills throughout each match, and utilize environmental advantages that can swing the momentum in your favor.
The blend of combat and tactical decisions is engaging, and the free-to-play model is fair, letting you have access to a rotating selection of heroes without paying up. Vainglory also looks great, although the single game map means you'll see the same terrain time and again. It's a meatier multiplayer experience than we're used to seeing on mobile (especially for a free game), with 20-30 minute matches, and a really impressive adaptation of the PC formula.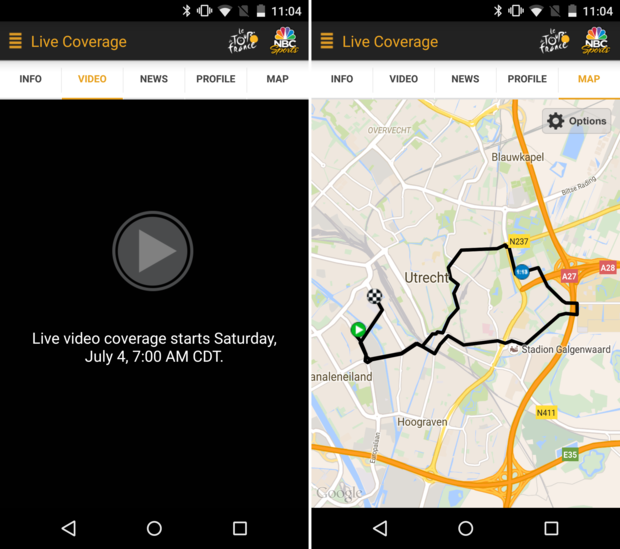 Years removed from Lance Armstrong's drug-fueled dominance, the Tour de France remains a huge draw for cycling enthusiasts. And you'll need to be a die-hard fan to shell out $20 for NBC's official app, which offers one golden jewel of a feature amidst an otherwise bare-bones interface.
Live streaming of the entire three-week event is what you're really paying for, and if you need to see the stages as they happen on your phone or tablet, this is how you'll do it (note that watching via web requires a separate purchase, apparently). Otherwise, the app seems content to present drab stats and other info, which you'll surely be able to find elsewhere for free. Until the event starts tomorrow, however, the app has almost nothing to offer—not even preview clips or commentary. But it ought to be pretty beneficial for aficionados once the wheels hit the winding roads.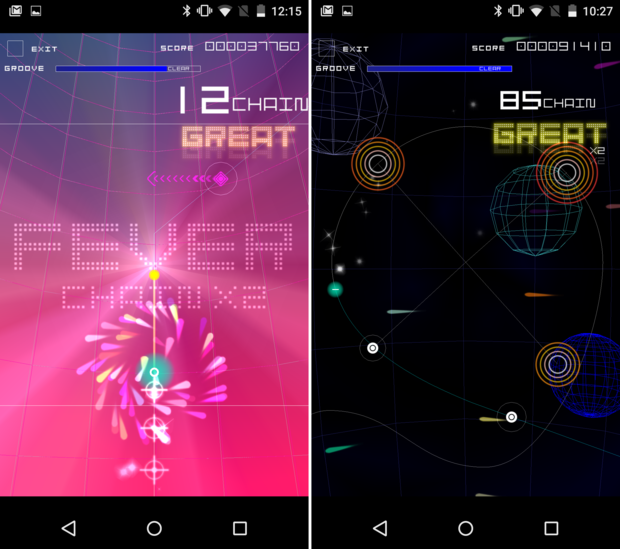 It's truly a great week for Android games. Not only do we get Vainglory, but also the long awaited debut of Groove Coaster—and despite the "2" in the title, it's really just an updated version of the existing free-to-play iOS game. In any case, Groove Coaster is an excellent music game that's perfectly designed for touch devices, thanks to its simple, tap-centric approach.
While the mechanics aren't complex, Groove Coaster still builds great challenge by placing its notes onto a winding track, which the camera pans around as you play, plus it drops in surprise notes and other swipe and tap-and-hold inputs. Best of all, the electronic tracks are ultra-catchy and plentiful, with thumping, dance-infused takes on classical songs and various video game themes—and much more available to purchase, if you choose. It's simpler in scope than the rhythm games we've seen on consoles, but just as gripping.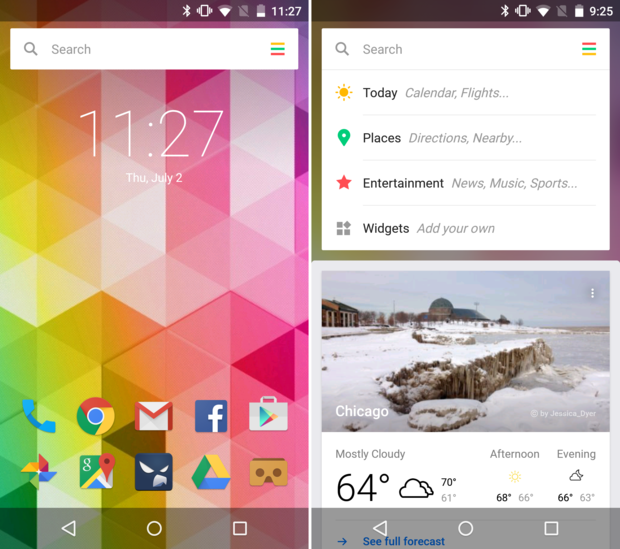 If you're an Android user who doesn't love tapping into Google's own array of apps and services, maybe Yahoo's newly updated Aviate Launcher will be a welcome change. Aviate has been around a while, offering a clean home screen look and useful app categories, but now it's been overhauled to emphasize the new Smart Stream feature. 
Smart Stream essentially mimics Google Now to deliver contextually intelligent cards throughout the day—whether it's maps, sports scores, calendar info, or whatever else might be of use. It doesn't necessarily seem smarter or more helpful than Google Now; really, it's just another option. And while the auto-sorted app categories are nice, existing users seem pretty upset about the dropped "spaces" feature from before (see the Play Store reviews). But if you're new to Aviate, that won't be a stumbling block.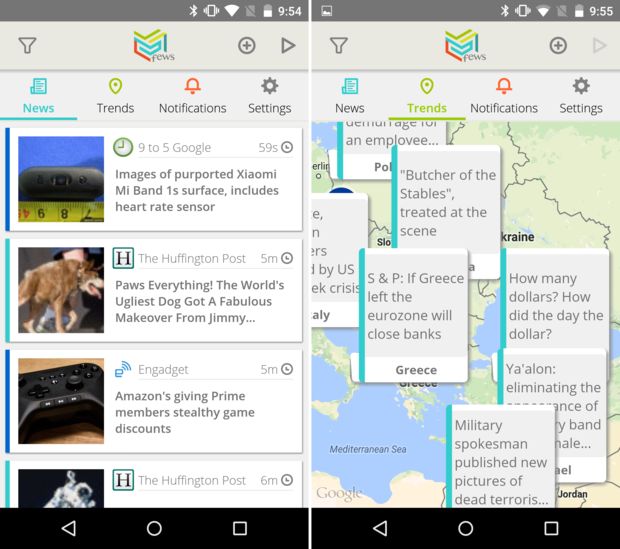 It's not difficult to find a good RSS reader app on Android (Feedly and Palabre pop to mind), and purely as a reader, Fews isn't the most attractive one we've used. But this new app sets its sights on a more specific kind of experience: one tailored to regional interests, letting you see which stories are trending in different countries and pick from top local sources.
Pull up the map and you'll see the top news stories around the world, or you can scroll through the list of countries and choose from 1500 feeds to follow in their original languages. For keeping up with your favorite blogs, we'd probably stick with one of those other options. But if you're eager to see what's grabbing the attention of residents outside your current area or country, Fews offers a unique hook.