Nexus 7 refresh rumors have been on an uptick lately, with talk of HTC making a 9-inch Nexus tablet. Fuel has just been added to the fire, as only a single model of the Nexus 7 is still available in the Google Play Store.
The only option currently in stock is the black 32GB model with unlocked LTE capabilities. All other options detail read, "We are out of inventory. Please check back soon." (The Play Store is still offering three months of free Google Play Music All Access streaming for its lone available device.)
Strangely, when you click on other LTE models, the Play Store often suggests an out-of-stock model. For example, when clicking the 16GB button while looking at the 32GB AT&T model, it suggests the 16GB WiFi-only option, which is also out of stock. Google obviously needs to fine tune the auto-suggest system in the Play Store.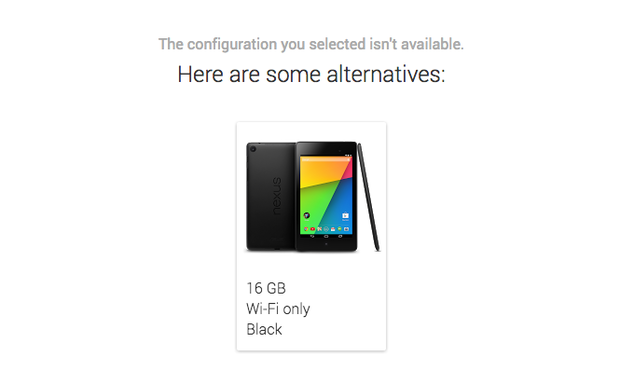 Nonetheless, early adopters could have reason to hope for a 2014 refresh of the Nexus tablet line, as many leaks have indicated an HTC device code-named Volantis or Flounder is on the horizon.
Interestingly, leaks from EVLeaks and Android Police have both pointed to an HTC device using the 64-bit version of Nvidia's Tegra K1 processor. The mystery device is purported to have an 8.9-inch display with a 2048-by-1440 resolution. Leaks suggest it could be a device with a more premium build quality than the current Nexus 7, with an aluminum zero-gap construction and front-facing, stereo speakers.