In May, Google's developer advocate for Android Wear, posted screenshots of some Android Wear notifications in action. Now, Timothy Jordan is back with another look at how Android Wear will work. This time he's spelling out what we've seen from previous blog posts and promotional videos.
The impetus for Android Wear is—like Google Glass—to make it easier to interact with information from your smartphone. Jordan says the typical way we interact with our phone can be cumbersome at times. You have to pull out your phone, unlock it, find the app you want, launch it, and then search out the information you're looking for. With Wear the idea is to glance at your wrist and you're done.
While developers will be able to create apps for Wear, don't expect to see the icon grid we're used to using on smartphones. "If we put these same shiny objects [app icons] on a wearable, well, it just doesn't make sense," Jordan said.
Searching for apps on a watch, according to Jordan, defeats Android Wear's primary purpose to deliver "simple, glanceable" information.
Instead, you'll use Wear to get notifications from smartphone apps, most of which will work on day one with no extra coding from developers.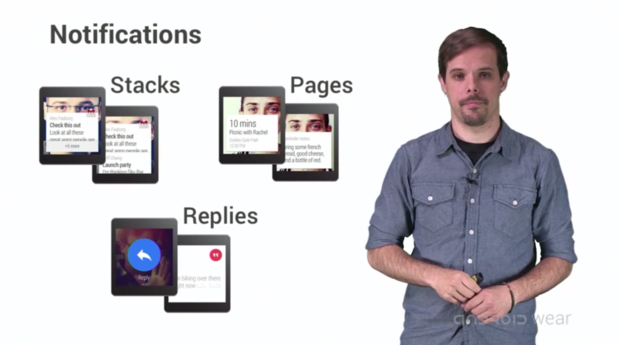 But if apps want to get fancy with stackable notifications that bundle multiple alerts from one app together—a feature dubbed Stacks—it will require a few extra lines of code.
Other extra additions that need developer retooling will include Pages, which are multiple cards that can deliver more information for a single notification. Google could, for example, use Pages to display a Google Keep checklist tied to a reminder alert. Developers can also add Replies, which let you reply to notifications right from your watch using voice interaction.
As for Android Wear-specific apps, developers will be able to create customized card layouts; swap data between the wearable and a tablet or smartphone; and gather and display data from the wearable's sensors.
Android Wear apps can also become default apps for voice commands like "OK Google, take a note."
The first Android Wear devices such as the Moto 360 and LG's G Watch are expected to debut this summer, and that may happen sooner rather than later. Saturday is the official start to summer and with Google I/O kicking off on Wednesday, we just might see a few Android Wear announcements during the developer conference.