Pushbullet for Android is getting a makeover, and a big one at that. The popular application that makes sending and receiving notifications and even files between your computer and Android devices has been revamped with both form and function in mind. 
The new design allows for even better functionality, starting with the devices you send content to and your friends. The new interface is streamlined and straightforward, and uses "cards" that feel similar to Google Now. It also includes new home and lock screen widgets.
A few new features include content filters when selecting a specific phone or tablet in your Stream tab list, or, if you want to get less specific, you can now also broadcast notifications to every phone or tablet in linked to your account. The latter of which should be incredibly handy if you need a specific item on all of your devices, as you'll only need to push it once. 
Pushbullet itself had already garnered quite a bit of attention, but this latest update is a big step forward for the service, and shows a lot of maturity.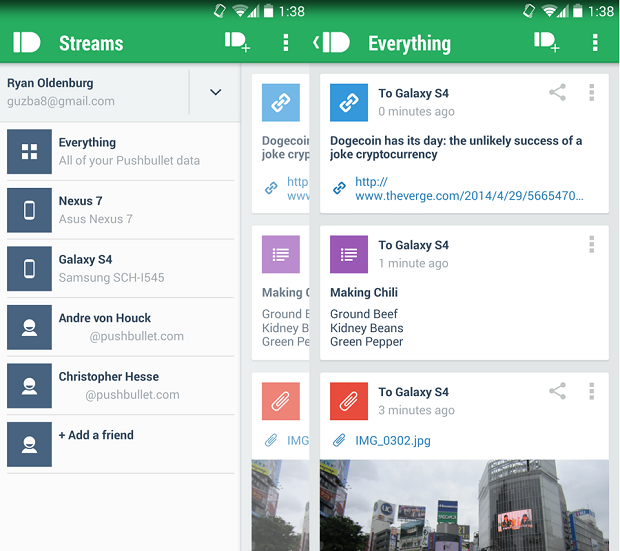 I reached out Pushbullet co-founder, Ryan Oldenburg, where he explained the focus and goal for this update.
"The goal of this update was to get the app's interface to a level that we can grow from for the foreseeable future. Previously, it was a catch-all inbox without any way of filtering or finding things and quickly got hard to use for many people that share a lot of things between devices & friends.
"We've worked to fix this shortcoming in this update by making both the content of push more accessible (cards), and having the ability to see conversations/streams shared with specific people or devices.
"This gives us a great foundation for the next features we want to add which include group support. Without the ability to filter and even see your groups, it wouldn't make much sense. Now, with this update, we've made that possible.
"I think of this update as a sort of 'growing up' into a larger service."