Tapping on your display to wake it up is the new slide to unlock. All the cool phones are doing it.
But if your phone isn't cool enough, you can always grab an app from the Google Play store to enable this nifty little feature—sort of. The app is called Knock Lock and it allows you to lock the device rather than unlock. However, when paired with either HTC or LG's double-tap-to-wake feature, you won't have to bother reaching for the power button every again. Here's how to set it up.
Turn on special services
Start by downloading the app from the Google Play store. It's free! And free things are sometimes wonderful.  

Once you launch it, Knock Lock will guide you through enabling special service to make this feature a possibility. Isn't it nice when application developers do that for you?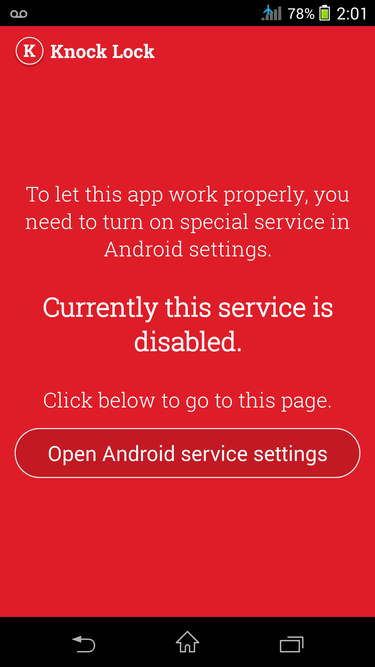 If you ever want to disable it, you can do so from within the app or by navigating to Android Settings > Security > Device Admins. From there you can disable Knock Lock, and then uninstall it as you normally would any other application.
Choose your "knock zone"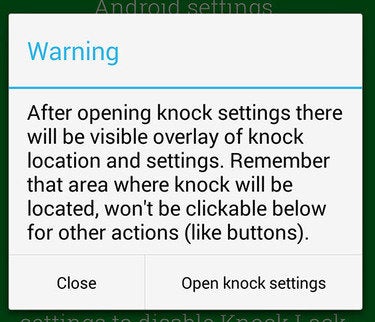 It's not actually called a "knock zone" but that sounds fitting. Tap the cog icon in the upper right-hand corner. It'll briefly display a warning (above). Tap Open knock settings to move on.
You'll see the screen below. The little "K" icon can be moved around the screen. It's essentially a marker for your "knock zone."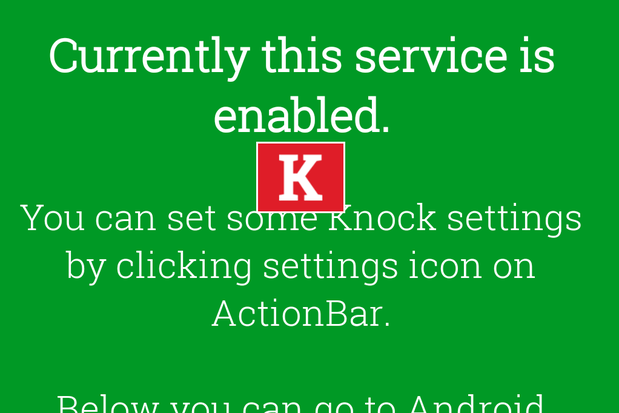 There is one slight caveat: the area you sequester may be rendered unusable by certain apps. For instance, Facebook worked fine, but the keyboard would not register my tap when I tried to write a comment. You can choose a space that's safe by pressing the back button while you're choosing your spot and trying it out with different apps. When you've found a spot you like, save your settings. 
Tap, Tap
Practice your "knock" a few times in the area where you placed your marker. This feature is even more useful if your phone already has double-tap-to-wake enabled. 
Got any other apps you like that perform a similar function? Leave a comment below!