You just got back from the store with your shiny new HTC One, and you're ready to crank some tunes through those BoomSound speakers, when you realize: you don't have any tunes. You spent the last 10 years buying music in iTunes, and now it's locked in Apple's walled garden, where only the Apple Faithful with their iPhones and iPads are deemed worthy enough to listen to it.
But you paid for that music, and you deserve to listen to it on whatever device you want!  Fortunately, the Google Music Manager makes it easy to import all your iTunes music into Google Play Music, where you can download or stream it to your Android devices. Here's how to do it.
Install Google Music Manager
The first thing you'll need to do is install Google Music Manager, available for Windows (XP and above), OS X (10.5 and above) and Linux (Debian/Ubuntu/Fedora/openSUSE). To download on any platform, go to play.google.com/music, click the Upload icon in the top right corner, then Download Music Manager.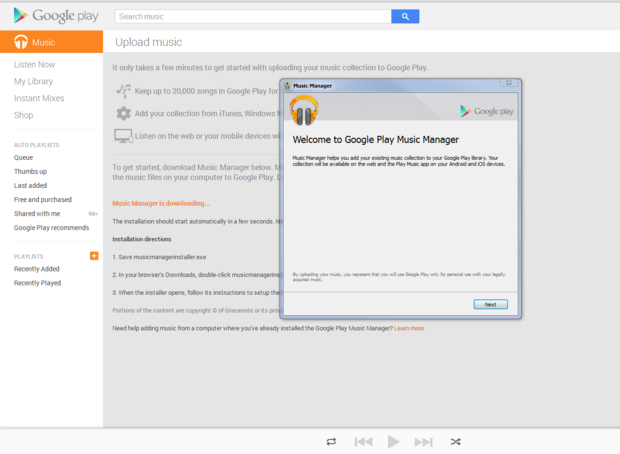 Once the download is complete, launch the setup application and Google's Music Manager app will automatically be installed.  
This probably goes without saying, but be sure to sign into Music Manager with the same Google Account you'll use as your primary account on your Android device. Once you've entered your account credentials, you'll want to upload your music to Google Play.
The first option that pops up lets Music Manager scan your iTunes folders for music files, and after a quick scan, you'll be asked whether you want to upload all your songs and playlists, or only a selection of your songs based on your established playlists.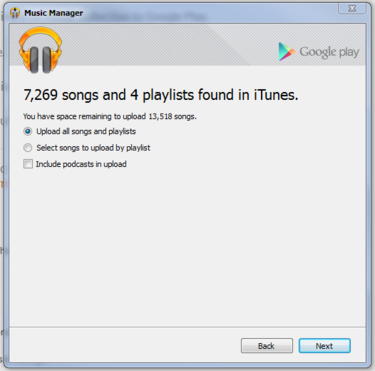 Pick whatever choice works best for you, enable the setting that automatically uploads future iTunes purchases to Google Play, and your upload will begin.
Accessing Music Files on your Android Device
Once the upload process is complete, all of your music will appear in the Google Play Music app on your Android device. This comes preloaded on most phones, but it's also available on the Play Store if you don't already have it.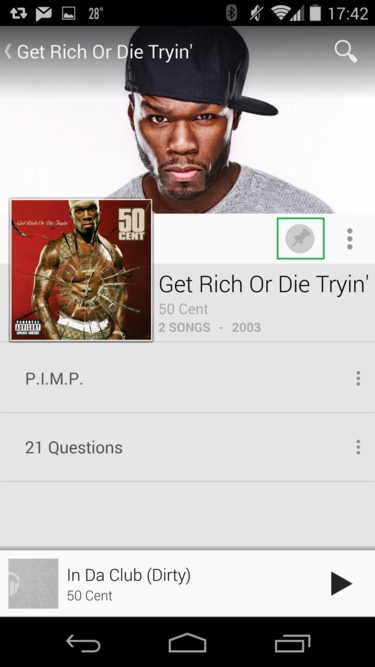 Of course, you came all this way to play your music, and you can do that in one of two ways. All music you've uploaded to your Google Play Music cloud is available for streaming whenever you have an internet connection. Just tap on a song or playlist to start streaming.
If you need offline access to your music (going on a plane or to a place with shoddy reception and no WiFi), you can tap the Pin on any album, song or playlist, and that music will be downloaded to your on-device storage for offline playback.
You can venture into settings and make it so your music will only be downloaded over WiFi, something we highly recommend in today's world of limited data plans.