We've seen a ton of leaks about the upcoming OnePlus One, the second phone to come with CyanogenMod out of the box (the first being the Oppo N1). But most of those leaks have come from OnePlus--the new smartphone upstart hoping to make a name for itself with its new Cyanogen phone.
On Monday, however, Engadget reported it obtained some leaked screenshots of the OnePlus One that didn't come from the company's official PR channels. The gadget site posted two screenshots showing what it claims are the lock screen and the "About" screen for the new CyanogenMod-loaded handset.
Engadget also says the OnePlus One is running CyanogenMod version 11S (and not just 11), suggesting there are some customizations to the open-source OS made specifically for the One.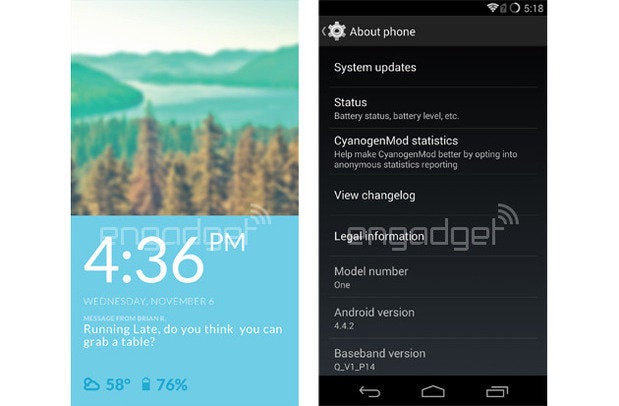 The lock screen looks very nice, with integrated app data such as local weather, battery power, the time and date, and a recent SMS message. You can get similar data on your lockscreen with third-party apps from Google Play, but the purported OnePlus One screenshot looks particularly attractive and well designed.
The "About" screen is just your standard view from the Android Settings app. What's notable about that screenshot, however, is that it shows the model number for a phone called "One." It also reveals that this device is running Android 4.4.2, KitKat.
Currently, the stable build of CyanogenMod is 10.2.1 for most phones, which is based on Android 4.3, Jelly Bean. CyanogenMod 11 nightly builds are based on Android 4.4.2, KitKat.
OnePlus recently announced that it will officially debut the One (not to be confused with the HTC One) on Wednesday, April 23. The device is slated to have a 5.5-inch 1080p display, Snapdragon 801 processor, 13-megapixel rear-facing camera, and a 3,100 mAh battery. One Plus also says it was able to cram its 5.5-inch device into a body typically reserved for a 5-inch handset, suggesting the phone probably has an edge-to-edge display.
Pricing and U.S. availability for the OnePlus One have yet to be announced.