Google set off an avalanche of news today when it announced the specifics of its new wearables SDK. A rumbling mass of "me, too!" announcements followed, as individual companies disclosed their own plans for wearable devices.
We have yet to see what developers plan to do with the Android Wear developer preview SDK. However, thanks to the intrepid code diggers at Android Police, we have some tantalizing glimpses of what to expect. Here's what caught our eye in their report.
Say goodbye to angular watch displays
Voila! It's an emulation of a round watch display, like the one featured on the as-of-yet-released Motorola Moto 360. Developers can tweak their apps to work within the confines of this relatively peculiar shape. Does it mean we might expect other shapes to crop up in the future—a heart shape, perhaps? Unlikely. But at the very least, we're no longer limited to rectangular watch displays.
Everything is a card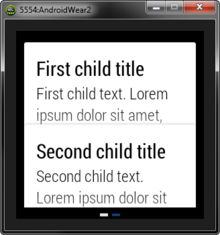 You start off at the Home screen, which houses the clock app, voice input button, and most recent app, but the user interface and notifications stack appear similar to the Cards contained within Android's Google Search app. We expect that the Android-powered smartwatches that follow will essentially be an extension of Google Now's capabilities, though it'll also be interesting to see how third-party companies will integrate with it.
So… you like gestures?
Buttons are totally passé. Touch gestures are where it's at. You can scroll through notifications by flicking up and down, or peruse through the various actions for each app by swiping from right to left. According to Android Police, each action button occupies a full screen, so it's all fairly self-explanatory. 
Voice control remains mysterious
The voice functionality didn't work when Android Police delved into the developer preview SDK. For now, we can just offer up this YouTube video from the Android Development team on what to expect.

What's got you most excited about the Android Wear SDK? You can read the whole walkthrough over at Android Police.