When the original HTC One first arrived, its UltraPixel camera was heralded for its high-quality image capture. So what can the company do as a follow-up to fend off challenges from the all the other smartphone manufacturers, which are increasing camera quality as well?
We don't have any specifics on what to expect in HTC's next high-end handset, but an insufferable video that purports to demo the new phone shows two cameras on the back of the next HTC One. That's intriguing enough, but now GSMArena has reported on a leaked brochure from Telstra, an Australian carrier, that would seem to offer a bit more evidence on what those two rear cameras are actually doing on the back of the handset.
Apparently, HTC has a new system called Duo Camera, and those two sensors will enable you to do things like choose the focal point of the scene you're shooting, and create bokeh effects—according to the brochure, anyway. We can also speculate that HTC may revive the features of its Evo 3D phone, and enable 3D effects with its camera, too.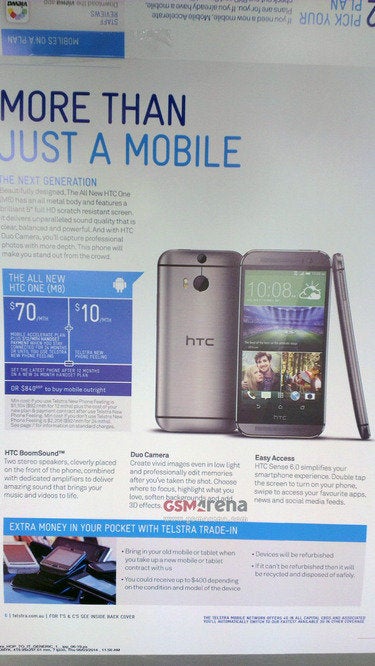 No one has verified the authenticity of the brochure, which doesn't delve into megapixel specs, or whether the dual cameras come with optical image stabilization or HTC's UltraPixel technology. But it does look like the phone includes dual-LED flash, as there are very obvious flash units tacked onto the device depicted in the brochure.
The brochure also states that the next-generation HTC One will have BoomSound, a 5-inch display, and Sense 5.0 with the ability to double tap the screen to turn on the phone.
We'll have every singly detail about the new HTC One toward the end of the month. Be sure to join us March 25 for coverage.