Samsung Galaxy Note II users on the Sprint network are beginning to receive a software update that allows them to work in multiple windows on the device.
With the new feature, you can split the Android home screen and run two applications at the same time. On an ordinary smartphone, creating two windows would not be very productive, but with the Note II's spacious 5.5-inch display, that's not the case.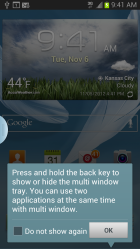 When the multi-window feature arrives on a Sprint Note II, it can be activatedthrough the settings menu or by pressing and holding the back key on the device.
Although Sprint announced the software update Tuesday, it could take up to five days before all Note II owners receive it.
The multi-window feature has been activated by carriers in other parts of the world, but has been absent from U.S. models of the Note II.
Sprint also added several other features with this latest software update for the Note II. They include:
Corporate device administrators can now lock the GPS settings on a Note II by default
When a Note II is out of Sprint's coverage area or in airplane mode, any emails created during that time will be automatically sent to the outbox for dispatch when a connection is reestablished
If a text message is received while you're talking on the phone, you'll hear a beep to notify you of the event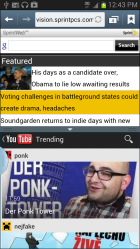 Because of the large size of its display, Samsung's Note devices have challenged the traditional definition of a smartphone. Some technology enthusiasts contend it's not a smartphone at all, but a phone-tablet hybrid, or phablet.
The latest addition in the Note line has a larger display than the original model, with a resolution of 1280-by-720 pixels. Its processor is also more powerful than the original – a quad-core chip running at 1.6GHz. Another feature of the unit is a stylus, called an S Pen.
Although the Note II has just started arriving on U.S. shores – Verizon, T-Mobile, US Cellular and AT&T will start selling the device for $300 with a two-year contract – overseas sales have been hopping. In the first 30 days following its launch, Samsung said it sold three million units of the handset.
This story, "Sprint's Galaxy Note II users get split-screen update" was originally published by TechHive.