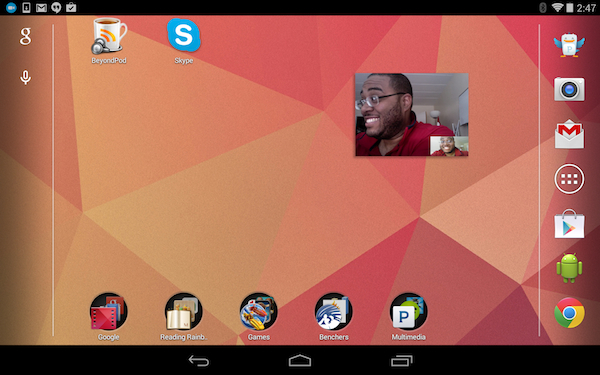 Skype has released a major update for Android, which like the previous update focuses on improving the tablet experience. Skype 4.5 for Android brings two new features.The first one is the picture in picture window features that will allow you to see the video call even when you switch to other apps, similar to Windows 8's Snap View feature, which is quite nifty as it will allow you to multitask even while you're on a Skype video call. The feature is available only for tablets currently.
You can now pinch your contact list to zoom out to an alphabet and tap on the letter (or number / symbol option) to jump to that section, which should make it faster to search through your contacts, especially if you've a long one.
In addition to these new features, Skype 4.5 update also includes the following bug fixes and improvements:
Improved Video Instant Messaging functionality overall, including fixes on latest Samsung phones
Added compatibility for the Hudl tablet
Fixed crashes on the Nexus 5
Drop down filter selections on the people tab are now persistent
You can download the app from the Play Store using this link.
[Via
Skype
, Image Credit:
Mobile Burn]