At Google I/O, Google released 41 new updates and enhancements to Google Plus including auto-enhanced images, automatic grouping of burst photos, auto highlight, a revamped UI and much more. Today, the company bumped that number to 42 with a major update to the Google Plus app for Android.
The v4.0 update for the app brings all the new features that Google introduced to the web version of the Google +. Here is a list of all the new features that the update brings -:
Auto Backup – It looks like Google has renamed Instant Upload to Auto Backup with this update

Auto Highlight – Automatically browse some of the best shots from every album you upload to Google +
Auto Enhance – Automatically enhances your images for to make them priceless. The enhancements can always be reverted.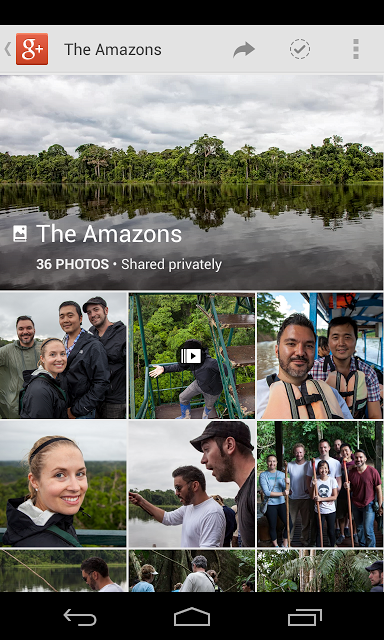 Auto Awesome – Create animated photos or panoramas and much more from all the existing photos that you have uploaded
Improved Photography Tools – The update adds some of the photography tools available on Snapseed if you want to further enhance your images
Location Sharing – The new Locations section in Google+ app will display the current location of all your friends, who have shared their location with you, on a map making those quick meetups frequent and easier.
Auto tagging – Like on the web, all your posts from Google+ will be automatically hash tagged with tags that Google thinks are relevant. You can also click on a hashtag to see a stream of relevant content from that stream.
Hangouts – The update also ditches the Messenger app, and instead provides one tap access to the Hangouts app.
The update also includes other subtle improvements like the ability to edit additional profile fields, updated notifications UI and more. The Google Plus v4.0 is rolling out throughout the day, so be patient if you don't already see the update.
The official announcement on the Google Plus blog ends with "stay tuned for 43". Maybe, Android 4.3 announcement is imminent? Or maybe, I am just reading too much into words.