T-Mobile's Android update tracking site has a new tool that can take some of the mystery out of waiting for the latest software.
The T-Mobile software updates page now features a timeline that details where your phone is at in the update process (pictured).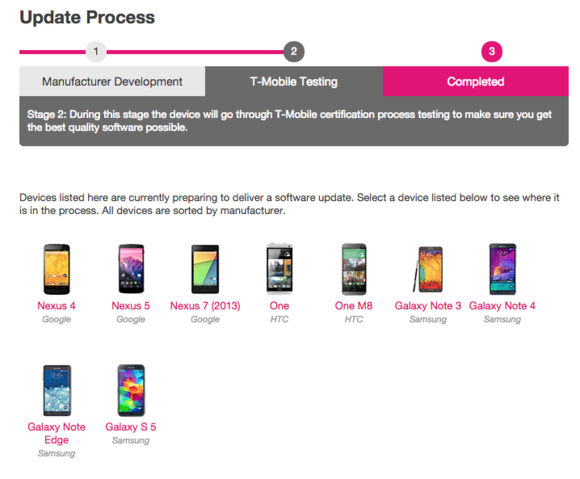 Click on your device and you'll see if the manufacturer is still cooking up the latest update, if T-Mobile is testing it out, or if it's finished and on its way in the form of an over-the-air update. 
For each phone there is another link that takes you to a detailed page with all the particulars about the most recent software version, so you can see if you're up to date or if there's an update headed your way. There's also a detailed tutorial that walks you through how to trigger an update on your own if it hasn't shown up yet.
While we do our best to keep you in the know with our weekly Android update roundup, it's great to see one of the carriers take a more active stance to keep customers informed. This can lead to less confusion and help ease the jitters that smartphone addicts like ourselves get when wondering about when our devices will see all the newest tricks and features.
Why this matters: This looks like another area where T-Mobile can tout that it's the most consumer-friendly carrier.  It's worth noting the site focuses on flagship devices, like the Galaxy Note 4 and HTC One M8. It's unclear if that will remain the case or if the site will expand to other mid-tier phones as well.