One of the best features of Android Lollipop is the "stacked card" multitasking method. With Chrome 39, individual tabs now break apart into their own cards, so you can more quickly navigate back to a specific website.
Grab the update to see this in action, though you only get the full impact of colored status bars and better multitasking if you are one of the few with Android Lollipop. You still get a more prominent bottom Undo button at the bottom of the screen when closing a tab in case you want to reverse that action.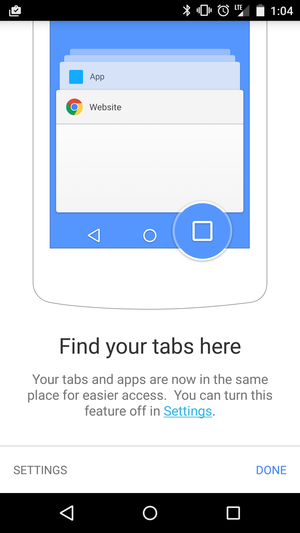 Anyone can now enable the Reader mode that appeared in a previous Beta, but you have to dig into the chrome://flags menu to find it. It cleans up and removes superfluous content when reading an article so you can focus on just the text.
Developers can check the git log for further details on enabling the colored status bar on their own site in order to add some pizzaz. Android Police also discovered a rather odd Easter egg - a jumping dinosaur game to play if your device is offline.
Why this matters: Lollipop's new system of multitasking is more powerful. This philosophy of breaking specific sites out into cards is also visible in other apps, such as Gmail. When touching the multitasking button it will pull out separate actions as cards, like the compose menu or Inbox. With Chrome now on board, we might see other Google apps implement this style of multitasking.