Google Maps is no longer just a digital version of a paper map. With its newly launched Explore button, found in the bottom-right corner of the app, Google is adding more context in the hope you will make it your go-to app for deciding where to get dinner or grab a drink after work.
Explore leans heavily on real-world context when giving venue suggestions, guiding you to interesting places and events nearby. It takes time of day into consideration, offering breakfast spots in the morning or late-night drinks nearer the witching hour. Weather is also considered, meaning that it would ideally not suggest walking 30 minutes to a dinner spot in the rain.
Explore also has a spiffier design than it did when it first rolled out—buried in the search bar—earlier this month, with a large background image that changes to match the time of day.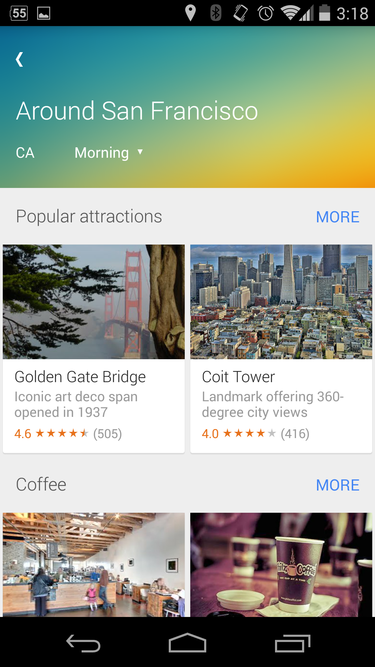 If you are in a large city there is greater specificity in the categories. For example, when hitting Explore in San Francisco you will see suggestions for attractions, coffee, museums, even brunch. It also includes expanded suggestions from Google-owned Zagat and locations getting high reviews from your Google+ circles.
Google is heavily promoting user reviews as part of its City Experts program. Participants who write a sufficient number of reviews get extra perks from the company, such as invite-only events in cities where the program is live.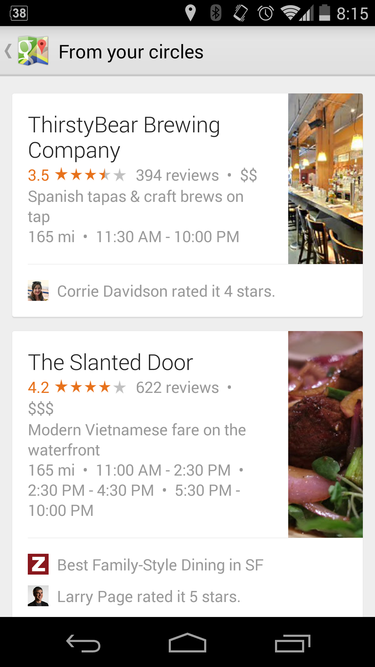 The official Google Maps blog post said this feature was rolling out "where available" but did not indicate specific countries or regions. However, browsing the map indicates that the button disappears when scrolling through a less-populated area of the world.
While Google advises using location reporting to offer suggestions, you can snooker Google Maps into giving you the going-out suggestions anywhere they're available. Just move the map to a different spot and then hit the Explore button if it appears.
The new Explore button does not require an update from the Play Store—it should show up in maps automatically if you are part of the elusive "where available."