It seems like only yesterday we were talking about using third-party apps like Commandr to make up for Google Now's limited support for controlling hardware and other key features with voice commands. Okay, maybe it was only yesterday—but what a difference a day makes.
Google appears to be hard at work bringing more voice control capabilities to Android devices. The latest voice command feature to show up is playback control for audio apps like Google Play Music or third-party podcast apps.
The feature was first reported by Android Police thanks to two tipsters, but as luck would have it, the feature is also active on my Nexus 4, so I took it for a little spin.
Okay Google resume music
The new feature, at least on my device, lets you move to the next song, the previous song, or stop and resume music. It works like any other voice command; you say, "Okay Google stop music," and whatever you're listening to stops. To get going again, you simply say, "Okay Google resume music."
To be clear, this function of Google Now appears to work with any app that controls your audio and is not explicitly for Play Music. If, for example, the last thing you were listening to was a podcast on Pocket Casts then that's what will start playing with the "resume music" command.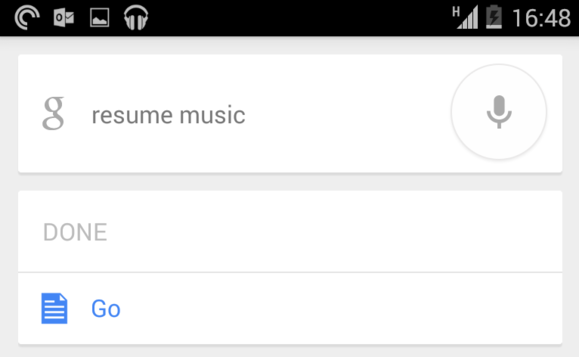 To see if the feature works with your device just start playing music or a podcast and say, "Okay Google stop music" and see what happens.
If you've got the feature, you'll see a screen the like the one above. If you haven't got it, you'll get a note that the action is not supported, along with a voice message specifically saying "Controlling media is not supported on this device."
For anyone deep in an ever expanding love affair with Google Now, this new set of voice commands will only enhance the admiration.
The new feature appears to be a work in progress, as beyond the limited availability, the previous song command doesn't work that well. In my tests, asking for the previous song was no different than hitting the rewind button in Play Music. Instead of going back to the previous song you only jump back to the beginning of the track that's currently playing.
While Google is enhancing the audio controls for Google Now you'll still need third-party app support to use your voice for turning off Wi-Fi, Bluetooth, or activating your camera flash as a flashlight. For those commands, see our Commandr post from Monday to find out about the app's interesting workaround for enhancing Google Now's voice capabilities.