Have you ever launched an app on your Android device and thought, "Huh, this interface looks and acts exactly like the same app on my friend's iPhone?" It's an issue that plagues many Android users: developers publish apps that don't follow Google's design guidelines. Not only does it make you feel like your platform is an afterthought, but when applications aren't streamlined for a particular mobile interface, it can degrade the overall user experience.
Since Google doesn't require developers to abide by the design principles it instituted after the launch of Ice Cream Sandwich, some Android fans have taken matters into their own hands. "I don't think that others should have to put up with having mismatched apps on their phone or tablet," wrote Connor Kirkby. He's part of Holofication Nation, a trio of novice developers who have taken on the task of revamping some of Android's well-known apps using the Holo UI design principles. "I cannot stand using apps that don't fit in with the rest of my phone."
Kirkby and his design partner, Brandon D'Souza, have already overhauled Instagram, Snapchat, and Steam. "We make sure to follow these [Holo] guidelines as closely as we possibly can," wrote Kirkby. Kirkby and D'Souza have never even met in person. They just bonded over what Kirkby calls their "passion for Holo."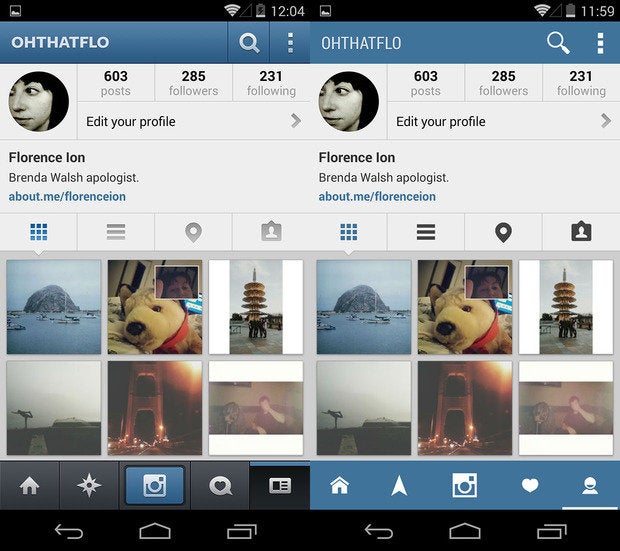 All of the apps that have been made-over still retain their intended functionality. The only difference is that they look vastly different from what the company originally published in the Google Play store. "Features may be added in the future," mentioned Kirkby. "It's not a promise." 
For Instagram, the duo flattened the interface and removed gradients, replacing them with solid lines. D'Souza wrote that he used the Android Developer icon set from Google so that users would be able to easily figure out what each button is intended to do. "I actually don't even use Instagram," he wrote. "I just kind of themed it [to show the potential that the] Instagram app could have if they used the Holo guidelines set out by Google."
To help increase their output, Kirkby and D'Souza have also recently inducted another developer to the team, Bejan Kanga. Kanga worked on the Holofication of Grooveshark, even though there's no Grooveshark app in the Google Play store. "Grooveshark's fans around the Internet have made their own apps," he writes. "However, none quite look the part with the rest of the Android interface."
Like any hacked-together, do-it-yourself project, these apps aren't free of bugs. Instagram has video playback issues, for example, and Snapchat periodically crashes. Grooveshark is completely functional, but its users still can't log in to their accounts to access their playlists. Kirkby appreciates it when users pitch in, however, and checks every email with the mention of a bug fix. "We will attempt to fix them if we can," he assured.
It's also not likely you'll ever see these apps crop up in the Google Play store. They're only available as sideloaded APKs so that Holofication Nation can avoid the wrath of the companies that make these apps. "Cease and desist is always in the back of our minds," wrote Kirkby. "We imagine that they shouldn't be too harsh and will probably realize that they need to follow the guidelines."
Holofication Nation is taking requests. If you've got an app you'd like to see "Holofied," all you have to do is leave them a note.