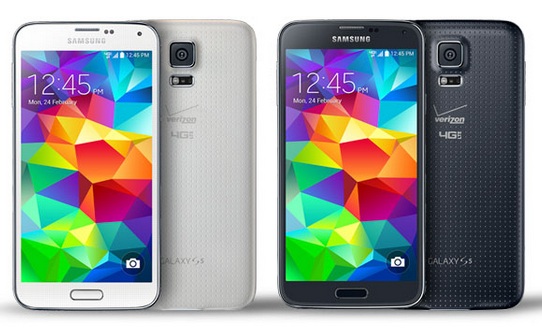 Today is a busy day for Verizon. First announcing the LG G Vista, and then the Kyocera Brigadier with its "Sapphire Shield" display. Now, the wireless carrier has announced a pair of updates for as many devices, with the Galaxy S5 and LG G Pad 8.3 the beneficiaries.
First up, Samsung's Galaxy S5. The main part of the update is meant to update a trio of applications on the device, specifically the 'Caller Name ID,' 'Message+,' and 'Cloud' stock apps that are on the device right out of the box. There have also been a few other tweaks in other apps, like the removal of the 'Search' icon in the Memo app when there is no memo present. There is also an upgrade to the stability of the Gear Manager application, for any users who had experienced less-than-optimal performance.
Here is the full change-log for the maintenance update that brings the software version up to G900VVRU1ANE9:
THE FOLLOWING APPLICATIONS HAVE BEEN UPDATED:

Caller Name ID
Message+
Cloud
THE FOLLOWING ISSUES HAVE BEEN RESOLVED:

'Search' icon has been removed within Memo when there is no memo
Favorite 'Contact' information background is now more readable
Visual Voicemail works when S-View flip cover is closed
Connectivity has been improved when streaming music
Stability has been improved for Samsung Gear Manager
Text alert improvements for select factory installed car kits
"Primary Contacts" label has been changed to "Emergency Contacts" when in Emergency Mode
Power On password is no longer triggered when voice call is completed or after screen dims
SUPPORT HAS BEEN ADDED FOR THE FOLLOWING:

User selectable video application when uploading to YouTube
Message+ now supports closed captioning
Emergency Mode has been updated
Contact Menu stability has been enhanced
Easy Mode Settings now includes images
'Downloaded Apps' field added to searchable file types in My Files
Web Search has been added to S Finder
The LG G Pad 8.3 is also the bearer of good news for owners out there in the wild. The device is being updated to Android 4.4.2 KitKat. The new software version number has been upgraded to VK81022A.
In the update, there are some KitKat-specific additions brought to the tablet, including Multi-User Mode, which will allow you to create multiple user accounts on the tablet, which will let them set up their own apps and wallpapers. You'll also notice the battery icon color change, switched to white from blue.
Here's the full change-log:
KIT KAT ENHANCEMENTS:

Battery icon color changes from blue to white
Immersive Mode automatically provides full screen viewing for any application or game
Print services for HP ePrint, Google Cloud Print and other printers in the Google Play Store
Multi-User Mode allows you to create user accounts and permissions for others to set up and customize their apps & wallpaper
Change in Accessibility Settings
LG ENHANCEMENTS:

Added the Knock Code Feature
KNOCK CODE SETTING

Keeps your device data safe and secure
Create your own Knock code use the four quarters of the screen
Tap your pattern to confirm Knock code
ACCESSIBILITY SETTINGS

Added 'Color adjustment'
Added 'Touch zoom'
Changed the label from 'Shades' to 'Lower screen brightness'
THE FOLLOWING ISSUES HAVE BEEN ADDRESSED:

"Cannot connect to server" error message no longer appears when adding an Exchange account supported by auto-discovery
QPair application provider permissions are now accessible
SIM card works properly when connected/disconnected to network or Wi-Fi
Fast charging now supported when device is charge by Verizon branded high-speed charger (5V/2.1A)
Sound is no longer muffled when playing multimedia in low volume
Music App now plays WMA files containing Album ART data
Falls back to IPv4 connection when IPv6 connection is unavailable to DM server
Changed the from 'Mono audio' to 'Audio type' & 'Sound balance'
Added 'Captions'
Changed the label from 'Touch & hold delay' to 'Touch feedback time'
The updates are currently rolling out now to the respective devices, so if you haven't received it yet, keep your eye out, it should land soon.
Has your device picked up the software update yet?
[Via
Droid-Life
;
Verizon: Galaxy S5
;
Verizon: LG G Pad 8.3
]