Chrome for Android is getting the bump to version 40 after a couple of months proving itself in beta.
The update includes features that bring some better design and functionality to the browsing experience. You can finally close all your open tabs on tablets by tapping and holding the "X" icon at the top of a tab and pressing the "Close all tabs" menu option.
There are goodies for phones too, namely a cleaner view when copying a lengthy URL (pictured) that pops out into a Material Design-style card. This feature also notifies you if you're connected to a secure site or not.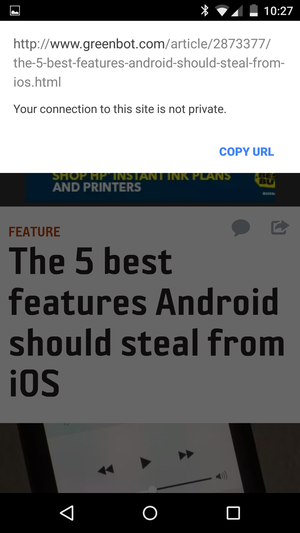 If you dig into the Chrome flags menu you can turn on the new bookmarks manager, which gives a more streamlined view of all your saved sites. The update also has the usual bug fixes and heretofore unknown features that we'll discover after getting some more hands-on time. If you don't want to wait for it to hit the Play Store, grab the APK.
Why this matters: Chrome is perhaps the most important app on Android, as it not only connects you to the web but so many of Google's other services. By keeping its browser at the top of class, you're more likely to use it not only on Android but the desktop and even iOS if you like to dabble across platforms.