It might seem like the Galaxy S8 just arrived, but we're already looking ahead to the S9. Samsung blew us away with the Infinity Display and all-glass design of the S8. Expectations are high for S9, as the highly anticipated smartphone sets the stage for the rest of 2018 flagships to follow. Here's everything we think we know about Samsung's next Galaxy phone.
Update 2/13/18: We've added new rumors about stereo speakers, a new DeX dock, and 3D emoji, along with Snapdragon 845 speed tests. 
Galaxy S9 design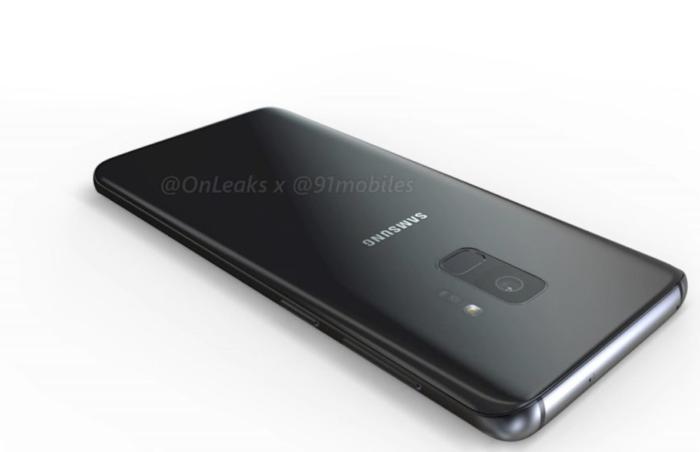 Samsung made a splash with the 18:9, slim-bezel design of the Galaxy S8 and S8+. Rumors suggest the S9 won't stray too far from that formula. As serial tipster Evan Blass pointed out on Twitter, this is a "tock" year for the Galaxy S, meaning it will likely focus on performance enhancements rather than physical changes. Code-named Star 1 and Star 2, according to Blass, other reports have suggested that the top and bottom bezels could be trimmed, but otherwise the front of the device will likely look very similar to the S8's.
The rear of the device will be quite a bit different, however. The placement of the fingerprint sensor was one of the biggest pain points with the S8, and according to /Leaks, Samsung is expected to move it below the camera with the S9. There might be a new color as well: Sammobile recently reported that the new phone will come in the usual black, gold, and blue variations, with a deep-violet option replacing orchid gray.
Enthusiast site 91Mobiles published a set of factory CAD renders of the S9, and the images match up very well with the rumors we've seen so far. Bottom line: few visual changes, but still a beauty.
Galaxy S9 specs and OS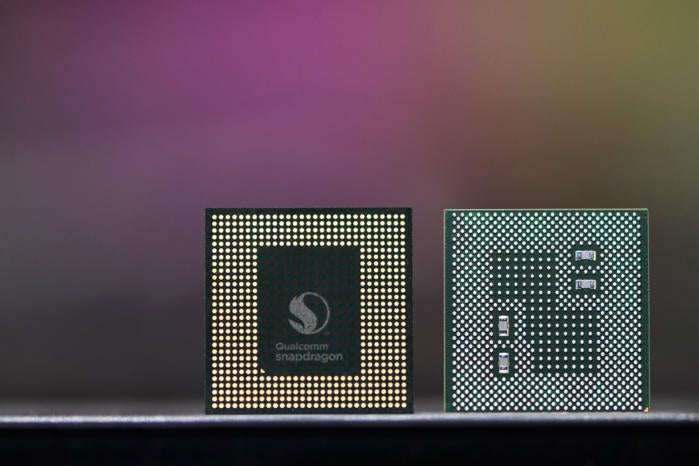 One thing we know for sure about the Galaxy S9 is that it will sport the Snapdragon 845 chip. Recently unveiled by Qualcomm, this is the follow-up to the Snapdragon 835 that debuted in the S8 and powered every Android flagship in 2017. Like its predecessor, the new chip was co-designed with and will be manufactured by Samsung, so there's a good chance the S9 will once again be the exclusive launch phone. As far as performance gains go, Qualcomm recently invited media outlets to test the Snapdragon 845 chip in a controlled environment and found the chip performed about 25 percent faster than the Galaxy S8. 
Along with a speed and power efficiency boost, the 845 chip includes a dedicated AI chip, which could provide a boost to Samsung's Bixby assistant. The chip also includes a Secure Processing Unit for biometric data and payment info, which will work in conjunction with Samsung Knox to make the S9 even more secure. 
Samsung has also announced that production has started on a 512GB storage chip, but it's unlikely that will end up in the S9. Samsung shipped the S8 with just 64GB of storage, so it's unlikely to jump all the way to 512GB. However, a 128GB model is a possibility.
Elsewhere, leaked renders published by China-based site Vtechgraphy.com show the buttons and ports will likely stay the same (though we're hoping Samsung lets us change the dedicated Bixby button), including the 3.5mm headphone jack, thankfully.
On the OS side, a beta version of Samsung Experience 9.0 based on Oreo is already making the rounds, bringing notification channels and autofill along with some Samsung-specific tweaks such as Edge lighting and new clock widgets. The new OS is already making its way to Galaxy S8s in Europe, so we can assume the Galaxy S9 will ship with this new version. Furthermore, Samsung is reportedly enhancing the translation features in Bixby as well as the AI assistant's augmented reality abilities.
Galaxy S9 features
Biometrics were a big deal on the S8 (the placement of the fingerprint sensor notwithstanding), and Samsung may be upping the ante with the S9. Smartphone supplier Synaptics has announced that it has begun mass production on its new Clear ID in-display fingerprint technology with a "top five OEM." That could very well mean it's bound for the S9. There have been rumors for months that Samsung has been testing fingerprint scanning under the glass, a feature Apple reportedly scrapped from its iPhone X. While this seems to contradict reports that there will still be a fingerprint sensor on the rear of the device, it's possible that Samsung will offer both options in the S9, with the in-display scanner serving as more of a next-generation beta feature.
As far as sound goes, renders have shown the S9 with a headphone jack, once again bucking the trend seen in phones by Google, Essential, and HTC. Additionally, Sammobile reports that the S9 will expand its partnership with AKG to deliver true stereo sound on its new handset.
The rumor mill has all but confirmed that the S9 won't have a Face ID-style depth-sensing facial scanner, but it will reportedly copy the iPhone X's funnest feature: Animoji. According to ETNews, the S9 will have a "3D emoji feature...that includes animal characters and will enable users to share these 3D emoji with friends through messaging apps." The report says the feature will be "more advanced than the iPhone X," but doesn't offer specifics to back that claim.
Furthermore, the Korea Herald reports that Samsung will be upping the megapixels on its iris sensor from 2MP to 3MP, which will make it able to "better recognize users' irises even when they wear eyeglasses, move their eyeballs or are in a too dark or too light environment." Additionally, the report says Samsung is tweaking its biometric software to be more accurate.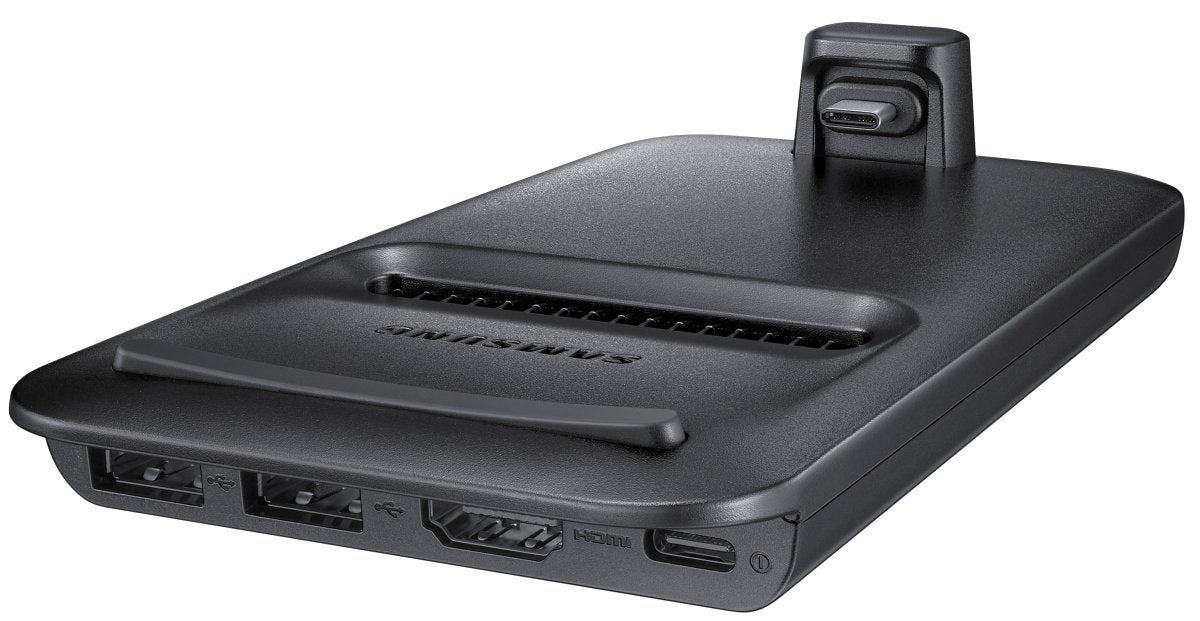 Samsung is also reportedly working on a new DeX dock for connecting the S9 to a monitor, as seen by a pic leaked by Blass on Twitter. Unlike last year's accessory, however, which propped up the S8 and required the use of a mouse to operate the cursor on the screen, this year's dock will position the phone on its back to allow it to be used as a trackpad. It's unclear whether this dock will be backwards compatible with the S8.
Galaxy S9 camera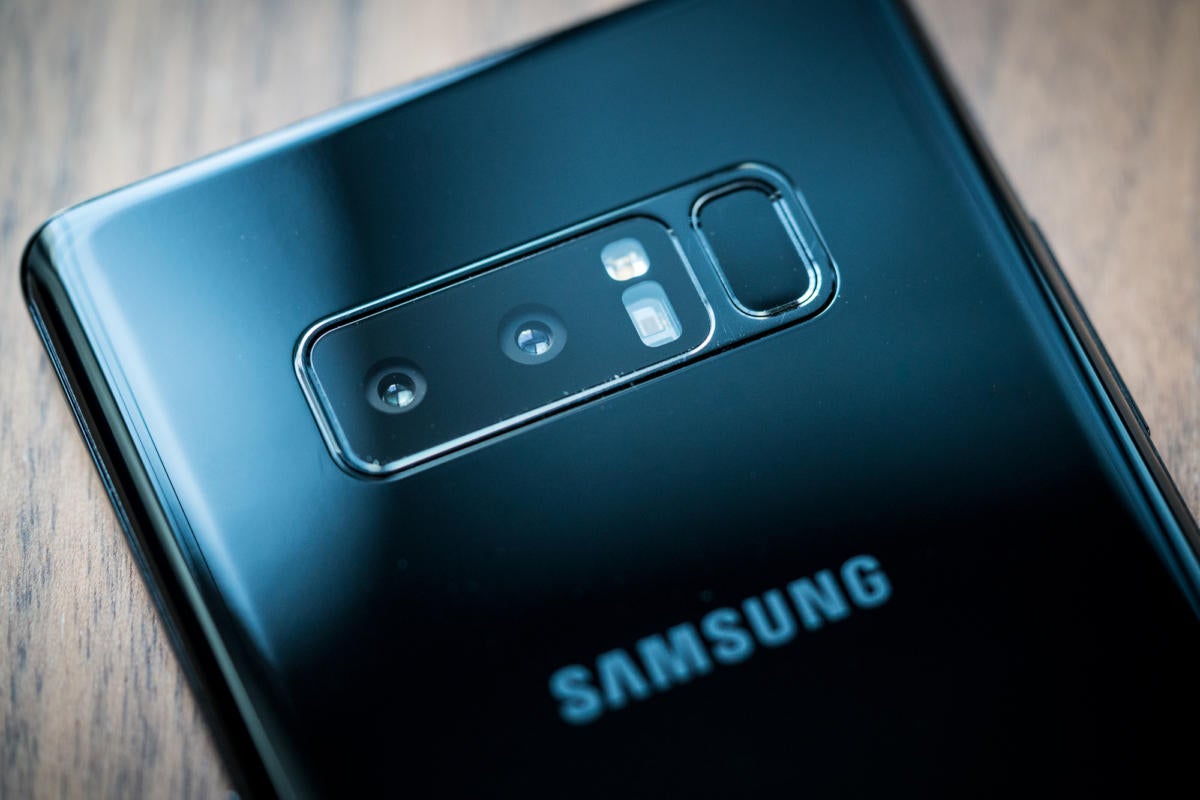 Samsung's own teaser for the S9 event says it will feature a "reimagined" camera, so it will clearly be a major feature on the new phone. On its website, Samsung has already spotlighted upcoming camera technologies for taking slow-motion video and low-light photos, so the new flagships will presumably feature these enhancements.
When the Galaxy Note 8 landed with Samsung's first dual camera array, we naturally assumed it would be making its way into the S9 and S9+. That might not be the case. Rumors and schematic leaks suggest that the smaller S9 will be retaining the single camera, while the S9+ will be getting a dual camera, just like Apple differentiates its iPhone models.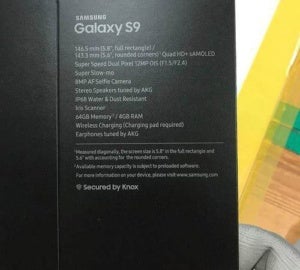 Furthermore, Chinese site Vechgraphy claims that the main camera on both phones will sport an f/1.5 aperture, wider than the Note 8's f/1.7 and the LG V30's f/1.6, which would help with low-light situations. A purported picture of the Galaxy S9's packaging on Weibo (seen at right) confirms the f/1.5 aperture, and also suggests that users will be able to manually switch between apertures, from f/2.4 to f/1.5. Samsung already sells a pricey flip phone in China that features variable aperture, but it would be a first on a premium Android phone. The feature would let users control the lens mechanically rather than digitally for significantly better low-light performance and crisper portraits.
Also on tap for the S9, according to the box pic, is a Super Slow-mo feature that would presumably mimic the one in the Sony Xperia XZ Premium. That phone is capable of shooting video at 960fps, four times the Galaxy S8's 240fps.
Galaxy S9 launch and release
While it was reported that Samsung would be offering a sneak peak of the Galaxy S9 at CES this year, that didn't happen. What did happen was a surprising confirmation of a Sammobile report that claimed Samsung will once again launch its flagship phones at Mobile World Congress. Samsung's mobile division president DJ Koh told reporters that the new phone would be unveiled at the Barcelona event this year after skipping it last year in favor of a New York City launch. And now Samsung has confirmed exactly when we'll get out first look a the new phone: February 25 at noon EST.
This story, "Samsung Galaxy S9 rumors: '3D emoji' may challenge iPhone X Animoji" was originally published by PCWorld.