You no longer need a PC browser to test out apps from Amazon's Appstore for Android. The online retailer recently announced that you can try out apps before you buy them by using the company's new beta feature, Test Drive for Android. All you need is a compatible device and the Amazon Appstore for Android app version 2.6.53 or higher.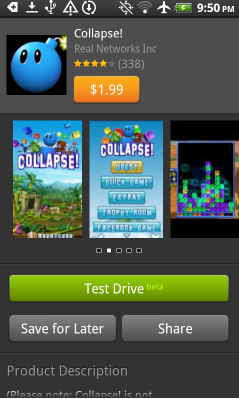 The company said only select Android devices will be able to use the new feature at launch, but did not elaborate on which phones were compatible. If your phone is compatible, a green "Test Drive" button will appear on an app's product page above the "Save for Later" and "Share" buttons. Amazon said more devices will be able to use the new feature in the coming months.

Amazon has more than 5,000 Android apps ready to use Test Drive, and it aims to make the entire Appstore catalog available. At launch, only apps that use basic touchscreen features and device accelerometers have Test Drive enabled. Apps that require multitouch, a keyboard, microphone, camera, gyroscope, near-field communication (NFC), or GPS are not yet available.

Unlike Google Play's 15-minute refund policy, Amazon's beta version of Test Drive for Android does not require you to purchase the app first to try it out. Instead, the company puts the power of the Amazon Elastic Compute Cloud (EC2) servers to work. Whenever you try an app via Test Drive, a version of the app is launched on Amazon's EC2 servers. Your taps and other inputs are sent to Amazon's servers, and all display and audio outputs are sent back to your device. You can purchase an app at any point during your test drive.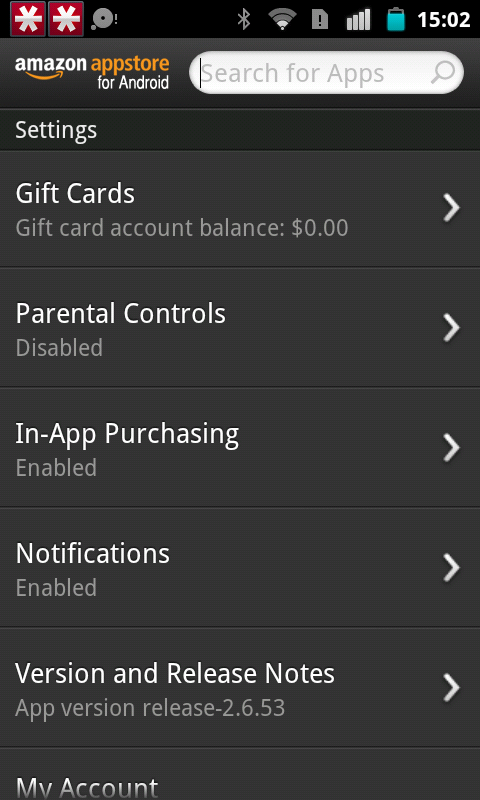 To check if your phone has the latest version of Amazon Appstore for Android, open the app's settings. You should see the version of your app under "Version and Release Notes."

Amazon originally launched Test Drive as a PC-only feature in early 2011 with the debut of the Appstore for Android. The company said it has enabled more than 16,000 apps for the PC-based version of Test Drive since then.
Connect with Ian Paul (@ianpaul) on Twitter and Google+, and with Today@PCWorld on Twitter for the latest tech news and analysis.
This story, "Amazon's Android Appstore Allows Users to Test Apps on Phones" was originally published by PCWorld.