Google will team up with LG to release a smartwatch in June—that's the news from CNET, which on Sunday referenced an unnamed source familiar with Google's plans. My reaction? Bring it on. June can't come soon enough. The smartwatch category is begging for a clear-cut winner, and Google is perfectly poised to right so many wearable wrongs.
Allow me to submit a draft copy of the LG press release that should announce the Nexus Smartwatch when the device is revealed at Google I/O.
[Begin purely fictitious—but highly recommended—corporate communique.]
LG and Google announce Nexus Smartwatch:
the ultimate Google Now accessory for $99
The best Google services without any third-party apps
San Francisco, June 25, 2014—Today LG and Google announced Nexus Smartwatch, a category-defining wearable that delivers Google's world-class personal services for the consumer-friendly price of $99. Designed to provide users with basic smartphone notifications along with voice-activated Google Now features like Maps, Search and Hangouts, Nexus Smartwatch stands alone for bringing simplicity to an unnecessarily complex smartwatch market. Cough, cough. Samsung. 
Nexus Smartwatch features a full-color, high-resolution, 1.6-inch curved LCD screen, continuing LG's tradition of leading the mobile space with bendy display technology established with the G Flex smartphone. Nexus Smartwatch includes a 1.9-megapixel camera and a power-efficient single-core ARM-based processor, and boasts three days of battery life, rechargeable with a bundled wireless charging mat.
Running Android Light, Google's new mobile OS designed specifically for the emerging wearables market, Nexus Smartwatch is a flagship device that delivers the best elements of the Google Now experience directly to users' wrists. Using an updated version of Google voice-recognition, users can ask Google Now for walking directions, sports scores and the latest news headlines, and even enjoy full, two-way, voice-enabled messaging with friends.
Nexus Smartwatch will launch with Maps, Calendar, Gmail, Hangouts, Voice Search, Field Trip, Google+, Google Play Music, Google Translate, and MyGlass for unique connectivity possibilities with Google Glass. Aside from direct Twitter integration, Nexus Smartwatch will not support any third-party apps. A smartwatch should only be expected to do so much—have you seen those tiny screens?—and Google already has more than enough apps to keep you satisfied, let alone busy.
Nexus Smartwatch includes 12 sophisticated, gender-neutral watchfaces, and its display goes entirely dark when not in use. To summon the Google Now screen, users simply voice the phrase "OK Google," or enact a customizable hand gesture to wake the display. The watch's minimalist design evokes a stylish black wristband when the display if off, and is intended to offend as few people as possible, adopting Google's new mantra, "We're learning. It's a process, but we're learning."
Available now on Google Play for $99, Nexus Smartwatch teaches the world bold new lessons about wearable technology: Keep it simple, make it inexpensive, and go with the strengths that got you here in the first place.
[End purely fictitious—but highly recommended—corporate communique.]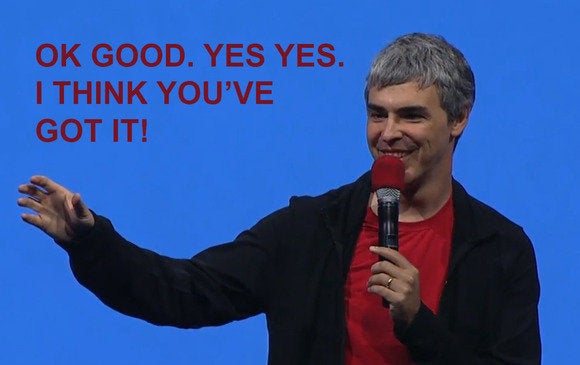 Allow me to make this perfectly clear...
I've been a relentless critic of Google Glass, in large part because I think the smartglasses model is too challenging from a user-interface perspective. It's just not easy to navigate a postage-stamp-sized UI that's hovering on the upper periphery of your vision. But I'm an ardent fan of Google Now and all the magic it delivers. The service's ability to deliver helpful information before you even ask for it is oftentimes astounding, and I think deploying Google Now on a wristband could be the wearables win that Google—and the entire world—is looking for.
And launching a Nexus Smartwatch with a manufacturing partner like LG is definitely the most elegant way for Google to begin its campaign for World Wearables Supremacy. Launch the vision in a fully controlled Google experience. Let a reference design free from the bloat of third-party apps show what's possible. Then Google can license my theoretical Android Light OS to other manufacturers. Let them pile on the third-party apps that confuse consumers.
In a way, it would be the ultimate Nexus redemption. Google's Nexus hardware is usually knocked for being too baseline, too vanilla, too feature-poor to qualify as the best anything in the smartphone world. But in a smartwatch world where too many features cause user grief, a Nexus Smartwatch might be just what all of us need.
This story, "I just wrote the press release for LG's Google Now watch. Now they just need to make it" was originally published by TechHive.