Ready for the weekend? If so, be sure to grab some new apps and games to check out—we've got a great handful of them in our latest Five to Try column. Telltale Games' The Walking Dead: Michonne leads the list, offering the first part of a new mini-series in which you make tough decisions amidst the zombie uprising. It's joined by Futurama: Game of Drones, a puzzle game that is unsurprisingly much lighter in tone.
Beyond those, VHS Camcorder puts a retro spin on your video recordings with nostalgia-poking filters, while the updated Adobe Lightroom does much the opposite for photos, now letting you shoot in a RAW format. And lastly, Microsoft's new Hub Keyboard packs in handy shortcuts to save you time and hassle. Read our thoughts below and then hit the Play Store links to give 'em a shot.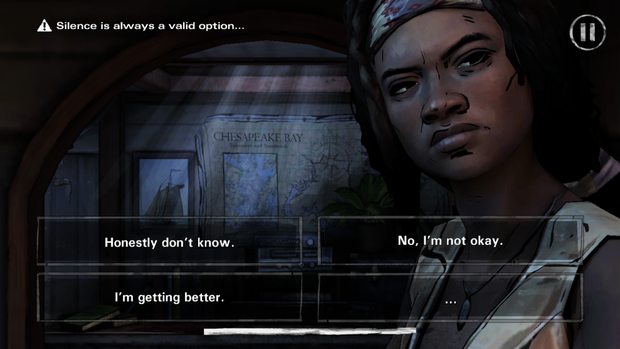 Telltale Games delivered one of the most gripping licensed games of all time with The Walking Dead, and the studio has since applied that formula to everything from Game of Thrones to Minecraft. But now the company is looping back on its greatest success, starting a brand new mini-series that focuses on popular sword-wielding heroine Michonne.
Episode one is out now, with two more due across the next couple months, and it starts to dig into why she briefly departed the core group deep in the Walking Dead comic book run. Like previous games, The Walking Dead: Michonne is built around choices: You'll slash at zombies and defend yourself at times, but the story is driven primarily by your dialogue selections and life-or-death decisions. And they all add up and shape the story along the way.
Each episode is $5, although the first one is rough around the edges on Android right now: It had consistent performance issues on my Galaxy S6 Edge+, and many Play Store user reviews cite glitches on varying devices. If you grab it now, be sure to try it out within the refund period—just in case. Hopefully Telltale will smooth out the issues very quickly, but die-hard fans might want to brave the current hiccups anyway.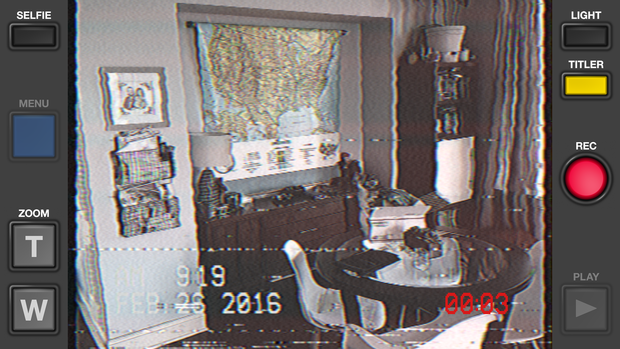 Did your family ever have a big, clunky video camera? I have fond memories of making dumb home movies with friends as a kid, but those dedicated devices have been marginalized by smartphones—for better, certainly. Still, if you want to tap into some long-held nostalgia, grab VHS Camcorder ($3), which finally hit Android this week after making a splash on iOS.
VHS Camcorder takes your crisp, pristine HD video footage and slaps old-school tape filters upon it, creating the sensation of filming home videos in the '80s. Distortion and muddled colors are the start of it, but you can also drop in titles over the top of the footage and alter the timestamp displayed in the corner. It might feel strange to intentionally lower the quality of your phone recordings, but it's good for a laugh.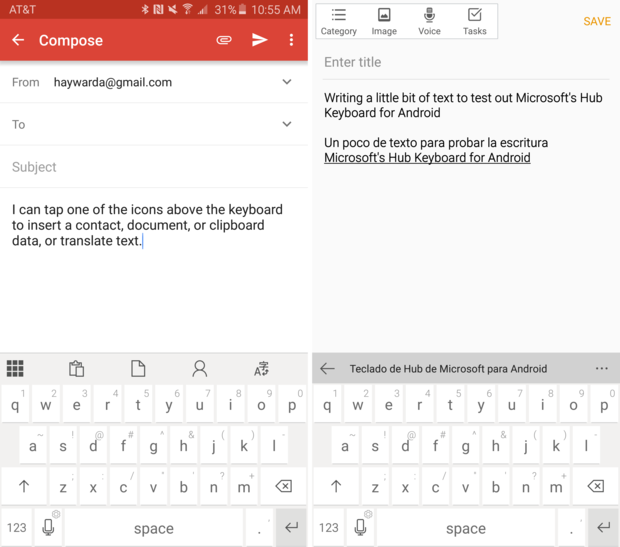 It's been surprising to see Microsoft's mobile innovation shift from Windows Phone to Android, as the company continually releases new apps from its experimental Garage program. And the latest is the Hub Keyboard, which aims to save you time by putting handy shortcuts atop the digital keys—that way, you're not bouncing between multiple apps to get what you need.
The buttons let you pull something from your clipboard, snag a document from OneDrive or SharePoint, insert a contact from your phone or OneDrive, and easily translate text into another language, respectively. Hub Keyboard is still a work in progress (and is listed as a "preview"); you have to hide the buttons to enable autocorrect for typing, and Play Store reviewers seem annoyed at the lack of a swipe keyboard. But assuming you don't mind tapping in words, Hub could be a productivity-boosting addition.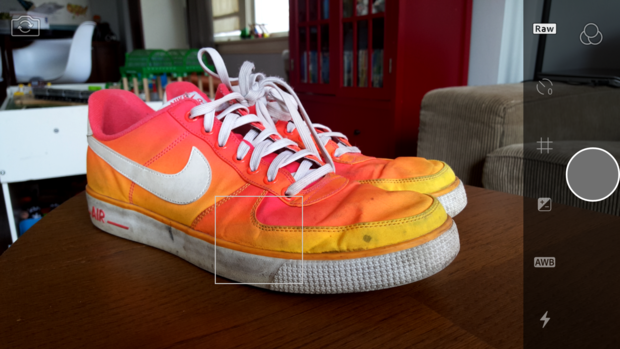 Lightroom has long been a preferred desktop solution for photo editing, but the Android version has become more and more appealing in the last couple months. In December, Adobe killed the Creative Cloud subscription requirement, letting you utilize all the mobile tools for free—and then this week, Lightroom for Android got a totally new interface, along with in-app RAW shooting.
Now you can use Lightroom to capture uncompressed RAW photos right on your phone and then immediately edit them; no longer will you need to switch apps to grab a photo in that format and then tweak it for sharing or publishing. Creative Cloud is still needed if you want to sync files and edits to the desktop version, but the Android version seems plenty capable on its own now.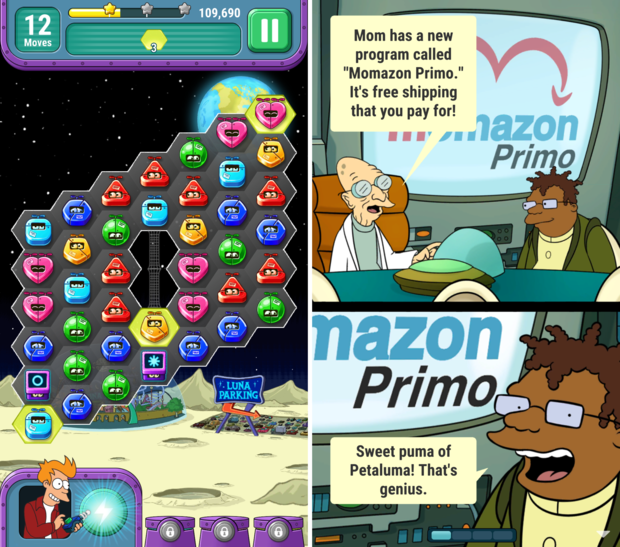 Futurama defied the odds, coming back from cancellation after five years to continue its run, but they eventually wrapped up the TV series in 2013. Luckily, the animated favorite is back in mobile game form with Futurama: Game of Drones, which takes the curious form of a free-to-play puzzler. It's a match-four game, tasking you with linking up like-colored robots to complete and clear chains on various hex-grid boards.
The link to Futurama is tenuous beyond the little cut-scenes and dialogue exchanges, which are solidly funny, but it's actually a pretty amusing little puzzler in the initial levels. With varying power-ups awarded for longer chains and different mission objectives, it has the potential to be a fun one over the long haul. And it doesn't seem to be quite as punishing as something like Candy Crush Saga, at least early on.