Got big plans for the weekend? Capture and share a quick moment with Instagram's Boomerang, which leads our look at the week's top new Android apps and games. The app grabs several photos and turns them into charming little video loops—ideal for pets, kids, and other shenanigans. Also new this week is KWGT Kustom Widget Maker, which lives up to its billing by letting you create intricate, original widgets.
And if you don't have big plans? That's cool, too: we've got new games to keep you entertained. Prune is a quietly dazzling puzzler about trimming a growing tree, Trick Shot is a ball-flinging game that's tough to put down, and the studio behind Zen Pinball has just released four big digital tables based on hit animated series. Make room on your home screen—and then fill it up with all of this interesting stuff.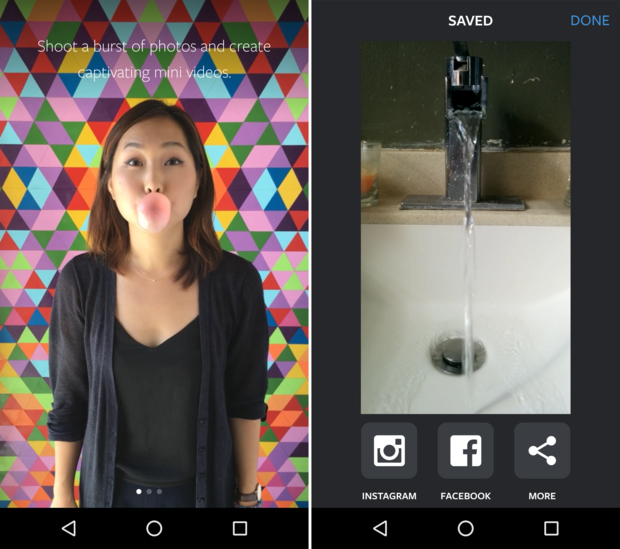 Instagram just dipped its toes into GIF-like looping video bits, but it's not a feature of the main platform: Boomerang is its own separate app. The design is dead simple: just capture something with your phone camera within the app—ideally a person or thing that's moving—and Boomerang will collect 10 consecutive photos, snap them all together, and spit out a short, repeating video clip.
It might seem like a riff on Apple's Live Photos from the iPhone 6s, but there's no still image involved. However, it has the same kind of jittery, low-frame rate look that gives it that charming, GIF-like feel. Boomerang is a cute way to capture and (briefly!) share something active from the world around you, and you can shoot it right into Instagram or Facebook, or save the clip locally for sharing elsewhere.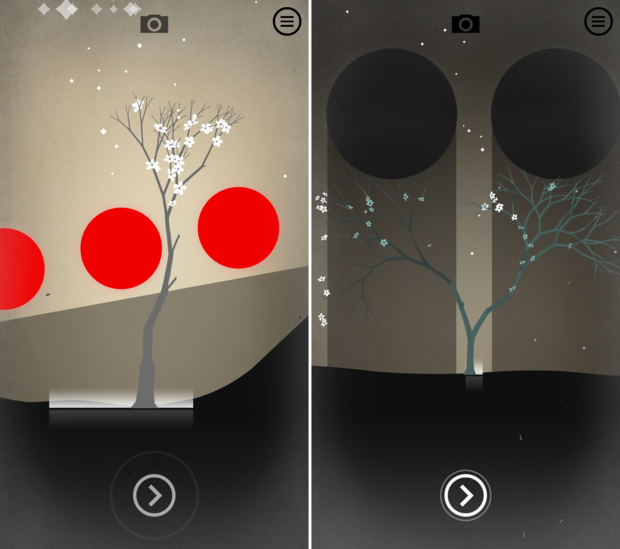 Amidst the constant crush of candy-coated puzzlers flooding the Play Store weekly, Prune ($4) is a welcome anomaly. It's quiet, meditative, and elegantly designed, serving up a smart, touch-centric experience. From a bare, shaded plot of dirt, you'll draw up a tiny sprout—which continues rising and branching off as it grows. Your goal is to have it reach the daylight and spawn enough flowers to pass the stage.
Doing so requires trimming your unnecessary branches: Prune is like a strategic bonsai tree simulator, only your snips must be done quickly. Cutting excess sections allows the tree to grow higher, plus you'll need to work around poisonous red orbs and deal with wind, walls, and other hazards. It's an easy premise to grasp, but there's real depth and appeal to carefully trimming your tree to encourage its skyward ascent.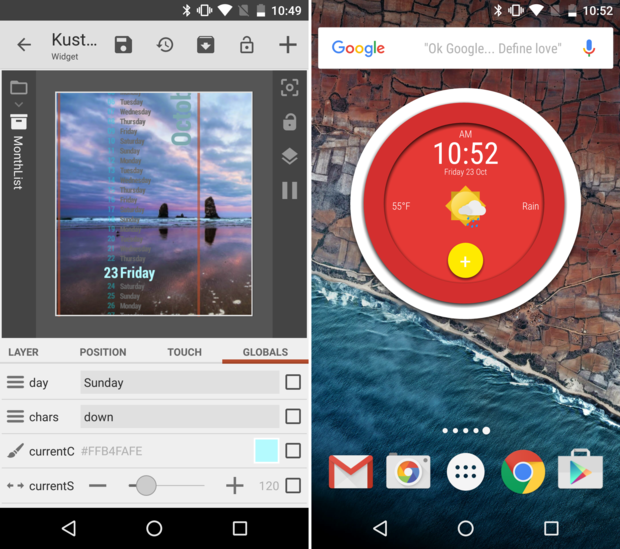 Widgets are seriously handy home screen additions, but they can also be eyesores, or simply clash with your wallpaper and nearby apps. But why stick with the stock options when you can design and customize your own? That's the appeal of KWGT Kustom Widget Maker, which lets you choose from a library of included widgets, grab more options, and then make them work for you.
The editor is a bit rugged, but it's designed to provide the level of detail needed to adjust every little variable: colors, text, positioning, etc. You can create clocks, battery or memory meters, map widgets, music players, and more. Starting a widget from scratch can be overwhelming, but work with an existing one to learn the tools and you'll be off and running before too long.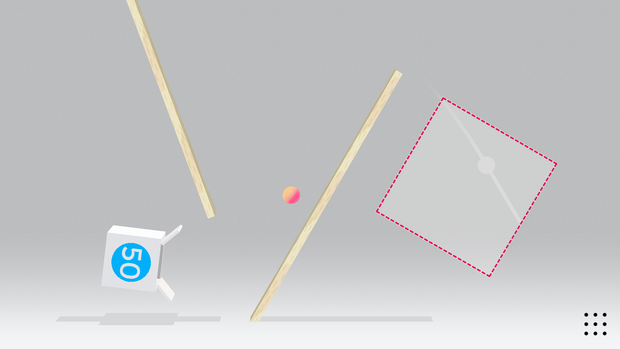 Trick Shot ($2) is a game worthy of obsession. I should know: every time I go to play a level or two, I get sucked in for 20 minutes. And it's happening often. Taking cues from the basketball game of H-O-R-S-E, Trick Shot challenges you to pull and fling a ball from anywhere in the starting grid into a box elsewhere on the screen. Expectedly, that stops being an obvious task pretty quickly, as buttons, barriers, fans, and moving boxes impede your clear path.
While a very different kind of game, I'm not surprised in the least that Trick Shot comes from one of the designers of Monument Valley. Like that puzzle adventure, it's perfectly designed for touch—and lets you continue launching the ball endlessly until you succeed—plus it's trimmed down to its barest, most essential elements. And it's spectacular, compulsive fun.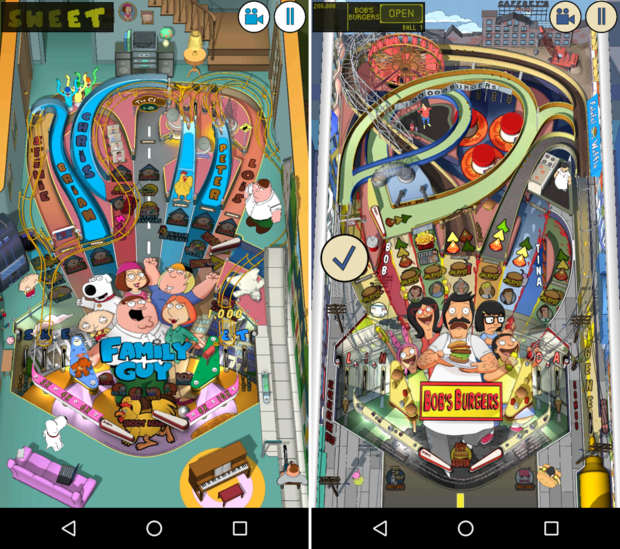 Balls of Glory Pinball turns four well-known Fox and FXX animated series into digital tables, but you've got a few options here. Each is available as a separate $2 app: Family Guy Pinball, Archer Pinball, Bob's Burgers Pinball, and American Dad Pinball. Or, if you're already playing on the Zen Pinball platform, you can simply buy each table within as an in-app purchase for the same fee.
Zen Studios' output is a known quantity by now: the studio has had success with everything from Star Wars to South Park, and these tables similarly don't disappoint. Each is uniquely built around the source show and looks and sounds the part, with authentic voice acting and various cut-scenes and mini-game moments within. In typical Zen fashion, each table plays realistically, but has those extra digital touches and effects that wouldn't be possible at your local arcade.