An Autumn Wind is blowing in, which means the NFL season is back for another year. Whether you're a casual fan or NFL diehard, your Android phone can be your best friend for the 2015 season.
That's because with the right apps, widgets, and Google services you can find out just about anything you want from the world of football. Your phone can be an ideal second-screen companion while watching a game on TV or keep you updated on scores, news, and injury reports when on the go.
If you obsess about your favorite team, you can get constant updates about injuries, depth chart changes, or all the drama that sometimes comes out of practice during the week. And good fantasy team performance requires constant stats analysis and trade offers, so you'll want to make sure you grab the right apps to conquer your league.
With kickoff near, there's little time to waste. So let's get started.
How to watch games or get highlights
So you want to watch live NFL on your smartphone. Streaming rights being the way they are, it's of course a little complicated.
If you have DirecTV, you'll need a subscription to Sunday Ticket Max. That's the top tier package, which grants you access to watch live games on a mobile device. 
Then, grab the Android app and sign in with your credentials. There's a separate app for tablets, but the reviews are pretty bad, so install at your own risk. 
Of course, there are caveats: DirecTV says that Thursday Night games on CBS, locally televised Sunday afternoon games on CBS/FOX, Sunday night games on NBC, and Monday night games on ESPN aren't eligible for streaming through the app.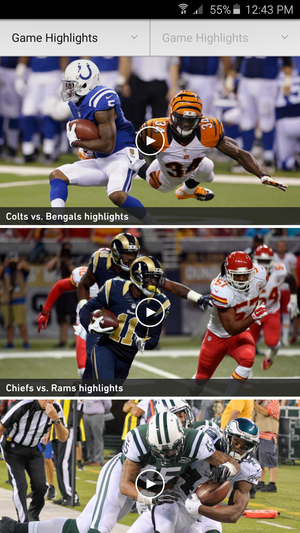 However, you're not completely shut out. NBC streams the Sunday night game with its NBC Sports Live Extra app. And you can get the Monday night content with Watch ESPN.
The situation is even better if you're on Verizon, as the carrier has the rights to stream your local and primetime games through NFL Mobile. There are a couple of extra perks, like access to the NFL Network live stream and NFL RedZone, a channel that jumps around to wherever the most action is on Sundays (that'll cost you $2 extra per month).
If your heart is set on Sunday Ticket there is an option to subscribe even if you don't have DirecTV. If you live somewhere that DirecTV determines you're not able to get service (usually this means you don't have a clear view of the southern sky) then you're eligible to buy a season of Sunday Ticket streaming for $200. Head to nflsundayticket.tv and input your address to find out if you're eligible. Otherwise, it's off to the local watering hole or a friend's house.
Get scores, news, highlights, and more
A smartphone or tablet is the ideal second screen while watching a game. Or it could be your lifeline for staying connected to scores when your significant other forces you out of the house for some domestic shopping. Either way, there are a few apps you should definitely have.
It may be obvious choice, but ESPN deserves mention for a recent redesign that looks great and makes it easy to sync up all your favorite teams and preferences through your account ID or Facebook (although Google sign-in would certainly be welcomed). You can customize how often you get pinged with alerts for scores or team and league news.
NFL Mobile is also a great choice (even if you're not a Verizon subscriber) as it has lot of video clips from the NFL Network's panel of analysts. You can also jump right into a section of news devoted to your favorite team, which might tide you over until the next game.
And finally, don't forget about Google Now. It's a great sports companion, and puts your scores just one swipe away from the home screen if you use the Google Now Launcher.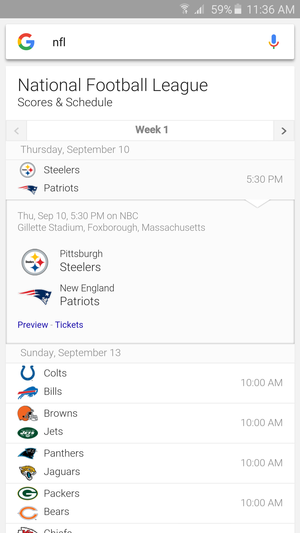 It can often be faster to say, "OK Google, 49ers score" and get instant results instead of seeking out your preferred app on your home screen, launching it, and waiting for the latest information to load. 
If you've taught Google who your favorite teams are, there will be a persistent card in your Google Now stream. Just touch the card to get real-time stats about the game in progress.
Conquer your fantasy league
Fantasy football is huge. If you've ever played you've probably found yourself in that awkward spot where the Thursday night game is about to start and you forgot to set your roster. It could make for a long week if you haven't researched who you want to play.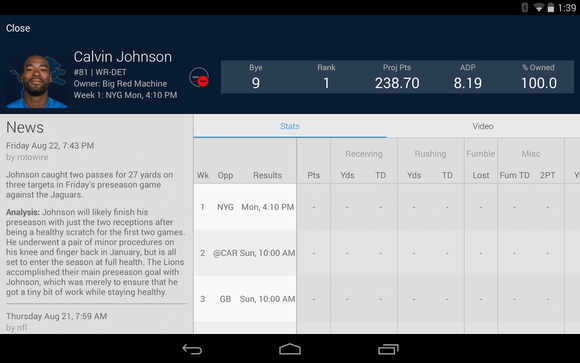 All the key fantasy leagues have their apps here: ESPN, NFL, Yahoo, CBS, and the increasingly popular Draft Kings. The Yahoo and ESPN options in particular are lagging behind a bit in their design, so forget much of what you've learned about Material Design if you fire them up. Most apps will also let you participate in a live draft on the device, but a good fantasy draft strategy usually involved ten open Chrome tabs, so that route isn't recommended.
Even if you've already drafted your team, the $4.99 NFL Fantasy Cheat Sheet is still worth grabbing. It has detailed statistics of the past three seasons for every player and will add in more info as the 2015 season goes along. When it comes to fantasy success, there's no such thing as too much information.
While the rules around watching live football on your Android device are still a mess, there's at least many great apps and native Google search tools for live scores, news, and more. If you've got one of those awesome new phones like the Galaxy S6 or Note 5, then put that screen to use.