If you're on the hunt for fun, interesting, and even productive Android apps to scope out, we've got the week's hottest new and updated picks in Five to Try. PBS Video (seen in the delicious teaser image above) leads the pack with a free, well-stocked app full of shows, while Google Slides is a lot more useful with added Chromecast support. Meanwhile, Pounce puts an intriguing, although imperfect spin on mobile shopping.
In the gaming world this week, Brickies shakes up the classic brick-breaker genre, while Lifeline offers up a piecemeal text adventure that unfolds across your days—and both prove pretty captivating. Grab your device: these are the apps and games you need to check out this week.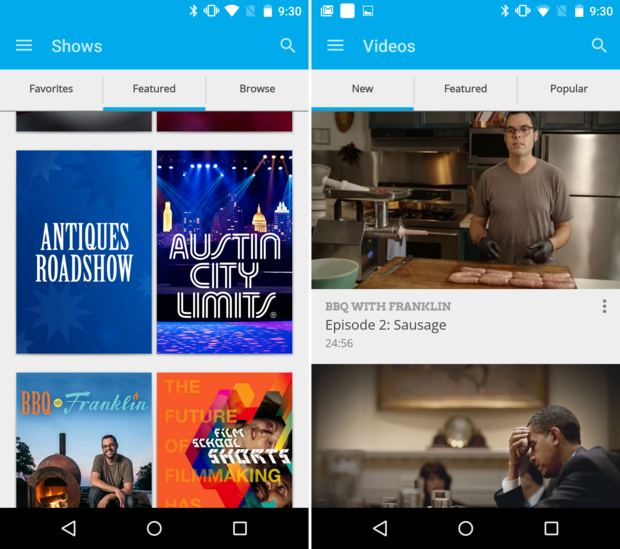 Kids already have their PBS app, but now adults have one as well with this week's launch of PBS Video. This great—and totally free—app puts a wealth of the public broadcaster's original content in your pocket or on your tablet, with Chromecast support ready from day one to toss the episodes on your TV. 
PBS Video includes full episodes of shows like Austin City Limits, Frontline, and Antiques Roadshow, along with clips and behind-the-scenes footage, and you don't need a login or subscription to start watching immediately. It'll also detect your location and auto-populate the listings with additional local content (like mainstay Check, Please here in Chicago), expanding the selection even further.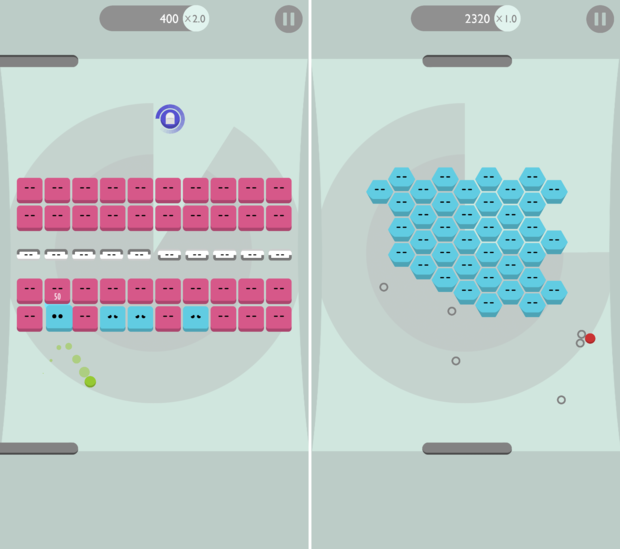 Most brick-breaking games—derived from classics like Breakout and Arkanoid—force you to keep the ball in play or risk losing a life. Brickies, on the other hand, switches the emphasis to speed: finish each stage in a limited amount of time or you lose. And if you miss the ball with your paddle, you don't shed a life. Instead, you waste precious time while the ball is deactivated. 
It's a smart twist that not only reenergizes this old-school genre, but also makes Brickies a really smart fit for brief mobile play sessions. This free-to-play game has 100 stages and a stellar endless mode, with plenty of challenge and variety found within. And there aren't any in-app purchases, although ads pop up here and there, plus you can optionally watch longer video ads for an extra time boost.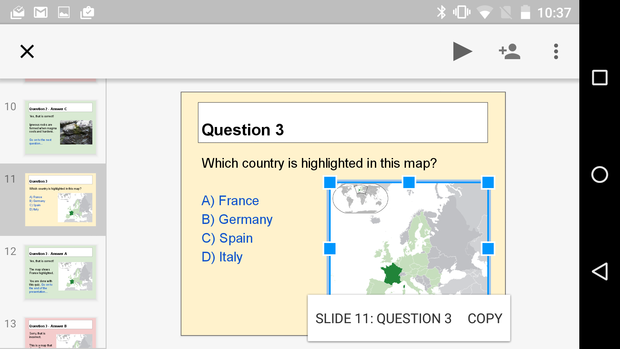 If you use Google Slides to create PowerPoint-like presentations, this week's update could be an incredible boost to your next meeting. The Android app now features Chromecast support, which means you can plug the dongle into a TV, projector, or monitor and control the flow directly from your phone or tablet.
And having everything centralized on your device also adds personal advantages: you can view notes along the way, as well as a timer to keep your perfectly planned presentation on point. It works a bit similarly to Office Remote, but that's for controlling PowerPoint from a PC. By taking the computer out of the equation, the pairing of Slides and Chromecast means you can be ready to present nearly anywhere.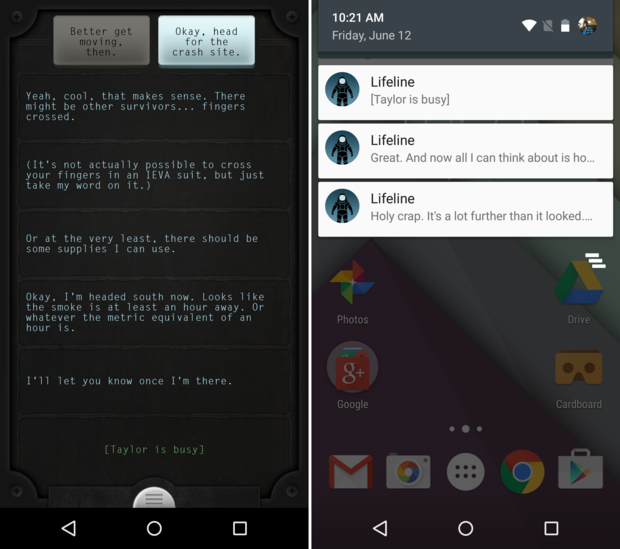 Lifeline isn't your typical adventure game—at least not in 2015. Notably, it doesn't have any graphics, aside from the spartan menu buttons, since it's entirely a text-driven affair. What makes it interesting is the flow of the experience, as your interactions with a survivor of a crash-landed ship on a remote planet occur in real time throughout the day.
If you advise Taylor to explore a location far out into the distance or take some time to rest, it could be hours before he or she pings you again. The branching story unfolds in bits and pieces and builds over time, with notifications alerting you to the next interaction. It's a neat, intriguing approach, although Lifeline ($3) felt like an even better fit when it first launched for Apple Watch in April. Android Wear support, please!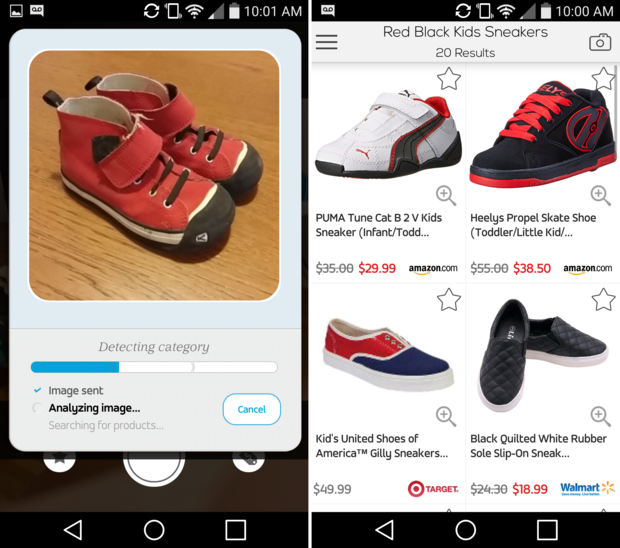 File this one under the "try" category of Five to Try, because while Pounce is a very intriguing idea, the app doesn't seem fully cooked quite yet. Pounce essentially makes it easy to shop for items by taking photos. See an article of clothing, a toy, or presumably anything else that you'd like to buy? Snap a photo with the app. Pounce's servers will analyze the shot and suggest similar items to order online. 
On my Nexus 5, Pounce failed to detect everything I shot—a shirt, book, Blu-ray movie, toys, etc.—until I tried my kids' shoes. And then it crashed. But on an LG G3, the app was much more reliable at identifying items and pointing me towards things to buy from Amazon, Toys R Us, and other retailers (although it still crashed once). It's worth a shot if you're curious, however, and hopefully the app improves quickly.