When it comes to dinner, it's all too easy to get stuck in a rut and just head to that same burger joint again. We all have our favorite spots, but it's good to at least occasionally break out of the routine and find somewhere new.
Perhaps you've used your phone in the past to track down a new eatery and were disappointed. Or you're used to relying on word-of-mouth. That can work too, but sometimes friends' taste can differ from yours. You need better food-finding apps!
Find, reserve, and pay with OpenTable
OpenTable started as a clever way to make a reservation without the need to wait on hold for 10 minutes or yell into the phone in order to be heard over all the restaurant's background noise.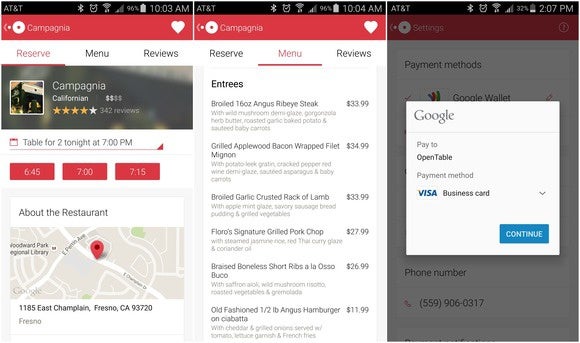 But it's evolved into a great app for restaurant discovery. When searching for a place to eat or drink you can sort by restaurants that have available seating so you won't get disappointed to find a two-hour wait. You can also peruse the menus and user reviews to get a better idea if the the venue matches your palette. 
OpenTable's newest benchmark feature is the ability to pay for your meal with your phone. To do so, you'll need to create an account and then connect it to Google Wallet. If you make a reservation with the app you'll then be able to pay when finished with the meal and be on your way. No need to sit around and make small talk while you wait for the check to arrive.
This pay-with-your-phone feature is generally found in larger cities where the restaurant industry is more hip to all the new digital payment tools. Otherwise, you can still do it the old-fashioned way with your credit card.
Foursquare is a good playground for discovery 
You may remember Foursquare as the app that introduced you to the idea of "checking in" to a place with your phone. That has all been kicked out to Swarm, with Foursquare now focusing on Yelp-style venue discovery.
The app's Material Design looks good, and brings in a social element by showing you where your friends have been. There are a lot options to filter by price, rating, distance, or reference, so you can decide if you're in the mood for the hippest new spot on the town or would rather look for somewhere close by.
There are detailed menus and a button to request an Uber ride—always handy if you'd rather not, or maybe shouldn't, get behind the wheel.
Staying in? Order the food from your phone
Maybe the idea of actually leaving the couch feels like too much effort. If you have your phone, you can browse through nearby takeout options and browse the menu so you'll know exactly what you want to order.
There are a lot of services competing in this space, though one of the best is Eat24, which is a product of Yelp. It launches with a minimalist search screen that uses your location to find delivery spots nearby. Yelp reviews are of course included to help you sort out the good from the bad. The number of restaurants that tap into Eat24 is going to vary, of course, depending upon where you live.
Another good option is GrubHub, which finds both delivery options and takeout places that are still open. There's also a handy alert that tells you if the restaurant accepts coupons, in case you're the type that is tempted by the offer of a cheaper meal.
EatStreet is a good-looking newcomer that specializes in finding places that are still open during the wee hours if you get a late-night craving. The app lists the delivery fee and tells you if there's a minimum dollar amount required to place an order. A lot of competitors have jumped into this space, so it's worth being on the lookout for new apps in this category.
Google offers plenty of tools
If there's some type of service out there to offer, Google's going to have a hand in it. Fortunately, since you're an Android user, you get these tools with your phone.
Google Maps has added more recommendation options to make the app do more than just show you addresses. Just touch the Explore around you alert at the bottom of the map and you'll get a curated list of places to check out. You can filter this by local favorites, quick bites, or other categories depending upon where you are. They also include reviews, though the Google review community isn't as active as Yelp or other services. 
And don't forget that Zagat is also part of the Google empire, which pioneered the importance of restaurant reviews long before the digital era began. The Zagat app is another solid choice for finding places, especially given the strong tie to Google Maps and search.
Google Wallet also can serve as your hub for coupons and loyalty cards. It's an excellent way to avoid storing 38 different reward cards in your wallet. The list of supported companies keeps expanding, with many letting you sign up right inside the Google Wallet app.
In all there's no reason to not find an answer to the question, "where do you want to eat?" Whether you use one of these options or another favorite service, the answer should be just a few taps away.