Android's latest marketing slogan is "Be together, not the same." While such mottos are usually a trick to get you to part with your money, in this case there's a lot of truth to it.
Custom launchers have been a hallmark of Android tweaking since the early days. They were partly borne out of necessity, as Android was rather ugly before Google decided to start taking design seriously. 
They've grown with the times, giving you the capability to make your Android device's home screen look or act in a completely different manner than the person next to you. 
Launchers serve another purpose: They allow you to get rid of the typically less-than-spectacular custom skin that manufacturers keep putting on the latest flagship phones, even though stock Android now is pretty great with Google's Material Design.
There are now a lot of them in the Play Store, but here we're going to focus on four that really stand out in their own way. 
How to change your launcher
Android allows any application to serve as the default for a specific action. When you press the home button you're directing your device to go to your home screen, but it's your choice which launcher handles that.
Your phone or tablet will have an application default section where you can change this (pictured).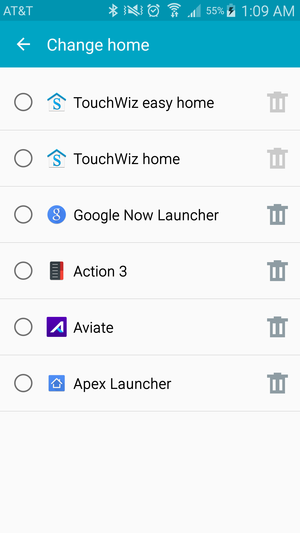 If you've tried out a launcher and want to change, go to Settings > Default Applications > Home and select your new preference. Some interfaces, like Samsung's TouchWiz, will let you delete a launcher directly from this screen.. 
Get that Nexus style with the Google Now Launcher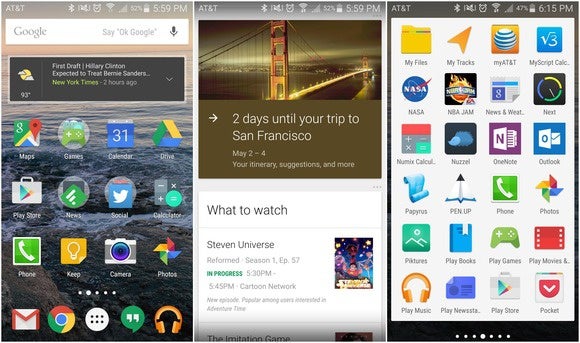 Google Now is the future of Android. It's your travel buddy and sports companion. It also integrates data from over 70 apps and counting.
Google's voice commands keep getting stronger, with new capabilities coming all the time. So if you truly want a Google phone, the Google Now Launcher is the way to go. It puts your Google Now cards one swipe away from the home screen and is always listening for a voice command. The app drawer, animations, and overall aesthetic is a benchmark of Material Design, giving you a Nexus-like experience.
I'd like to see Google work in a few more customization options, however. You should have the option to re-configure how many apps fit on your home screen, so if have a bigger phone like a Galaxy Note 4 or a Nexus 6 that extra screen real estate doesn't go to waste.
Also, the widget drawer remains a mess. Even TouchWiz does a better job at consolidating your available widgets onto fewer screens, so you don't have to endlessly scroll to find the widget you're after.
Action Launcher 3 is for the tinkerer in you
If you you like the idea of a clean, Google Now-style look but want some more flexibility then I recommend Action Launcher 3. The interface is much like the Google Now Launcher, complete with the white background in the app drawer and the capability to quickly launch Google Now by holding down the home button.
However, it has a ton of different options that can empower you to customize the way you use your phone. For example, my favorite feature is the ability to pull down the notification shade by swiping down anywhere on the phone. Considering the average screen size is about five inches now, it can be an uncomfortable finger stretch to drag the notification shade down from the top edge.
You can create a custom gesture, tweak the home screen, and swipe in from the left to quickly find an app (though you can turn off this feature also).
So if you have a Samsung device and are jealous of the way Galaxy S6 owners can double click the home button to launch the camera, you can now program your phone to do that. For the full suite of options you'll want the pro version, which costs $5. However, a lot of the capabilities are in the free edition, so you can get a good idea if you like it before you buy.
Yahoo Aviate puts machine learning to work
This one isn't for everyone, but if you want a different take on the launcher, Yahoo Aviate may be of interest. We last looked at it before Yahoo snatched it up. It handles its core functions, using your preferences and other data to guess what you want, even better than before. And it still looks good, crafting its own design that stands apart from the other launchers out there.
But a lot of that comes from the fact it's now a Yahoo product, and there's plenty of the purple web giant's services baked in. There's even a Google Now-style tool that lives just to the left on the home screen and serves up cards of information.
Overall the launcher still looks good and integrates some smart features like the ability to swipe up from the bottom to access your favorite and recent contacts. Aviate also auto-categorizes your apps, though at first you may have to hunt them down as your organization method may be different from Yahoo's.
Yahoo Aviate is a good choice if you're somewhat ambivalent about being in Google's ecosystem and want the phone to do much of the thinking and organizing for you. Yahoo's search prowess isn't nearly as good as Google's, but that's partly because it knows so much less about you. Aviate is one method for keeping it that way.
Apex Launcher dishes out themes and customization
The Apex Launcher is another powerful option, available for any device running Android 4.0 and above. Just as with Action Launcher, it has a freemium model, making most of the features available free but asking you $4 to unlock everything.
It's worth it, as you can change up how many apps you put in the dock, the look of notifications, and the arrangement of your home screens without much difficulty. Most of the power is behind customizable Apex Actions, letting you drop a quick link to a specific screen or function on the home screen. It also lets you fire up a voice search by saying, "OK, Google" from any screen, just like the Google Now Launcher. 
What gives Apex Launcher a distinct flavor is the large number of themes available; there's a significant community of creators that have dreamed up just about every possible design scheme for a smartphone home screen. Many of the themes look like they belong on one of the Motorola Droid models, harking back to the days when Android had a distinctly "angry robot" aesthetic.
Do you need a launcher?
The degree to which you want to overhaul your device is up to you. While Samsung and LG have significantly improved their custom interfaces, you'll be better off with one of these options if you crave more functionality. 
Another good trend is that with the exception of Yahoo Aviate, many launchers are able to incorporate Google's voice commands and Google Now into the home screen, which makes for a more connected experience rather than having all that data buried inside of the Google Search app. As Android inches toward another major release this year, you're likely to see even more innovation in this space, as companies want their influence on the device you probably use the most throughout the day.