Hulu is getting into the spirit of the season with a free streaming giveaway for Android users. The service is offering a limited selection of TV episodes for free during the holidays, exclusively on the Hulu for Android app available on Google Play—but it's not as exciting as it sounds.
The impact on you at home: Tech companies love their feel good free giveaways for the holidays. Verizon just dumped all kinds of freebies on the traveling public during Thanksgiving, and now Hulu is getting into the act on the holiday bonanza at the end of the year. Hulu's giveaway, while nice, isn't quite as extensive as it might seem and is really just an enticement to get you to sign up for Hulu Plus.
What's free
Google announced the freebie via the official Android Twitter account. "#Android US exclusive: watch this season's TV shows for free w/ the @Hulu app on @GooglePlay." 
From Google's tweet you'd think that you'd be able to watch full seasons of some of the year's most talked about shows. That would be an amazing giveaway far beyond what Hulu typically offers, which is usually the five latest episodes of a current TV show. 
But that's not what this offer is all about.
Instead, you get three free episodes of a variety of popular shows from the latest season. To be fair, that's still a pretty nice treat, since you usually need a premium Hulu Plus account to watch any Hulu content on mobile whatsoever.
You also have to know which shows are available for free since Hulu at this writing did not have a section exclusively showing the freebies. The app does have a section called The Joy of the Seasons: Hulu's Picks that includes some of the free shows, but those freebies are mixed in with others that require a Hulu Plus account.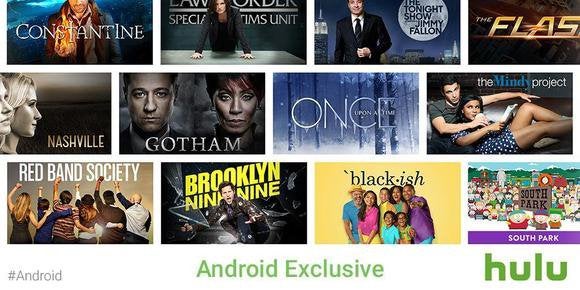 Based on Google's tweet the shows on tap for the holidays include Black-ish, Brooklyn Nine Nine, Constantine, The Flash, Gotham, Law & Order: Special Victims Unit, The Mindy Project, Nashville, Once Upon A Time, Red Band Society, South Park, and The Tonight Show Starring Jimmy Fallon.
The one exception I found to the three free episodes rule was Nashville, which is offering episodes 1-5 and 7-9 from season 3.
If the app tempts you into signing up for a full subscription, Hulu Plus costs $8 per month. The service gives you access to recent content from the major broadcast networks as well as back catalog stuff like Scrubs and The X-Files.