Amazon's attempt to slip its app store inside of its own Android app didn't go over too well with Google.
Citing a recent change to Google Play developer rules, Amazon says it's pulling the app from the Play Store, and instead offering it as a separate download from its own site.
What's behind this is the introduction of the Amazon Appstore and Prime video streaming catalogue into the main Amazon Android app. This means you could download apps and games to your device just as you would from the Play Store—without Google getting any revenue, of course.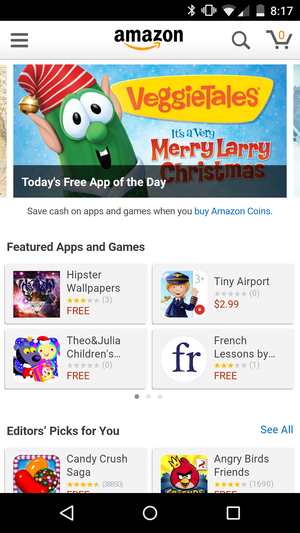 Android may be open, but it's not that open. On September 25 Google changed its developer rules, banning any app from selling software or games. Digging into the agreement makes it pretty clear that Google needed specific language to forbid this practice. Otherwise, it would allow a shadow app marketplace to be freely available from its own Play Store.   
You can still get plenty of Amazon on your Android device: The company still offers dedicated apps for its Prime videos, music, Kindle, and other services. Its new shopping app still scans products and lets you buy just about anything (except mobile applications, of course).
Otherwise, if you want the purest Amazon experience, you'll need to sideload its new app (we have a handy guide for how to do this) directly from Amazon. The app is still hanging around in Google Play, so grab it quickly if you don't want to hassle with sideloading. Just don't expect it to stay there for long.
Why this matters: Amazon has big ambitions for expanding its own digital catalog of apps and games. It regularly runs mass discounts and gives away a paid Android app each day. Sideloading an app is a pain, which is probably why Amazon baked in its own app storefront as a way to get around making you do this. Instead, Amazon now must rely on giving very clear instructions to everyone about how to download it themselves.