There are several essential, yet often tedious, tasks one often performs throughout the day with their smartphone. Turning off Bluetooth, silencing your phone, and connecting to WiFi require sifting through the settings many times a day. 
Trigger makes these and many other tasks automatic; you set a "trigger" (joining a particular WiFi network, for example) and a task for it to automatically carry out each time it happens (launching a particular app). It is one of those "only on Android" type of applications, as Trigger can access certain features of your phone that would be totally off limits on iOS.
The following are some of the highlights for what you can accomplish with Trigger. To do them all, you'll need to upgrade to the full version of Trigger, which is a $3 in-app upgrade. A seven-day trial is available in order to give Trigger a test drive.
Bluetooth tricks for your car
Fumbling for your phone to open Google Maps or a music app while driving isn't exactly safe. If your car has Bluetooth, you can program Trigger to perform these or other tasks when connecting to your vehicle.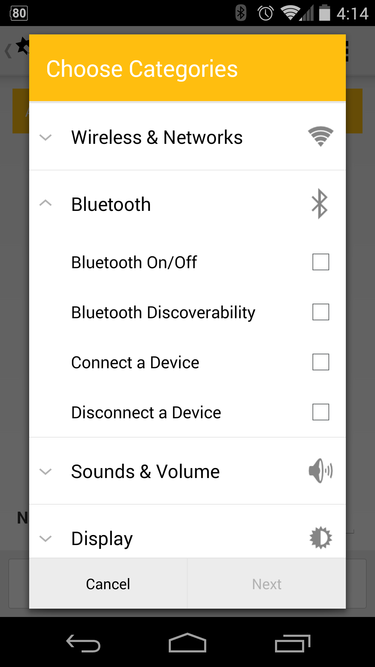 Tell Trigger which device to connect to and what actions to perform. For example, you can tell it to disable Wifi and launch Google Play Music, eliminating your need to do so directly. Or have it launch Google Maps or Waze so you can navigate easily.
Save battery life
When the battery on a phone gets low, turning off WiFi and lowering the screen brightness are two common methods for staving off a shutdown. Trigger offers a battery saver mode as one of its example tasks Activate it or create your own for greater flexibility.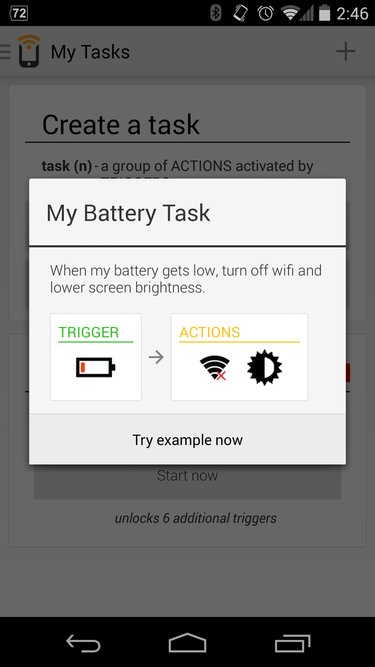 Geofence
This capability still has the "Beta" tag, as Trigger says geofencing (triggering an action when your phone detects it is within a certain distance of a set location), still has enough inaccuracies to make it not completely reliable.
However, the potential upside is very high. For example, set a task to turn off WiFi when arriving at work if you want to avoid using "the man's" network. Then perhaps another to turn WiFi on when arriving at your house.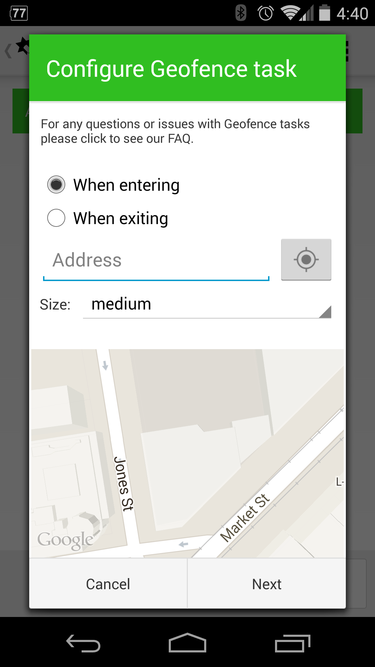 NFC Tags
For higher levels of geekdom, program your phone with Trigger by using NFC tags. Near Field Communication is typically used for making payments with applications like Google Wallet, which is activated by touching the phone to an NFC-enabled device.
The NFC tags, which can be bought from within the Trigger app, can be programmed to perform a specific task, or just contain a small amount of useful info. Just touch the tag with your phone to activate it.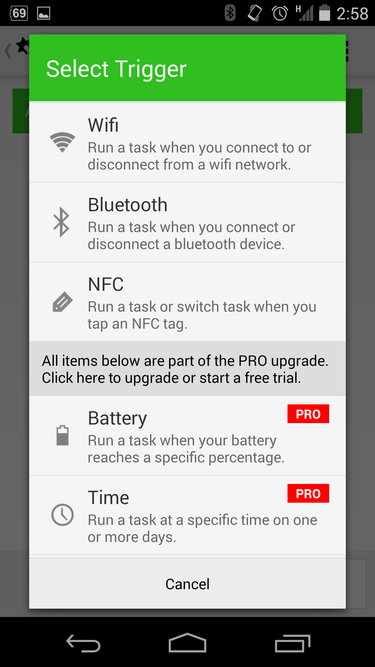 For example, put an NFC tag on your nightstand and just tap your phone to set an alarm or turn off notifications. The possibilities are wide open, if you are willing to put in the time to program specific actions with NFC.
Messaging
Do you always send an SMS message to your significant other when leaving the office or arriving at home? You can automate this task by having your phone fire off a message when it reaches a geofenced location, or connects to your home or work WiFi. Doing so requires the SMS plugin, which can be downloaded from the Play Store (a link inside Trigger will take you there).
Create a task and select Messages from among the Categories. Then select Send a Text Message, then choose the recipient and add the contents of the message.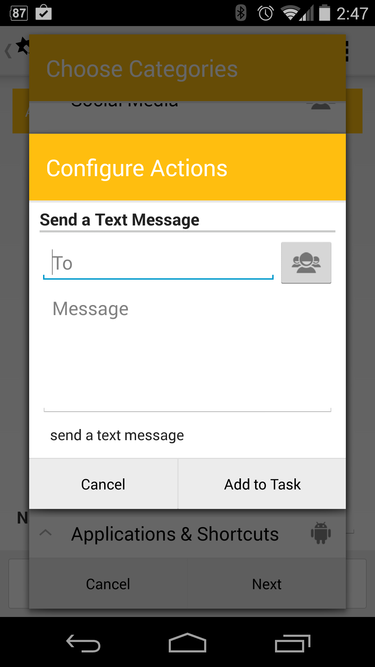 Forget the remote
With many cable or satellite companies, or with services like Chromecast, you can use your phone as a remote. Program an NFC tag to launch a specific TV remote app, Netflix, or YouTube.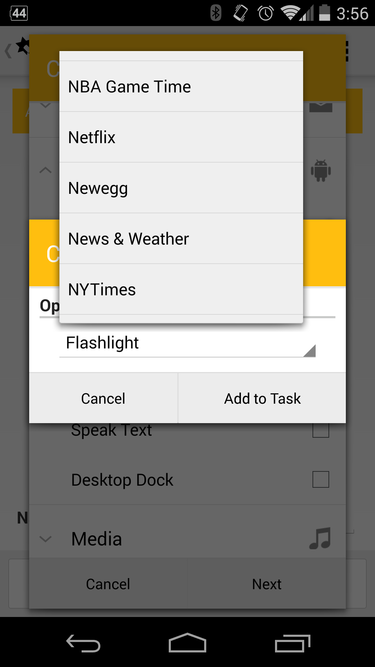 Do not disturb
While the developer preview of Android L promises greater control for making your phone off limits to the outside world, Trigger can bring much specificity to this process. Set an automatic time period and days of the week for notifications to be disabled or data to be turned off. Or create it as one of the options to be activated when paired with an NFC tag.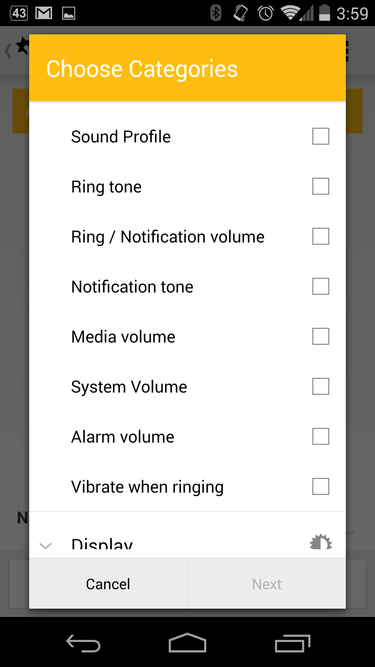 Programming your phone
Ultimately Trigger lets you program your phone in a more powerful way than the standard method of just hopping from one app to another. The $3 pro upgrade is well worth it for the extra capabilities.
However, Trigger is definitely for power users who won't get turned off by needing to problem-solve through multiple steps. If that description fits, then get ready to impress others by showing off how your phone can seemingly perform specific tasks on its own.