AT&T and Verizon Galaxy S5 owners longing for a little # (root) in their lives are in for a treat, as there's a new method that not only achieves root access for these two versions of this popular smartphone, but many other phones as well. 
After a $18,470 root bounty, XDA Developer member "geohot" has created an application that can root quite a few smartphones and tablets in just a few seconds. The app, TowelRoot, can be downloaded for free, and uses an exploit in the Linux kernel that has yet to be patched for Android devices.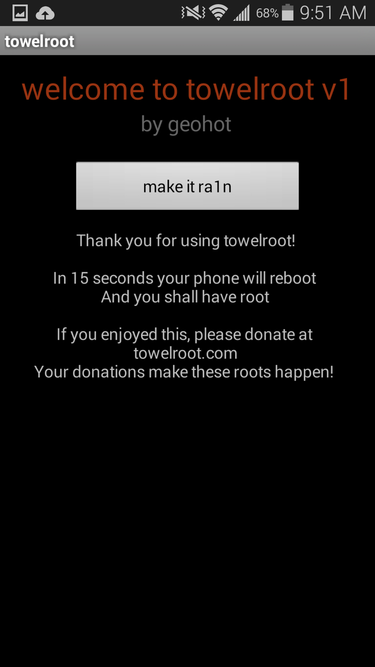 In addition to the AT&T and Verizon Galaxy S5, root access via Towel Root also works on the Galaxy S4, Note 3, as well as some newer smartphones, like the LG G3. I tested Towel Root on the Samsung Galaxy Tab 4 8.0 and the Sprint Galaxy S5, and both had root access after rebooting. 
Looking for a quick way to root your Android phone or tablet? You might want to give this method a try. While rooting Android devices has become easier over the years, it doesn't get much easier than downloading an app and tapping the screen.
Unfortunately, because this method is based on a Linux kernel vulnerability, it's likely to be patched in a future version of Android, so don't expect this easy root method to last for too long.