Why Hello SMS offers the best texting experience on Android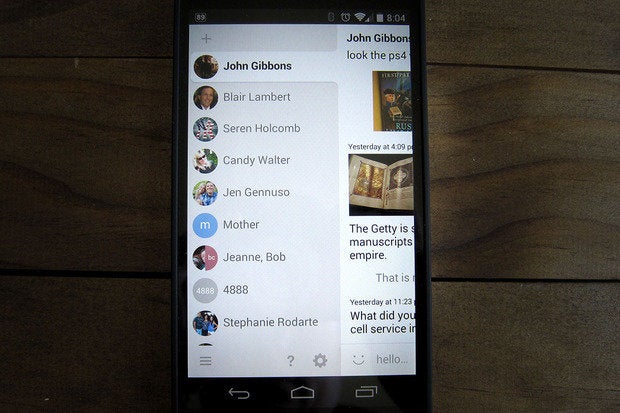 Mobile messaging is still a fragmented mess. While Google, Facebook, WhatsApp and others have each tried to become the go-to solution for "over the top" messaging, old-school SMS messages are often the easiest way to reach someone. After all, they work for everyone with a phone number, no matter what other messaging apps they have installed.
While Google has converted Hangouts to be the mainstay SMS app for Android devices, its implementation is still rather clunky, with a mashup of instant messaging and text conversations.
Anyone looking for a dedicated SMS app has plenty of choices, though most of them offer an overly busy layout. Hello SMS is the best solution for those who want a great-looking SMS app with a few smart features. I have tried nearly everything in the Google Play Store: Go SMS, Handcent SMS, Chomp SMS, Sliding Messaging Pro and many others. While all offer specific advantages, I have found Hello SMS to be the superior all-around choice.
A simple, straightforward interface
The first place where Hello SMS beats most of its competitors is in its simple and intuitive interface. Conversations are organized by tabs, and with one flick to the right you can see the name and icon of all the contacts. By default the icon lists the initials of the person in each chat, but Hello SMS can import the Facebook profile photos of anyone involved in a conversation.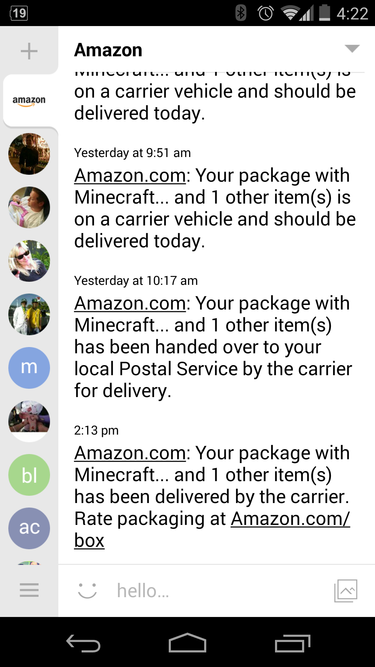 The only caveat here is the name needs to exactly match how the name appears in Facebook. Going to your contacts app and tweaking a few names to match their Facebook profile will render a picture next time you tell Hello SMS to grab images.
Sending pictures, quickly
While not overwhelming the user with excessive customization is one of the hallmarks of Hello SMS, it does offer a few smart choices in the photo department.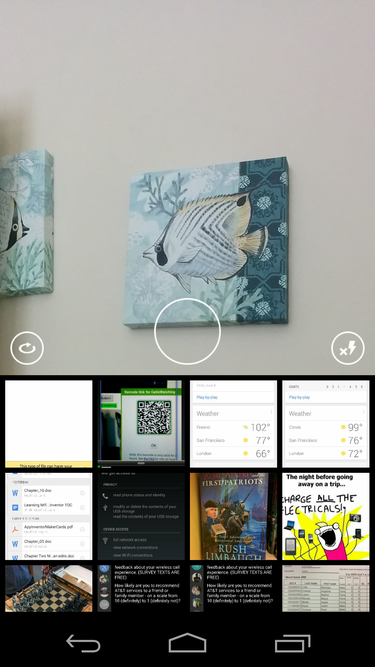 For example, there's a rapid-fire camera feature for quickly sending an image and then sending it to others. Tapping the camera icon at the top half of the screen will switch to a camera view, which is ideal for that moment when you want to take a picture specifically for sending to someone else.
Another feature where Hello SMS differentiates itself from other texting apps is the ability to send pictures through a data connection instead of through MMS.
According to the developer, this solution is more reliable, faster, and enables higher-resolution images. I certainly found the faster part to be the case—especially when compared to MMS with Hangouts. Picture messages went through very rapidly; though they appended with a "sent with Hello" message at the bottom of the image (an annoyance you can disable, if you want.)
Reply from notification shade
Hello SMS takes full advantage of the instant actions offered by the Android notification shade. When receiving a text, you can reply, mark as read or call the contact directly from the notification shade.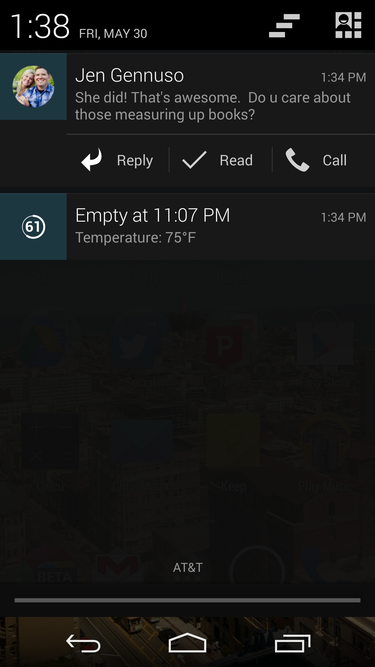 I have found the "mark read" feature to be tremendously useful, as it keeps the messaging inbox consistent, instead of a sporadic listing of some bold and other un-bolded conversations.
While I have tried in earnest to convert all my friends to using Hangouts for messaging, SMS just won't die. Hello SMS does the job rather well, and provides the right combination of simplicity, speed, and reliability to make it my favorite SMS app. The support team is very active on Twitter and releases multiple updates and performance enhancements often through the Play Store. Given that unlimited texting is now a staple of most U.S. smartphone plans, HelloSMS is the way to go for firing back and forth quick messages.
Shop Tech Products at Amazon