Just one day after preview images of the Galaxy S5 Active leaked online, the device is now available for purchase. U.S. customers looking for a ruggedized version of the Galaxy S5 can head over to AT&T right now to get their hands on the new-ish handset.
The LTE-friendly S5 Active is nearly identical to the base Galaxy S5. You get the same 2.5GHz processor, the same 5.1-inch AMOLED screen, and the same 16 megapixel rear-facing camera.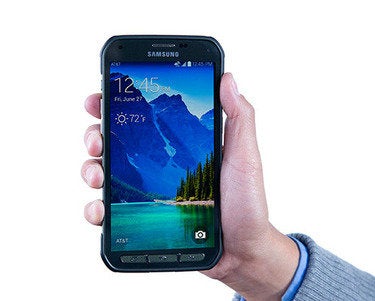 What you don't get, however, is the snazzy fingerprint sensor. Instead you get three sturdy looking buttons on the front of the device. The case of the phone is also far tougher looking, with testosterone-pulsing exposed screws on the back, shock and water resistance (up to 3 f.t of H2O for 30 minutes), and dust proofing.
Putting the "active" in S5 Active, you also get a dedicated button on the side of the device, called a "convenience key," that lets you launch outdoor activity-related apps. As with the original S5 the device includes a built-in heart rate monitor and the S-Health app for counting your steps and other self-quantifying features for health nuts.
The S5 Active comes in camo green—perfect for the Duck Dynasty fan in your life—as well as titanium gray, and ruby red.
The S5 Active is priced at $199 with a two-year contract, but you can buy it outright if contracts are no longer your thing. There are also several purchase plans for AT&T Next customers including monthly prices of $27.50 or $35.75 for the Next 18 and Next 12 plans respectively. Next is the carrier's T-Mobile-inspired early upgrade plan.
As an added bonus, AT&T is throwing in a $50 discount on Samsung's Gear Fit wristband at the time of purchase when you buy an S5 Active. The offer ends July 24 and is only available in select locations.
AT&T says the S5 Active is available exclusively through the carrier, but it's not clear how long that exclusivity window will last. For now, however, Verizon customers who need an S5 that can withstand a few wipeouts on a mountain bike will have to wait.