The only surprising thing about LG's press event on Tuesday would be if the company didn't announce its next smartphone, the G3. Over the weekend, LG prematurely released images and specs for the upcoming flagship handset on its localized site for the Netherlands . Over on the LG UK site, there is also what appears to be a partial spec sheet for the G3 that is still available. And did you notice the countdown ads on this very page?
Yes, the G3 is indeed coming later today.
The Dutch site has since been scrubbed clean of the G3 images, but thanks to Google's Web cache we can offer yet another sneak peek at the device ahead of the event Tuesday afternoon.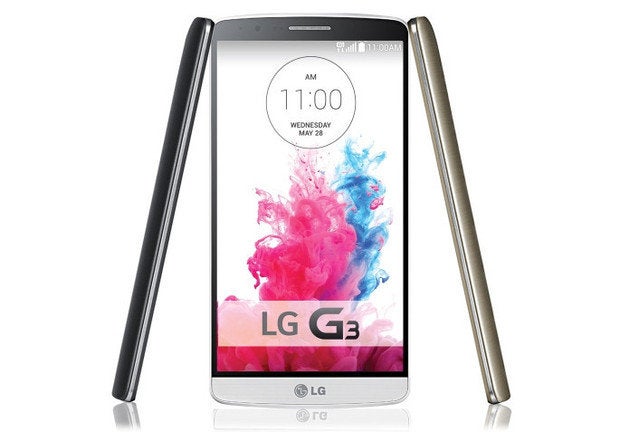 Most of the specs for the device we've already seen, but based on LG's own leak the G3 will feature a 5.5-inch Quad HD display with 2560-by-1440 resolution at 538 pixels per inch. The processor appears to be Qualcomm's quad-core Snapdragon 801 that clocks in at 2.46GHz and 2GB RAM, but previous leaks had suggested another variant might have the Snapdragon 805 with 3GB of RAM, according to Droid Life—the site that first spotted the LG leaks.
The rear camera will have a 13 megapixel sensor with OIS (optical image stablizer) to compensate for shake and movement. You also get a dual LED flash and laser autofocus. On the front, you'll get a 2.1MP camera.
At least one model will have 16GB onboard storage, microSD slot, Bluetooth 4.0 LTE, and 802.11 Wi-Fi a/g/b/n/ac. For power you get a 3,000mAh battery with wireless charging capability.

LG has also added a few niceties to the G3 based on the leaks, including something called Smart Notice that is a kind of basic personal assistant for your phone. Smart Notice can do things like suggest you turn on the phone's Wi-Fi when you get home, remind you to return a missed call after a few hours, and even suggest erasing apps you haven't used in a long time.
It also appears that leaks about the G3's color were bang on, with white, black, and gold flavors.
While LG may have spoiled the G3 launch, perhaps we'll see some surprises from the company with the so-far-so-hum-drum G watch that is also expected on Tuesday.
LG's release event for the G3 begins at 1 PM Eastern today with the company running simultaneous events in London, New York, and San Francisco.