Don't call it a comeback—at least, not just yet. The second-generation HTC One certainly looks great on paper: it has a quad-core 2.3GHz Qualcomm Snapdragon 801 processor, 2GB of RAM, 32GB of storage and an expansion slot for up to 128GB more via microSD, a 5-inch Full HD Super TFT display, and two rear-facing cameras. It's got all the makings of a hit superphone, but it's the response from consumers that will ultimately determine whether HTC has a hit on its hands.
We'll have a full-blown review in the coming days, but here are some initial impressions of after spending a little hands-on time with HTC's new flagship phone. 
Still good lookin'
At its event in New York City, HTC spoke often about its dedication to design. "Our passion is to create a design that is iconic and premium—seamless, inside and out," said Peter Chou, CEO of HTC. "We don't do gimmicks…we want to give you an experience that is pure."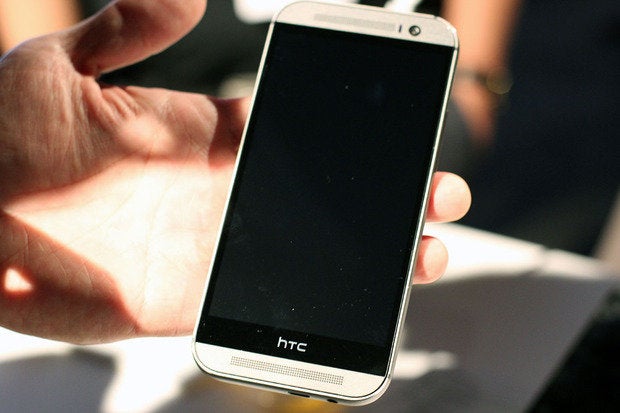 There's no point in fixing something that it isn't broken. HTC stuck with the last-generation One's all-aluminum unibody, but refined its construction so that its much more polished. It features a gunmetal finish and is more curved than before. I found it easier to grip than last year's One, and didn't get the same gritty feeling as with the original's scratchy aluminum chassis.
As rumored, HTC eliminated the hardware buttons for software ones. It doesn't have an edge-to-edge display because of the Boom speakers. The One's Buttons and ports remain in the same place as its predecessor, but the headphone jack has been moved to the bottom.
Double the cameras, double the fun
Notice anything different about that backside? The new HTC One has two separate cameras. HTC says they're meant to help capture detailed depth info about a scene so that the camera understands what it's looking at. Afterward, you can edit a photo to do things like add effects to the foreground or blur out the back for a bokeh effect.
The HTC One still utilizes a 4-megapixel "UltraPixel" camera, though an HTC representative said that it captures photos at the equivalent of an 8 to 13 megapixel camera. It focuses and shoots much faster than its predecessor. Its manual modes were easy to use, too, with individual sliders for things like ISO and exposure.
The 5-megapixel front-facing camera was easy to use, and if you snap a Selfie, it'll offer a countdown to give you a chance to pose. Zoe has also been beefed up with a video and highlight reel mode, which we'll get into more when we review the phone.
Makin' sense of Sense 6
HTC refers to Sense 6 as its "sixth sense," and it adds a bit more refinement to HTC's Android overlay. You can select from four colored themes and different fonts to customize your interface.
HTC also gave BlinkFeed a bit of a boost by not only allowing you to add external content—apart from its preferred content partners—but by opening it up to developers. Slide to the left to easily search for your favorite website or topic and add it to the aggregator. You can also add Twitter feeds and YouTube channels.
Sense 6 runs on top of Android 4.4 KitKat and it seems to take up about 8GB of the HTC's available 32GB of storage.
Gesturin'
Following in the footsteps of some its competitors, HTC will support gestures with the new One for easier one-handed usage. You can double tap the screen to turn on the screen and check the time, then tap twice again to turn it off. You can also swipe to the right to bring up BlinkFeed, swipe to the left to show widgets, swipe up to launch the last app, or swipe down to make a voice call.
Though it's sold separately, HTC also introduced the Dot case, which neatly displays the time, incoming calls, and any other notifications that come through.
Not only is the second-gen One a definite improvement over its predecessor, but this year, HTC is going on an all-out offensive with its marketing efforts. Its new flagship device is now available to order from three major carriers—a smart move considering last year's staggered rollout likely hurt the original One's exposure.
There's no telling how the phone will perform globallly just yet, but so far I like what I see.