A new Android app wants to help you spend less time waiting for webpages to load and more time actively using apps like Facebook, Twitter, and Google+. Link Bubble from Australian developer Chris Lacy takes Facebook's Chat Heads concept and turns it into something incredibly useful.
Android users can spend a lot of time following links from Facebook and Twitter to check out news, interesting blog posts, and Instagram posts (among other thinks.
But when you're finding things to read or view in social media you end up spending a lot of time waiting for web pages and apps to load. During that time, your device is essentially useless as it tries (and sometimes fails) to redirect from Twitter or Facebook to the actual news post you want to read.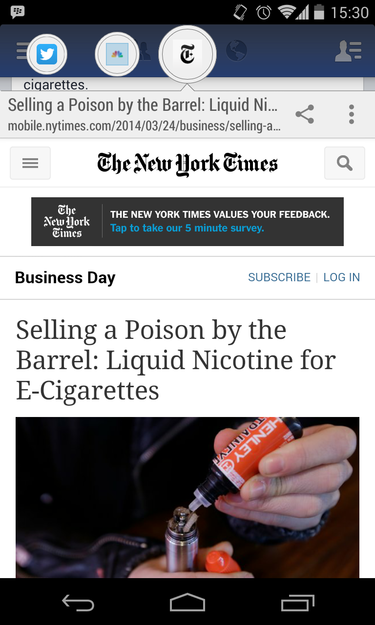 Link Bubble, available in a free and a $5 "pro" version, tries to solve that by loading web pages and apps in the background. 
Instead of jumping over to Chrome every time you tap a link to a web page, Link Bubble pops-up a Chat Head-like bubble over top of whatever app you're using, such as Twitter.
The bubble uses animation to let you know that the web page is loading, allowing you to continue checking out Twitter (or whichever app you're using) while it does so. When your web page is loaded, the Link Bubble animation stops and shows you the favicon for the loaded site if it's available.
Tap on the bubble and you can read the web page right there over top of Twitter or, if you prefer, open it in Chrome.
Sharing with some small downsides
Once a page has loaded in Link Bubble, you can also drag a loaded bubble across your screen, which provides three options: drag it to the bottom to dismiss (just like Facebook Chat Heads); drag it to the upper left corner where it will get saved to Pocket by default; or drag it to the upper right corner to open Android's share contract feature where you can send your link to any available app such as Google Drive, Gmail, or Whatsapp.
Link Bubble's sharing features are fully customizable so you can replace the Pocket option in the upper left with Instapaper or OneNote, if your prefer. The right share contract option is also customizable.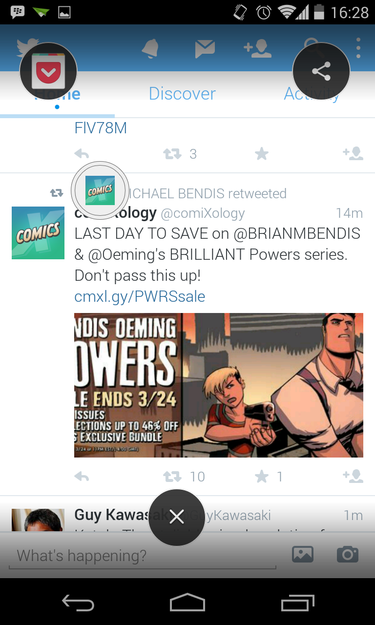 As a hardcore Pocket user I love the option to send links to the app quickly and easily. In my tests on Nexus 4 running Android 4.4.2, however, Link Bubble had the annoying habit of sending me from Twitter to Pocket every time I saved a link to the read-it-later app. That unfortunate side effect defeats the point of using Link Bubble to stay in Twitter.
(UPDATE) There appears to be a communication problem between Link Bubble and Pocket. Pocket's head Android developer, Max Weiner, said this issue will be fixed in a future update. Until then, you should be able to temporarily stop Pocket from opening by backing out of the app (press the back button until Pocket closes).
Intra-app shuttling
Link Bubble can also shuffle you between apps—such as moving from Twitter to Instagram—to view a photo. On Android, this typically requires going from Twitter to Chrome and then getting redirected to the Instagram app.
Instead of that mess, Link Bubble will load the Chrome hand-off in the background and send you directly to Instagram.
It's another nice idea, but it won't help you conquer an annoying issue I've consistently encountered across numerous Android devices. Sometimes when I follow a link from Twitter to Instagram, the picture can't be loaded or it shows you the last picture you looked at and not the new one you wanted to see.
Link Bubble doesn't seem to be able to help you there, but it will switch you seamlessly between Twitter and Instagram. There's just no telling what you'll find once you get there.
Finally, Link Bubble tracks your stats to show you how much time you've saved by using the app insted of waiting for web pages to load.
Serious limitations on free version
If you spend a lot of time following links from social media on Android you are going to want to spring for the $5 pro version. The free version constrains you to using Link Bubble with just one app. So if you start using it in Twitter, you won't be able to use it in Facebook or Google+ without dipping into Link Bubble's settings.
More importantly, however, the free version of Link Bubble only loads one link at a time, while the paid version will let you load multiple links at once.
Although Link Bubble isn't perfect, after just a few minutes of using this app I was sold and sprung for the pro version. Some Android users may shirk from paying $5 for an app, but Link Bubble is well worth it.