The first thing I do when I get a new Android device is download an SMS-replacement app.
The stock Android messaging app has improved quite a bit over the past few versions, but it's just so boring compared to the options available in the Google Play store. The ability to customize the look and feel of your device by replacing stock apps is a feature that's mostly unique to Android, so why are you wasting your time with an dull text messaging app?
Here are four SMS-replacement apps to help you spice up your texts with added visual customization and features.
Chomp SMS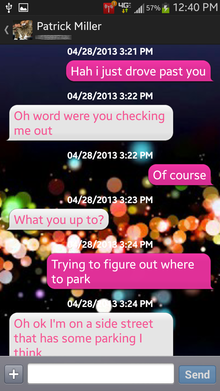 Chomp SMS is my go-to SMS-replacement app; not because it's the most feature-rich, necessarily, but because it has a clean, easy-to-use interface and settings menu. The app lets you customize the look and feel of your conversations and conversation list Chomp comes with a few very basic themes to help you get started, but you'll definitely want to play around and create your own theme with custom colors, font styles, text bubble styles, and background pictures. You can further modify the look of your texts with non-stock fonts, which you can download in custom font packs from Google Play.
Chomp doesn't have as many features as some of the other SMS-replacement apps, but it's good enough if you just want to add a pop of color or a fun background image to your texts. The app also lets you customize notifications, including the notification icon, ringtone, and LED blink color. Non-visual features of Chomp include scheduled messaging and cheaper SMS messages delivered via the ChompSMS network (starting at $12/105 texts). Chomp is free and ad-supported.
Handcent SMS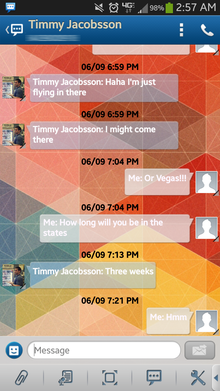 Handcent SMS is a popular SMS-replacement app that has lots of customization features via Handcent themes and skins. Handcent themes are similar to Chomp themes: easy for users to customize with different colors, fonts, text bubble styles, and background photos. You can create your own Handcent theme, or you can browse other users' themes on Handcent's network.
If skins don't offer a big enough visual change, there's always Handcent skins. While themes stick to interchangeable backgrounds and colors, skins customize everything from icons and text-input boxes to the settings menu. Both themes and skins are free. Like Chomp, Handcent also lets you customize notification icons, ringtones, and LED blink colors. Non-visual features include group SMS, text backup, private contacts and messaging, and a "text library" of canned responses in different categories. Handcent has more features than Chomp (and more visual customization options), but it's also slower and more sluggish. Handcent is free and ad-supported, but you can purchase a membership that removes ads (among other features like message archiving) for $6.
GoSMS Pro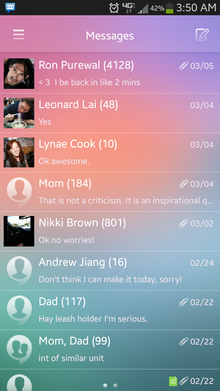 If you enjoy pretty, well-made themes (and you're not particularly keen on creating these yourself) GoSMS Pro is a popular SMS-replacement app with a robust library of visually stunning pre-made themes. It's got the same basic customization features as Chomp and Handcent, so you can customize your texts' colors, fonts, and background photos, but its theme library is where it really stands out.
GoSMS themes are a bit like Handcent skins in that they offer a complete visual overhaul—icons, fonts, animations, backgrounds, and text bubbles. And they're professionally designed, so if you're looking for a major change (and you don't necessarily trust your eye for a good color palette), they're definitely the way to go. Unfortunately, professional designers don't work for free, and that means their themes aren't free. They cost $2 each, but you can get them for free by downloading sponsored apps and earning GetJar Gold. You can also purchase lifetime access to all themes for a whopping $19.
Like Handcent, GoSMS has lots of non-visual features, including a private box for storing locked conversations, scheduled texts, text message backup, and folders. Although it's got great themes and tons of features, GoSMS is probably the slowest, laggiest app in this round-up. GoSMS is free and ad-supported, but you can purchase an ad-free version for $5.
Easy SMS
Pansi Studio says its Easy SMS app is "fast, clean, and easy" compared to other "huge, sluggish" SMS apps. And they're right—it's faster than Handcent and GoSMS Pro, and on par with the lighter-weight Chomp.
Easy SMS is a simple, well-designed app that lets you visually customize your conversation list and individual conversations. Customization-wise, it's not too different from Chomp: You can choose colors, font styles, text bubble styles, and background images to suit your tastes. Easy SMS does have a theme feature, but it's closer to Handcent's themes rather than GoSMS's premium themes. In other words, it's just a pre-selected grouping of colors, font styles, text bubble styles, and background images. There's no icon or settings menu customization, and no huge visual overhaul.
Non-visual features include scheduled texts, drafts, and texting backup. Easy SMS is a little light on the features, but it feels much snappier than Handcent and GoSMS. This app is free and ad-supported, and it's not just little banner ads in the bottom of the screen. There are also large, full-screen ads that occasionally mess up your texting experience. If you decide to go with Easy SMS, it's best to purchase the $3 ad-free version.
Mixing it up
Replacing the stock SMS app in Android is one of the quickest, easiest ways to customize the look of your smartphone. Just download and install one of these apps, and you'll have hot pink text bubbles and bright yellow text (or…maybe something less jarring) in no time. Just remember to turn off the notifications from the default texting app by opening up the stock messaging app and going to Settings then Notification settings and unchecking the box next to Notifications. If you don't do this, you'll get double notifications every time you receive a text message.