The end of Google Currents is nigh. The search giant's Flipboard imitator that lets you subscribe to the RSS feeds from a variety of websites recently got an update that essentially kills the app, as has long been promised.
Once you launch Currents after the latest update the app notifies you it's time to switch over to Google Play Newsstand. After moving to Newsstand, your Currents subscriptions come with you, and the Currents icon disappears from your home screen and app drawer.
We've known since November that Google planned on killing both Currents and Play Magazines to combine them into the single Newsstand app.
Currents will still be on your device after your Newsstand conversion, but it isn't really usable. Presumably, Google will automatically delete the app from your smartphone or tablet at some point. Manually uninstalling it through the Settings app is also an option for anyone concerned about space.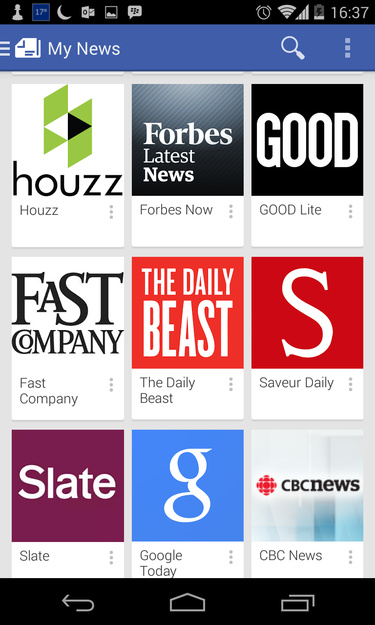 If you're not thrilled with switching over to Newsstand just yet you can also uninstall the latest updates to Currents—again, via the Android Settings app. That will make Currents usable once more, but for how long is anybody's guess. We've dropped a line to Google to see how long that trick will work.
Newsstand's features for subscribing to websites is not all that different from Currents; however, the newer app is more visual, relying on a square tile interface to display your various subscriptions.
The Currents replacement also offers a new section called "Read Now" that is supposed to be a recommended reading list tailored to your interests. But really, it appears to just highlight stories from the sites you've subscribed to, as well as a smattering of popular stories from other sources.
Nevertheless, it's a nice addition for anyone who wants to spend some time just browsing a stream of articles.