Something that nearly all digital photos have in common—regardless of their camera of origin—is that they're in color. Although that's not necessarily a bad thing, it may seem counterintuitive, given the evolution of photography. Before digital replaced film as the photo medium of choice, color and monochrome shared the limelight. Today, if you want to channel your inner Ansel Adams with your own moody wide-angle vistas, specialty black-and-white apps are the path to achieving your monochromatic vision.
Hueless—iOS ($3)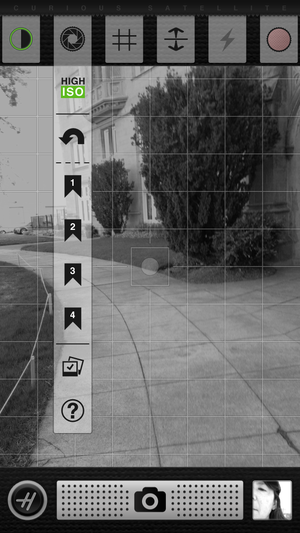 Based on the reality that you do most of your shooting on the camera in your pocket, Curious Satellite's Hueless is built exclusively for the iPhone and designed for skilled hobbyists, with an emphasis on shooting high-resolution JPEGs and TIFFs. The app is easy to use and navigate, though perhaps not ideal for that superquick shot when there's just a few seconds between the train coming and your image of it emerging from the tunnel.
A button opens the interface to reveal several discrete controls that let you create presets, frame images, tap to focus, use composition rules, constrain dimension, adjust exposure and contrast, set geotags, and even apply colored filters for assorted monochrome looks. Despite its power and precision, don't look for Hueless to convert existing images from your camera roll into black and white. Instead, treat Hueless as a film camera loaded with black-and-white stock. Shoot with Hueless when you want black and white through and through—monochrome from start to finish—absent color reinterpretation.
Camera Noir—iOS ($2)
For the one-click joy of simply converting your iPhone's native color images to black and white, focus on Pacific Helm's Camera Noir. You can shoot original monochrome images through this app or retrofit older color photos. Shooting is intuitive via the camera icon, which lets you tap to focus, frame, and adjust exposure.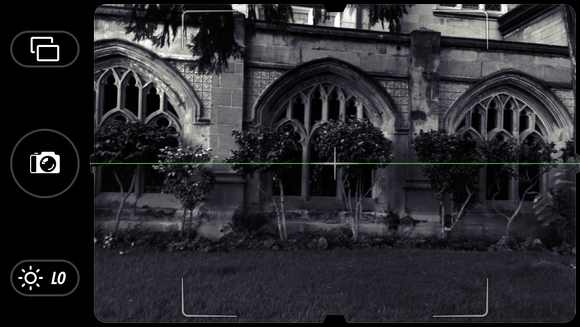 This minimalist app offers little in the way of controls, providing just low, medium, and high settings for exposure, plus crop marks and a level to assist in composition. While somewhat limited in functionality, the app is streamlined, quick, and easy to use. If you don't have the time or inclination to mess with settings, Camera Noir will rescue your shoot.
Dramatic Black & White—iOS ($1)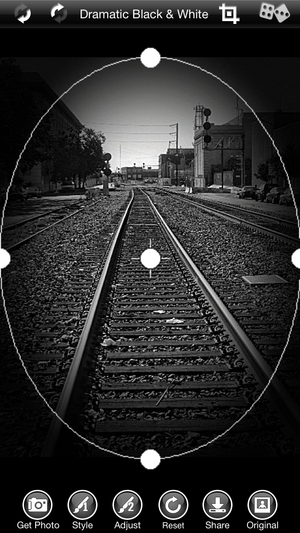 For high drama, you can rely on JixiPix's Dramatic Black & White for the iPhone or iPad. The app offers numerous settings, presets, and adjustments to fit the mood. Start with three levels of intensity: simple monochrome, high-key black and white, or infrared.
But that's just for starters. Within those categories, multiple presets can feature colored tones to impart unique flair. The adjustable spotlight tool centers the effect on the canvas, while the crop tool lets you fine-tune the picture using popular aspect ratios.
Want to get more granular? Dramatic Black & White is happy to oblige by letting you adjust the tone, brightness, and contrast with each setting. It even offers a slider for adding old-time film grain to your photos. Shoot with the app's camera, or import an image from your camera roll to give it the dramatic treatment—the results are uniformly stunning.
Simply B&W—iOS (free)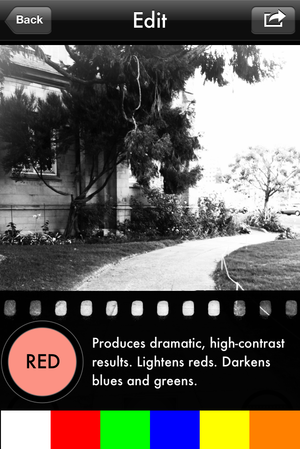 Like Camera Noir, Simply B&W lets you either shoot an original photo via the app or desaturate a previously captured color image. The app concentrates on borders and vignettes, on the theory that simple framing goes a long way in improving black-and-white images. True to form, its frames and vignettes are either black or white. However, the app also lets you adjust brightness, contrast, and grain to make your pictures sing.
This app, unlike some others, actually has a set of filters that apply red, green, blue, yellow, and orange filters. These are not tints, but filters, just like the ones you use on your camera lens or in your photo-editing program, and they have roughly the same effect. The really neat part is that each filter has a key, so you know how to best use it—and when not to use it—on your photo.
Photo Noir—iOS ($1)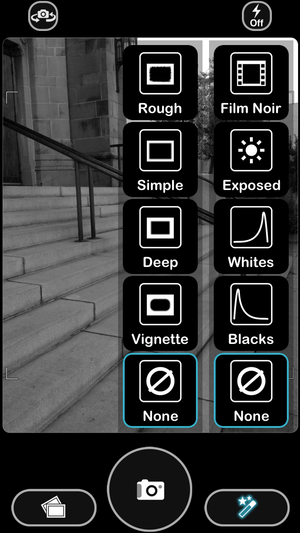 Apptrio's Photo Noir lets you take control of specific aspects of your image. As with other apps, you can shoot through the app itself or you can import images from your camera roll and give them the monochromatic treatment.
Capable of working in portrait or landscape (with the app's icons rotating according to orientation), Photo Noir specializes in exposure, framing, and vignettes. Presets cover a broad spectrum of basics, but they aren't adjustable—all you can do is switch them on or off. How very black and white.
The simple interface makes the app a snap to use—without sliders or gestures, you just tap the buttons and see what happens. And if you are not pleased with the result, it takes only one tap to revert to the original and start again.
Noir Pro—iOS (free)
This simple app is surprisingly effective in giving you a range of black-and-white effects. You shoot directly through the camera and enable the Vignette size slider and Intensity options slider. Use just these two settings for a theatrical tableau—with flash on or off.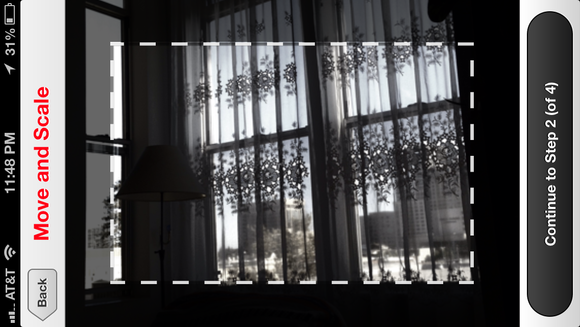 Along with the usual sharing options, you'll find the Postcard feature, in which you can use the photo to create a geniune postcard that Fuerte International will send to any destination. Just as with a regular postcard, you fill in a message and an address; you may also add an optional profile photo.
Black & White Master—iOS (free)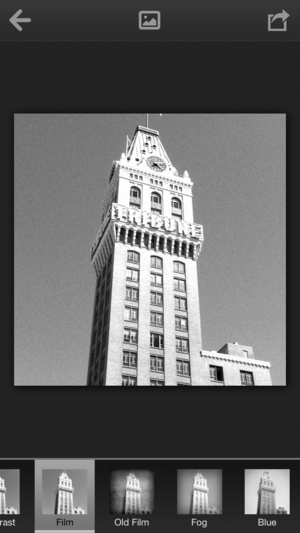 You can use Black & White Master both to shoot new pictures and to drain color from the images that are already in your camera roll, either in their original aspect ratio or in the trendy square format. Either way, the app lets you choose from a number of Instagram-like presets to easily apply the right monochromatic tone for your photo.
After you decide whether to reorient the shot, the app offers thumbnails of your picture with effects such as Bright, Contrast, Fog, and more. Once you tap one to preview it, you can slide your finger up and down on the screen to tweak the contrast, and slide left and right to adjust the brightness. The sliders disappear when you aren't using them—a neat design touch, sure, but that also makes them easy to miss.
A $2 in-app purchase offers access to ten additional effects, and the app lets you preview all of them before you decide to buy. This is a neat, easy app to use, with lots of variety even in the free version.
Black and White Camera Pro—Android (about $2)
Here's something you don't see every day: an honest-to-goodness black-and-white app for Android. With Appija's Black and White Camera Pro, you can shoot through the built-in camera (front or rear) or bring in older pictures from the Gallery to edit. A handy slider lets you dynamically adjust exposure and set tints in several colors.
The ad-supported free version offers the same functionality as the Pro version, but the ads are pretty annoying.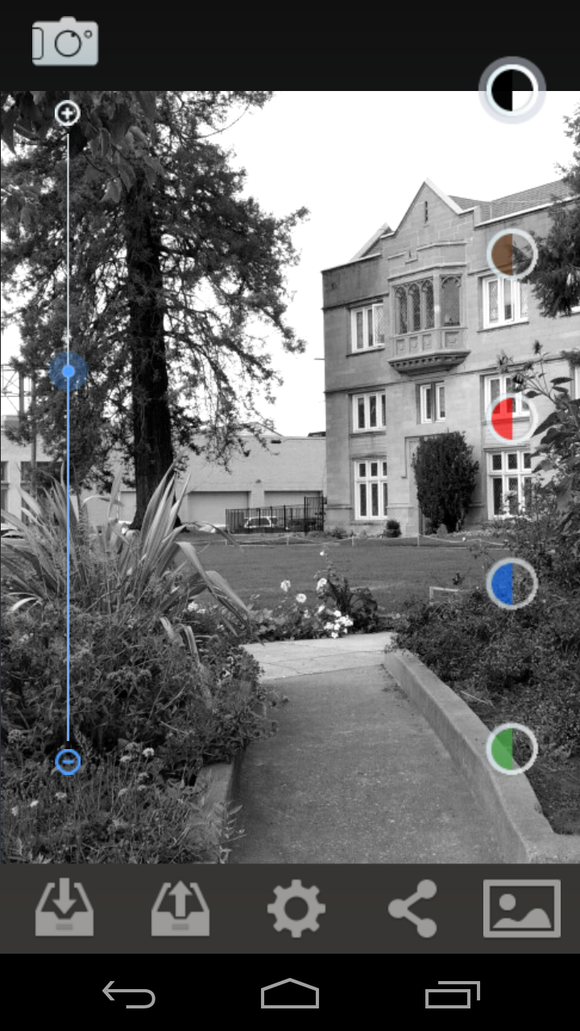 Retro Photo Camera—Android (free)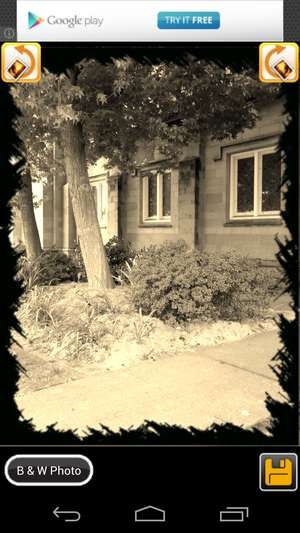 Dexati's Retro Photo Camera provides several stylized monochrome and sepia-toned choices, complete with borders. You can take pictures right in the app, or pull in older ones from your Gallery or even from your Facebook albums (a nice touch).
Once you take a shot or import your photo into the app, all you have to do is tap the B&W Photo or Retro Effect button to preview the results. This app has no controls, so if you're satisfied with the default—and thankfully, the defaults aren't bad—then you're good to go. With no cropping or adjustment tools, Retro Photo Camera is definitely not for tinkerers, but if you just want to desaturate a photo quickly, it's worth a try. A welcome addition would be an option to toggle the borders on and off.
The app also lets you create wallpaper from your photo. Frequently, a color photo serving as wallpaper looks too busy under a mess of colorful app icons and widgets, making your home screens hard to read. But the same photo turned to black and white can make excellent wallpaper.
Camera Magic Effects—Android (free)
Camera Magic Effects offers several layers of editing capabilities, and you can use them to shoot with the final black-and-white output in mind. Although it is not a pure black-and-white app, it does have several black-and-white filters. Shooting with the app lets you set up your image for desaturation later. White balance and scene modes provide the backdrop, and after completing your shot, you can apply filters such as Negative Effect, Gray Scale Image, Snow Effect, Sepia Effect, Engrave Effect, or Emboss Effect.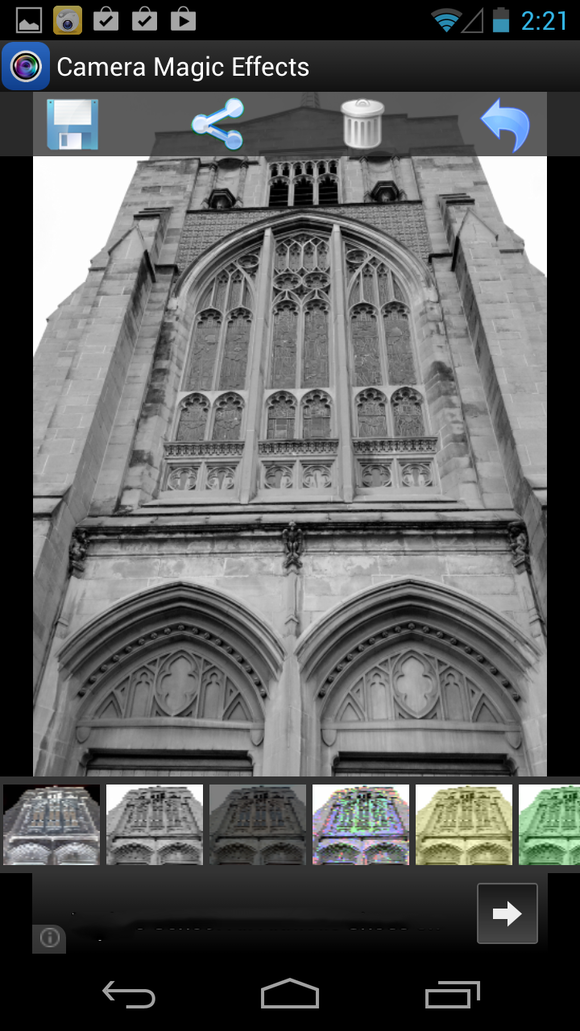 The free version is ad-supported, and while we didn't find the ads too intrusive, if you use this app a lot you'll probably want to shell out about $2 for the ad-free Pro version.
This story, "These black-and-white photo apps are 50 shades of great" was originally published by TechHive.