Android can handle games, put you to work with office apps, and serve up films and music, but the heart of the operating system has always been about communication. Beyond allowing you to use the dialer or to tap out email responses to friends and colleagues, Android gives you a world of options to explore on the other side of the touchscreen glass, from free voice calls to video chats with a dozen users at once.
In addition, the Ice Cream Sandwich (ICS) and Jelly Bean upgrades have introduced some welcome visual and organizational changes to keep Android competitive with its mobile OS rivals. Google+ is now integrated throughout; Contacts has morphed into the more muscular People app; and both Google Talk and Messaging have acquired some polish and cross-feature support.
In this article we'll look at some of the communications features, capabilities, and changes baked into post-ICS Android. We'll also consider how to set up Wi-Fi calling at minimal expense while sticking with Google's own services to carry the calls. Total cost? Six bucks.
Setting Up Messages
Sending text messages on Android isn't any more complicated than sending an email message. The messaging app is usually included on the dock or the home screen, keeping access a single tap away.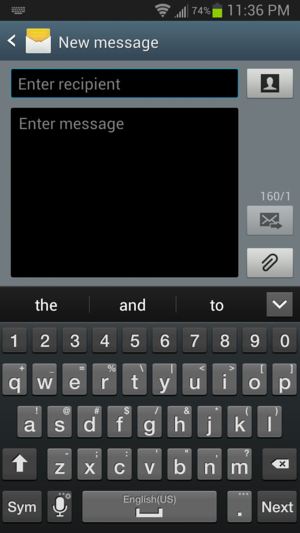 The first time you enter your messaging app, it will look like a ghost town. But don't worry—you'll have your phone chirping with new texts in no time. The big empty space that you start with is where Android will store your future texts. Selecting the New Message icon (its location varies depending on the phone you have) brings up the text composition page, where you'll select the recipient from your contacts list or manually enter the number at the top of the screen. Once entered, recipient numbers persist in the message thread, so you don't have to reenter any such number each time you respond. You can specify multiple recipients, and most carriers also allow you to enter an email address instead of a telephone number, so your texts can reach beyond your cell network.
Text messages run a bite-size, hard-coded 130 characters, so it's a good idea to choose your words wisely. If a message runs long, most flavors of Android automatically divide it into multiple texts—but you never know when a series of texts will arrive out of order, owing to carrier issues. URLs, email addresses, physical addresses, and telephone numbers appear as links in texts, so be careful while scrolling through messages: An inadvertent tap can bring up another menu.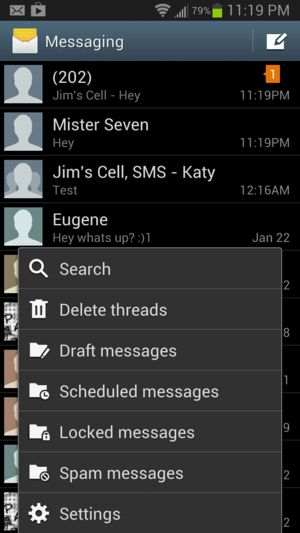 Once you've sent your message, a timestamp will appear next to the text in the threaded conversation timeline, confirming that the carrier has received it and passed it along. The timestamped entry serves as a return receipt, and it's a fairly reliable indicator that everything went normally on your side. The texting log book is persistent, with each message saved to memory. Unless you purge it or set size limits, it will grow with time and use, eventually slowing the phone's responsiveness. Deleting or archiving conversations regularly is a smart way to avoid log-book glut—and it's not a bad security habit either.
When you receive a text, you can add the sender to your contacts list by tapping the profile picture from the conversation list. You'll receive a prompt to create a new contact entry or to update an existing entry with an additional number. Once entered, the number becomes available for quick entry via autofill. Android saves partially written texts as drafts, as long as they include a recipient.
The OS supports attachments, too, in case you have more to say than text can handle. Photos, map data, videos, audio clips, contact info, and other types of data are included, though the array of attachable items will depend on your version of Android and on your phone's features.
Google Voice
A huge, often untapped benefit that Android offers its users is a free second telephone number, along with a full-featured voicemail and telecommunication service tied to every Gmail account in the form of Google Voice. Most people tend to think of Google Voice as a Skype clone, but there's a lot more to it than that.
Once you sign in to the app with your Google credentials, you'll see a prompt to select a telephone number from a list of available numbers in the area code of your choosing. If you want to receive calls, your next step is to identify the number that you want Google Voice to forward your calls to. You can arrange to have Google Voice forward calls to multiple phone numbers, and even to forward calls to different numbers, depending on the time of day or the person calling.
The next step is to decide how you want Voice to work when you make calls. You can choose to route all of your calls through Google Voice, international calls only, no calls at all, or just the calls that you designate manually on a per-call basis. You can alter these choices at any time via Options in the Settings area.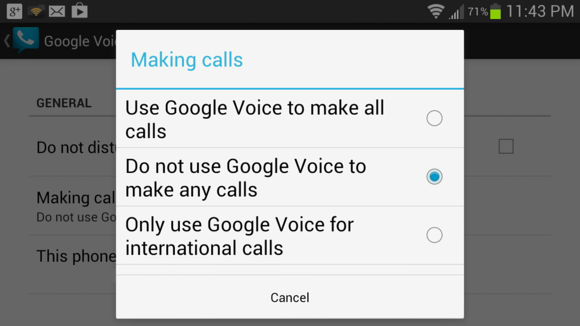 Google Voice comes with a full-featured voicemail client that can screen calls and transcribe audio messages. In call screening, a recorded message requests the caller's name and then forwards that information to you while the caller waits on hold. Voicemail transcription creates text versions of messages left for you and then forwards a copy of them to the email addresses you provide. The accuracy of the transcriptions isn't perfect, but it's close enough to enable you to understand the nature of most messages.
These features and others push Google Voice ahead of most carriers' bundled voicemail services; and users who want to cut the phone cord entirely can opt for full integration of the service, which replaces your carrier-supplied telephone number and voicemail service with Voice-supplied ones. I don't recommend choosing full integration, however, as it reduces the flexibility you would get by keeping multiple lines. Also, reversing some aspects of the process can be difficult.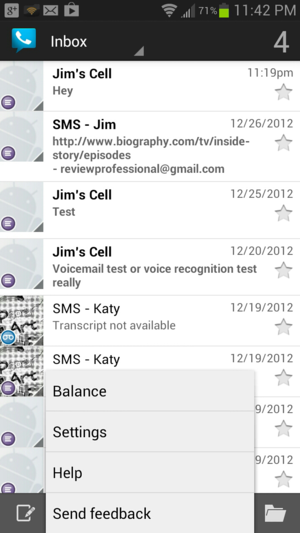 Google Voice offers myriad options not available from normal phone plans. You can schedule "do not disturb" hours via Settings so that Voice will automatically route all calls to voicemail during a specified period of time. Outgoing calls can originate from any phone registered to the Google Voice account but they connect via Google Voice's number, which is what rings through on the recipient's phone. You can prepare separate recorded messages for different callers, and you can forward incoming texts to email accounts.
Google Voice also includes a Gmail-style inbox that records activity on your phone, including everything from texts to voicemails. You can access this inbox from Android or via the browser on your PC or any other Internet-equipped device. Domestic and internet-based calls are free, while international calls are billed in accordance with a rate chart.
Google Hangouts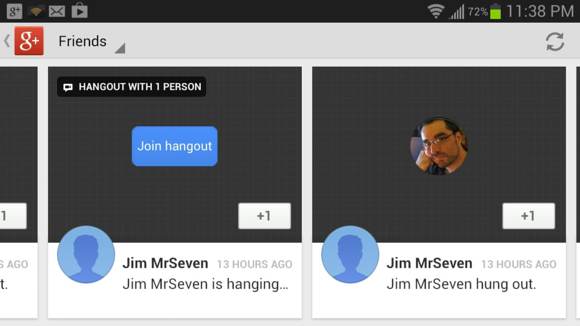 Google Hangouts are enhanced chat rooms that support video, text, audio, shared whiteboards, and other features. They are a popular option with desktop Google+ users, but you can also easily create a Hangout using the Android version of Google+, if you know where to look.
Find a Google+ conversation or profile entry for the first guest you want to invite. The guest needn't be online; your goal is simply to get to the next screen. Once you've opened the conversation or profile, you'll see a camera icon on the upper-right side of the screen. Click it to invite the user to your Hangout. You'll hear a ringtone, and the game is on.
You can invite additional people via the invite menu until you're happy with the guest list, but bear in mind that hangouts are limited to 12 friends at a time. Once the list is set, return to the conversation screen, check your camera and go live by clicking the Hang out button at the bottom of the window. You can continue to invite friends even after initiating the Hangout.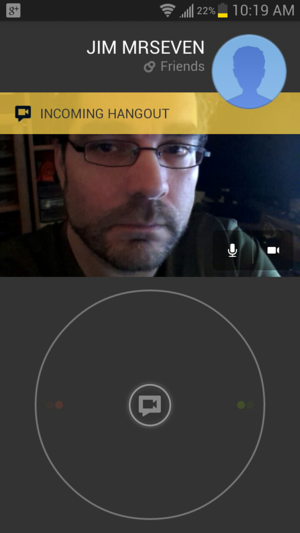 If someone invites you to a Hangout, you'll receive a notification alert. You can swipe left to reject the request, or swipe right to accept it. A preview video feed from your camera helps you prep for your coming close-up. Once in the Hangout, you'll find that video feeds appear along the bottom of the screen, with the main feed shown in the center. Tapping one of the lower feeds brings up a menu that allows you to pin the video from that feed to your center area, mute audio, block a user, or view a user's profile.
Switching out of the Hangout screen, either to return to Google+ or to go to another application, will pause your video feed but won't remove you from the Hangout entirely until you tap the 'hang up receiver' button on the upper right of your screen. The Hangout will remain active even after the user who initiated it leaves, until all users in the hangout have departed.
At the moment, you can't initiate Hangouts On Air—a feature designed for sharing Hangouts with a larger audience via YouTube, Google+, and other sources—via Android, though you can use your device to join Hangouts On Air. The development team at Google+ has promised full support for the feature.